"Be Yourself, Everyone Else is Taken." 
HI Guys!  Happy Hump Day:)  As you probably already have guessed my signature style is very minimal, classic, and effortless.  I have always dressed like this for as long as I remember.  It's the place I feel most myself.  I do love to mix things up from time to time but I always stay true to my personal style no matter what.  I think it's also important to note that when you think about your personal style it is a reflection of who you are.  I am a pretty simple, down to earth chick who has an alter ego of thinking I am a #badass….LOL I am Italian, very opinionated, strong willed and super ambitious.  I have never shied away from that girl even though most people still to this day may not like that person (Hi mean girls!) or feel I need to change in someway.  I am very happy and proud to be the woman I am today.  I have been through so much in my life as so many of you have and it's important to be proud and confident for overcoming things in your life.
My husband sent me this yesterday and I think it's so important to accept people for who they are and how they want to live their lives.
Trying to change someone is a waste of time. The very thought of changing someone is saying that they are not good enough as they are, and it is soaked with judgment and disapproval. That is not a thought of appreciation or love, and those thoughts will only bring separation between you and that person. You must look for the good in people to have more of it appear. As you look only for the good things in a person, you will be amazed at what your new focus reveals.
Ok back to fashion…..How amazing are these track pants from 3.1 Phillip Lim? Uhbsessed! As the #Frugalisa that I am, I purchased these pant as well as this T by Alexander Wang tee for 50% off at Shopbop. Double Score!!  Since the look was very basic I had to add a statement shoe and these leopard Saint Laurents' did the trick. For a little added style I knotted the tee to give it more shape. My husband and I shot these pictures right before it started to pour in NYC.  Full disclosure- I was coming from work and wearing flats (who walks in heels all day?) and my Celine was so heavy I could barely carry it, my hair was tied from work and I barely had makeup on..HAHA  I am telling you this because sometimes people think you have to be perfect and my blog is not about that.  I want to inspire YOU to be true to yourself and if that means you are shooting street style in the actual #OOTD with whatever you are working with, then that's as real as you can get.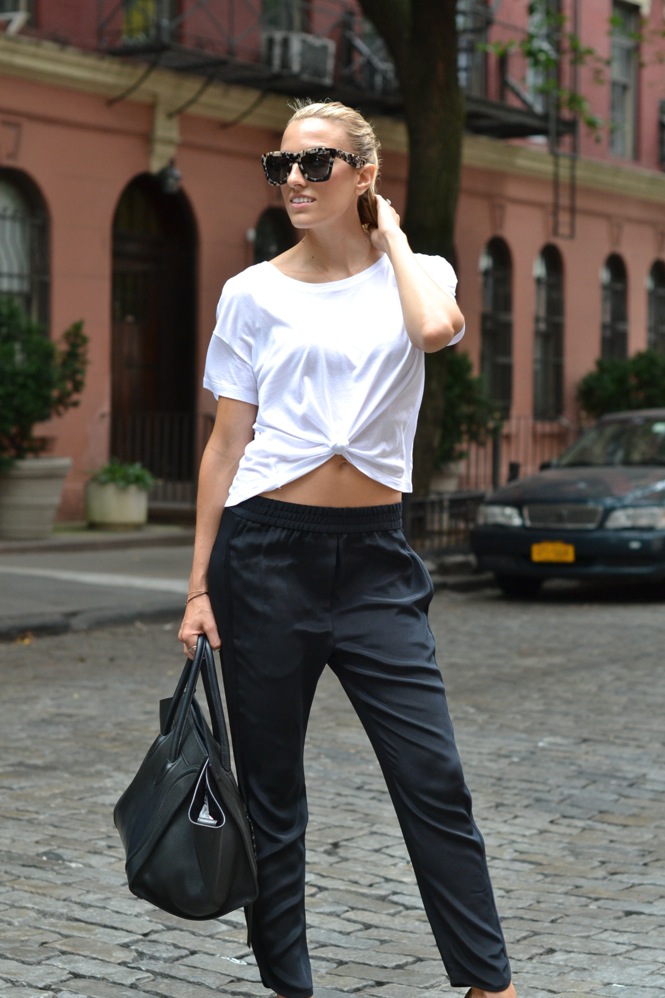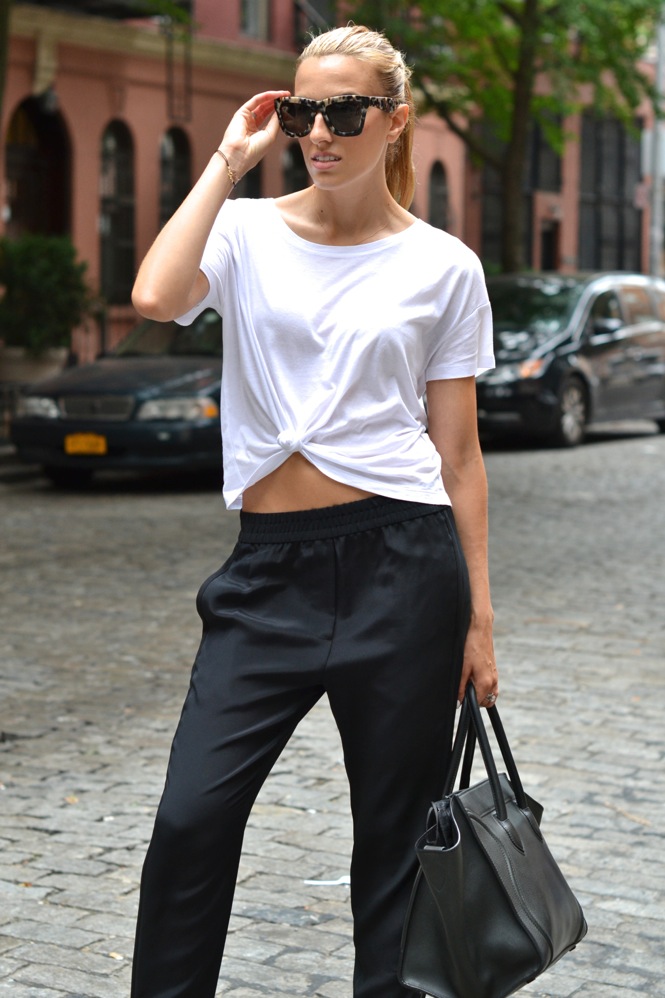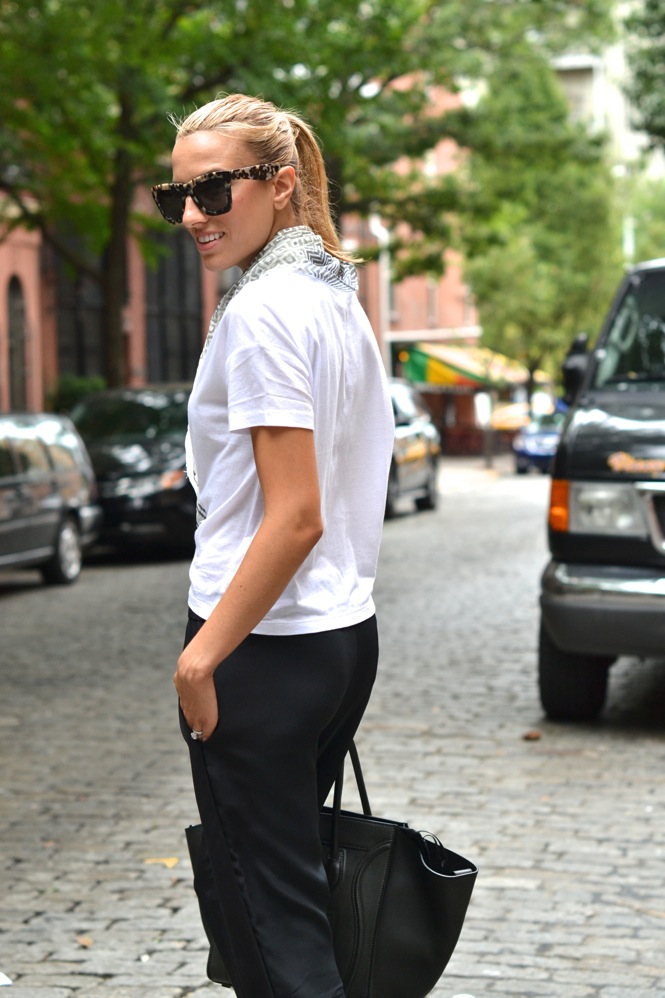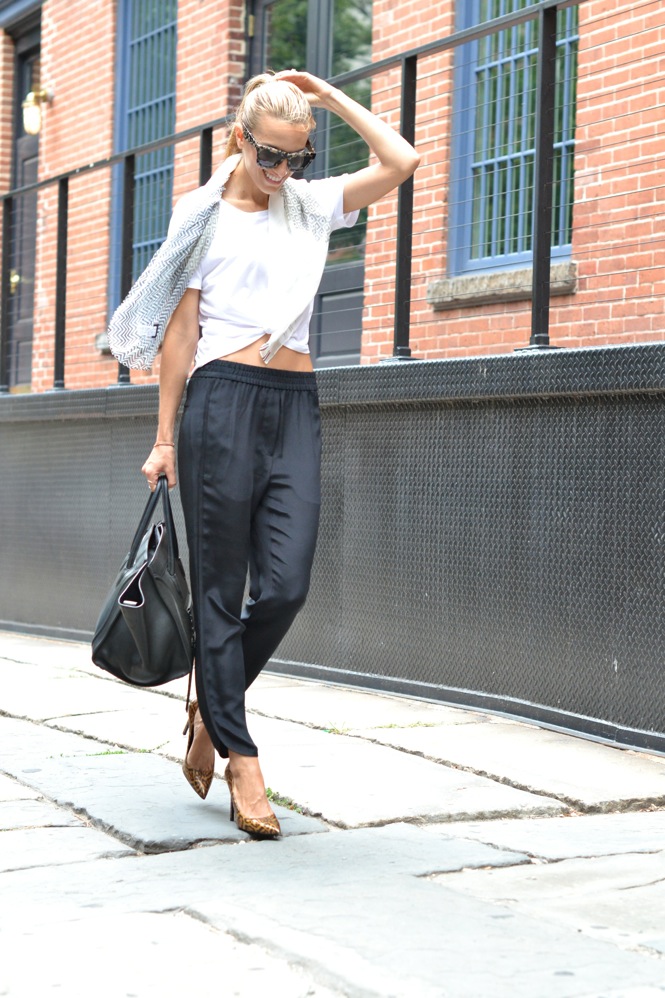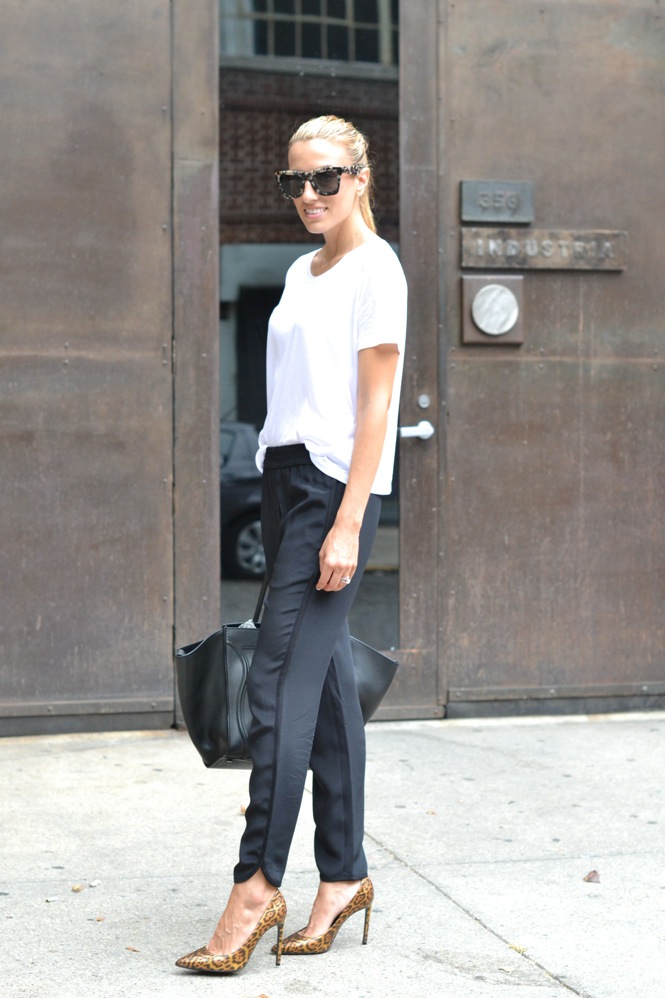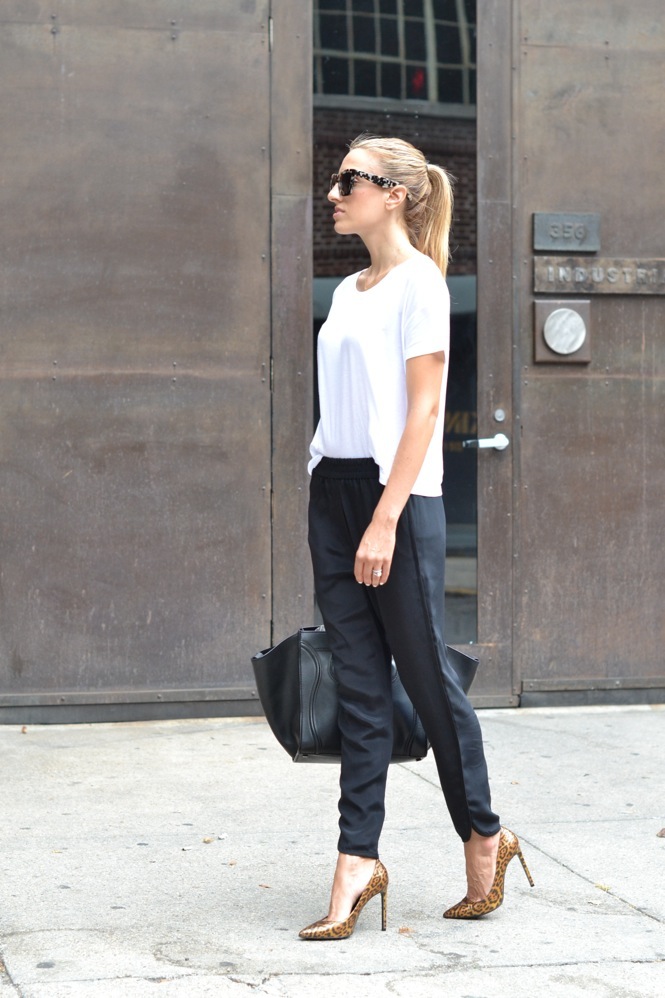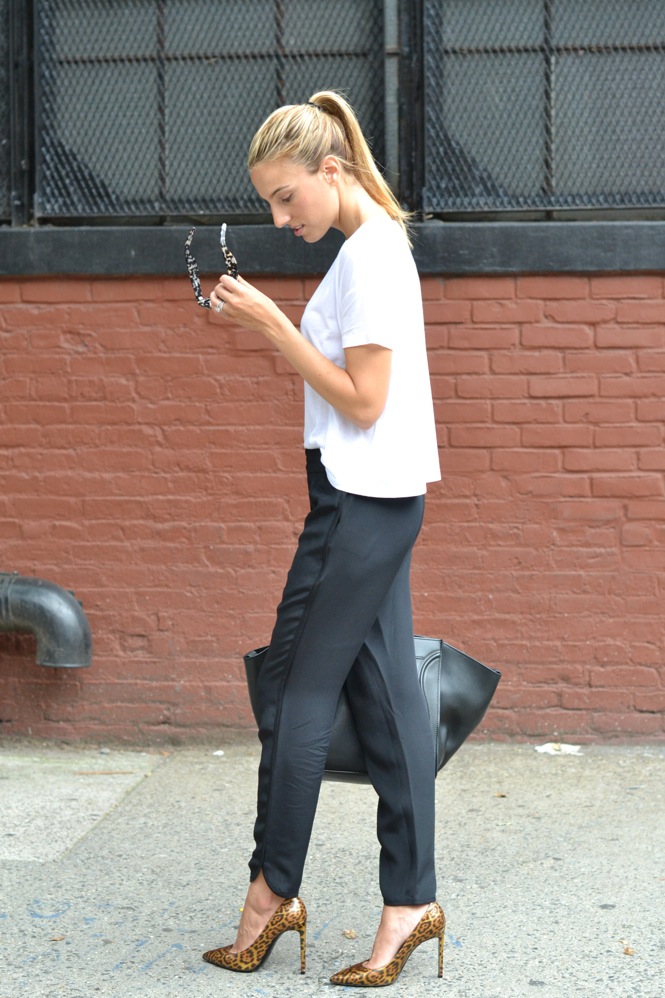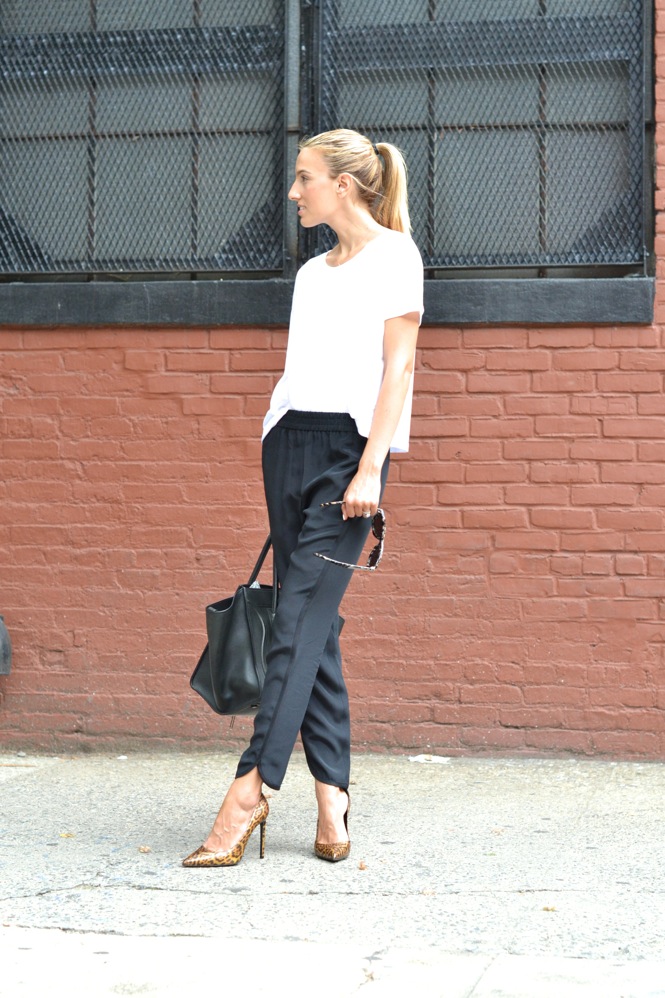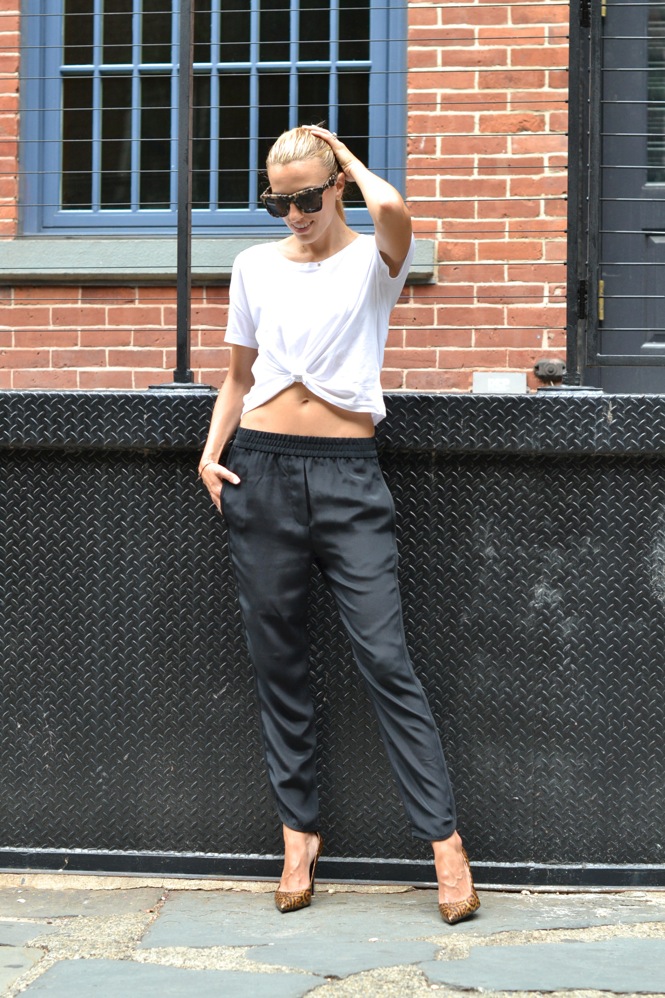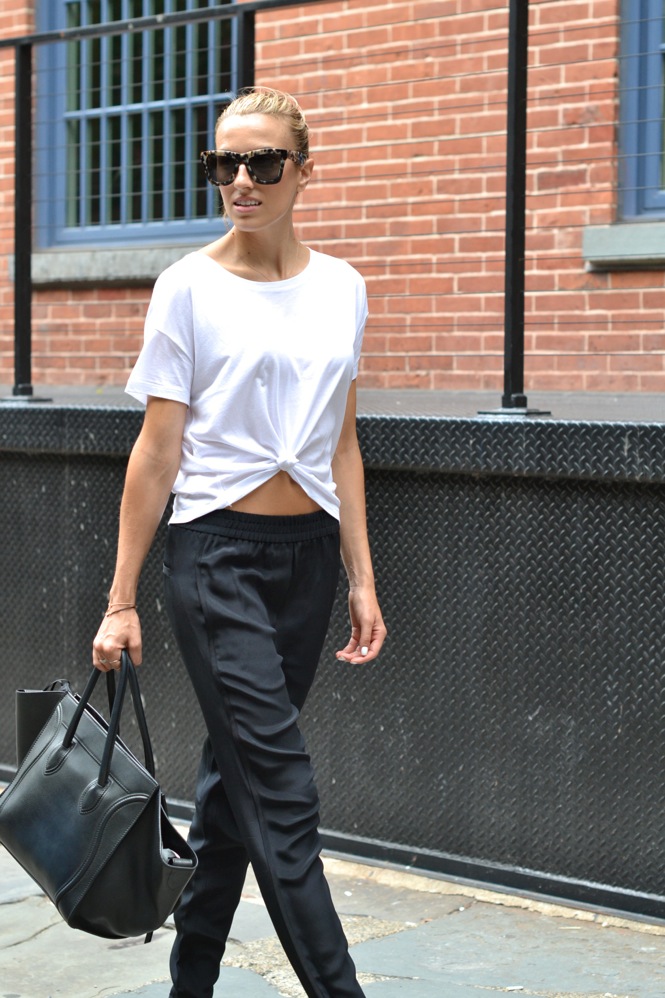 Pants: 3.1 Phillip Lim (similar here)
Tee: T by Alexander Wang
Sunnies: Valley Eyewear
Bag: Celine
Shoes: Saint Laurent and here (love these too)