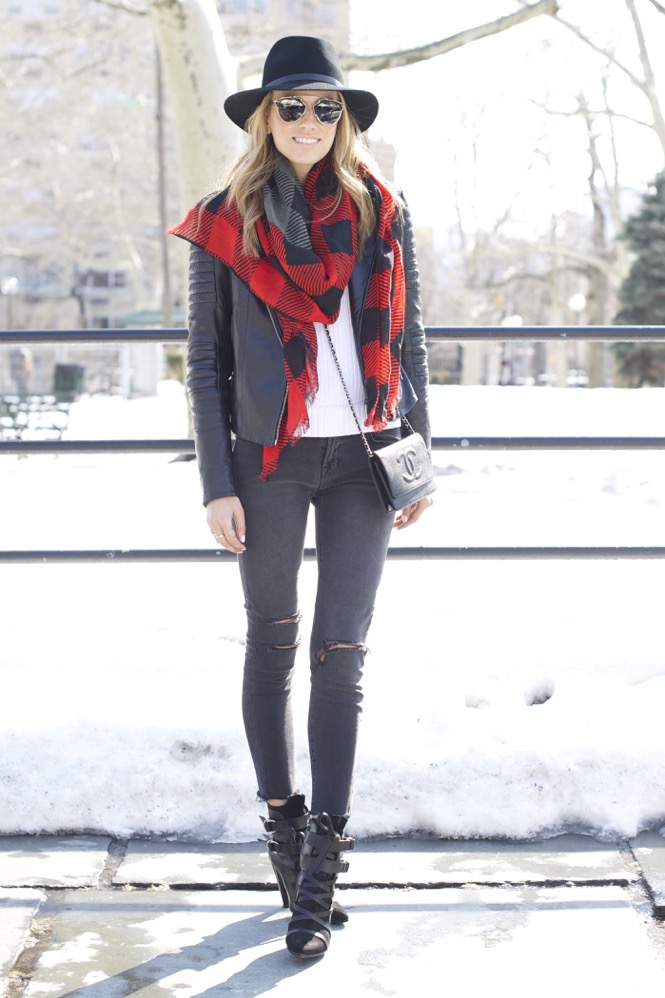 Hi Everyone! I love waking up to see the sun shining so bright today. This past Sunday was International Women's Day, which was a great day to celebrate being a woman and celebrate those who have fought for our rights and freedom that we have today. I posted the below quote on my Instagram and Facebook and was so happy it resonated with so many people. I feel so blessed and proud to be a woman! I grew up in a male dominant household so the feeling of never being good enough or always feeling "less than" because I was born a girl are things that have made me the strong person I am today. These feelings gave me drive and ambition to always be independent so I wouldn't need to rely on any man financially. Now, everyone's situation is different and I am not judging if you are a stay-at-home mom who is raising a family instead of of having a career. In my mind being a mom IS a full-time job and is one of the hardest. My point is that woman shouldn't feel the need to marry to feel secure, financially stable, etc. I married for love so I can only speak about my journey.
I feel we as women should Empower each other instead of always competing. I've never felt the need to compete with anyone but myself. I will never understand why people just can't be happy for others instead of being jealous. Life is way too short for that! To all you beautiful women out there…."A GIRL SHOULD BE TWO THINGS: WHO AND WHAT SHE WANTS."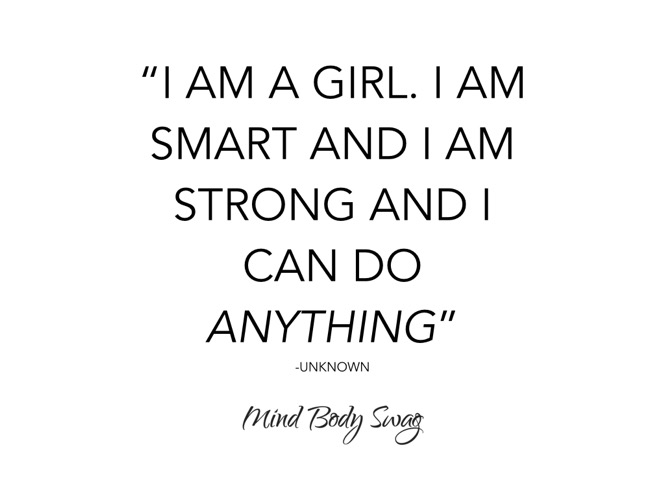 OK, back to my swag. I wore a casual chic look with a pop of red.  Red is such a strong color and one of my favorite colors to wear. I styled this look with these amazeballs J Brand jeans. If you don't own these I highly recommend you do. The wash, fit and frayed bottoms make these jeans so on point. I also styled the look with a white sweater, moto leather jacket, Isabel Marant booties, Rag & Bone Fedora, Dior sunnies and my Chanel cross-body bag.  This whole look is so minimal but each piece represents a must-have every girl should have in their wardrobe. When I think about my wardrobe I think about all these pieces working together and lasting more then one season. It's important when you are investing in classic pieces to think how they can all work back to each other. Then, you just mix and them them all so you not only will shop less, which saves money, you will constantly look chic…LOL!
Have a great day! Thanks for reading:)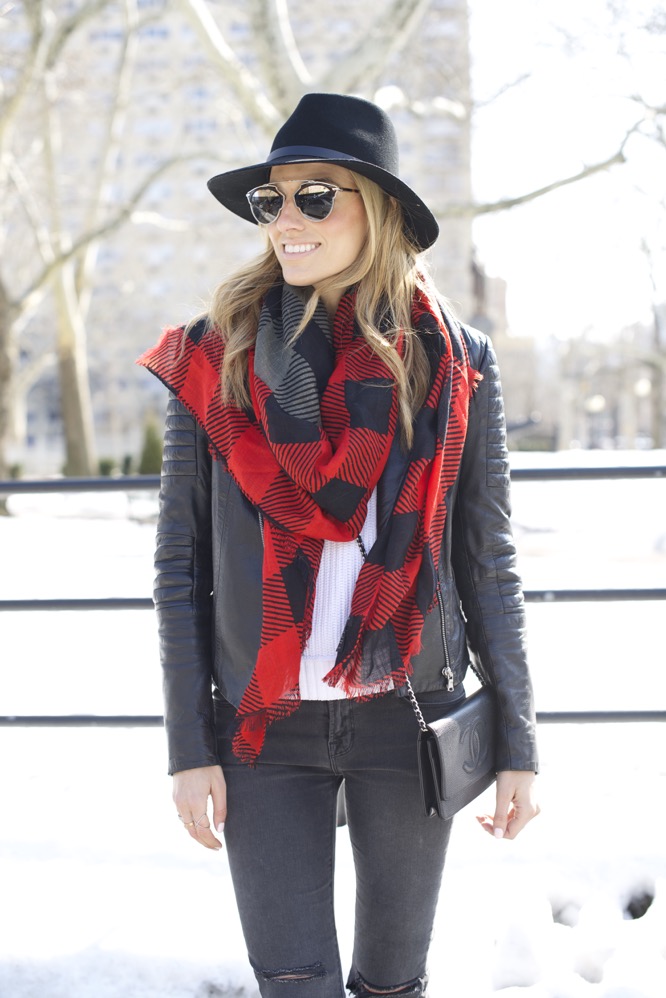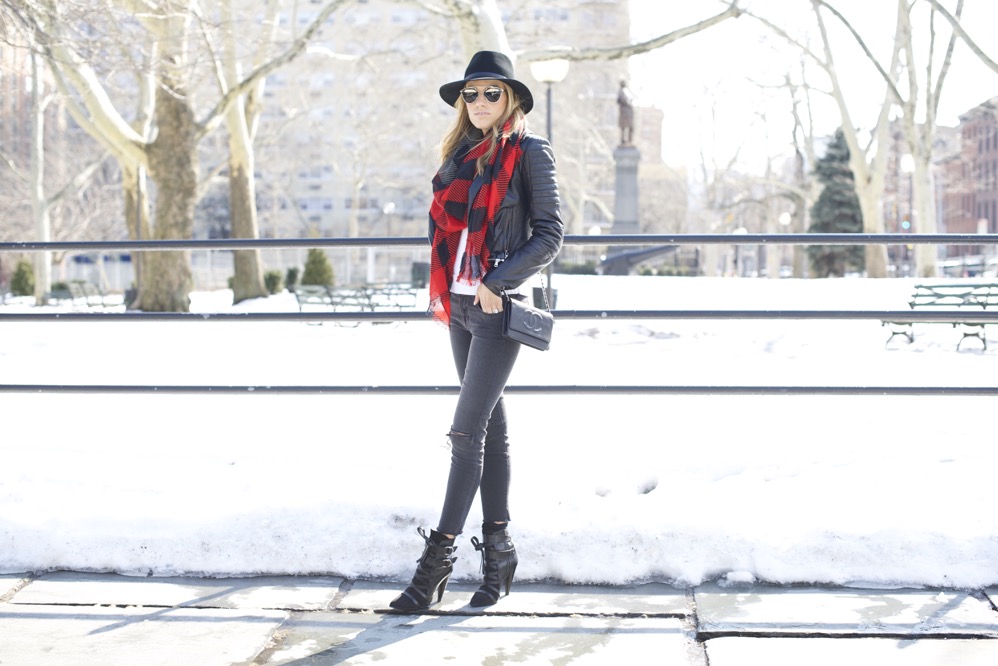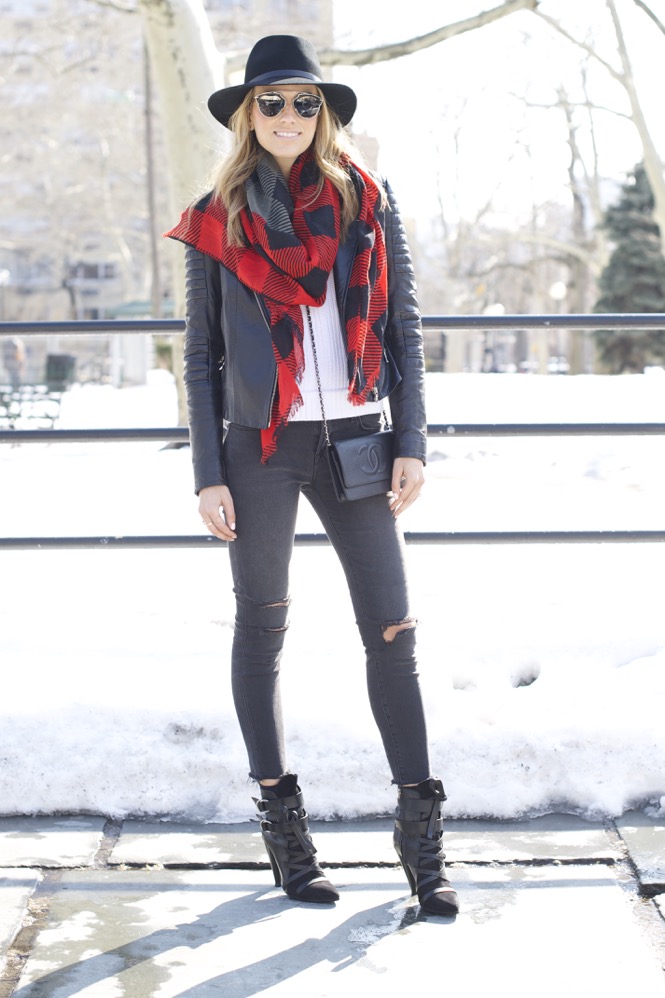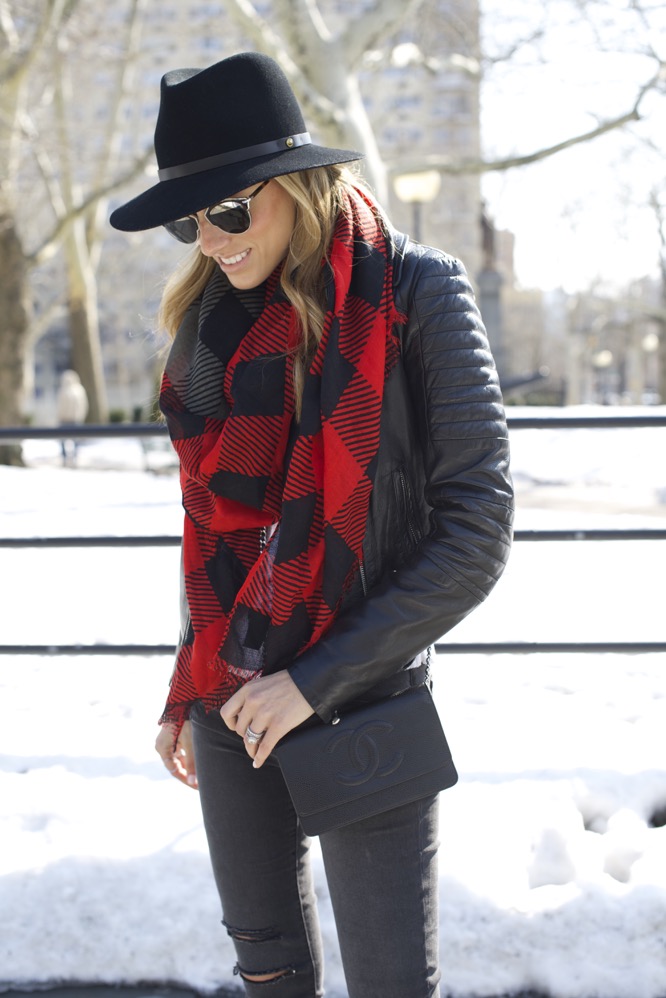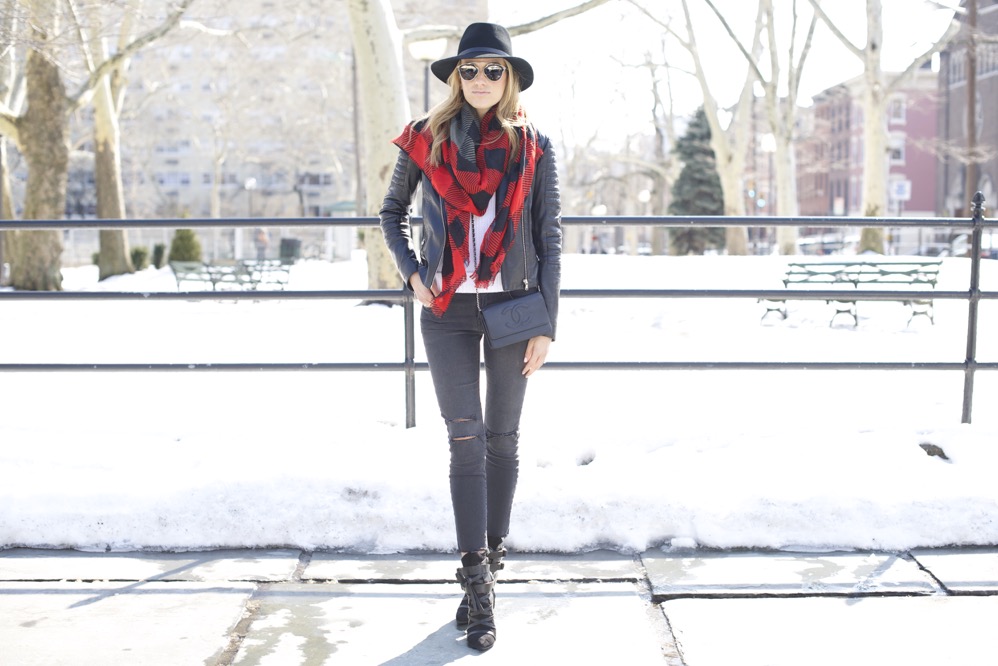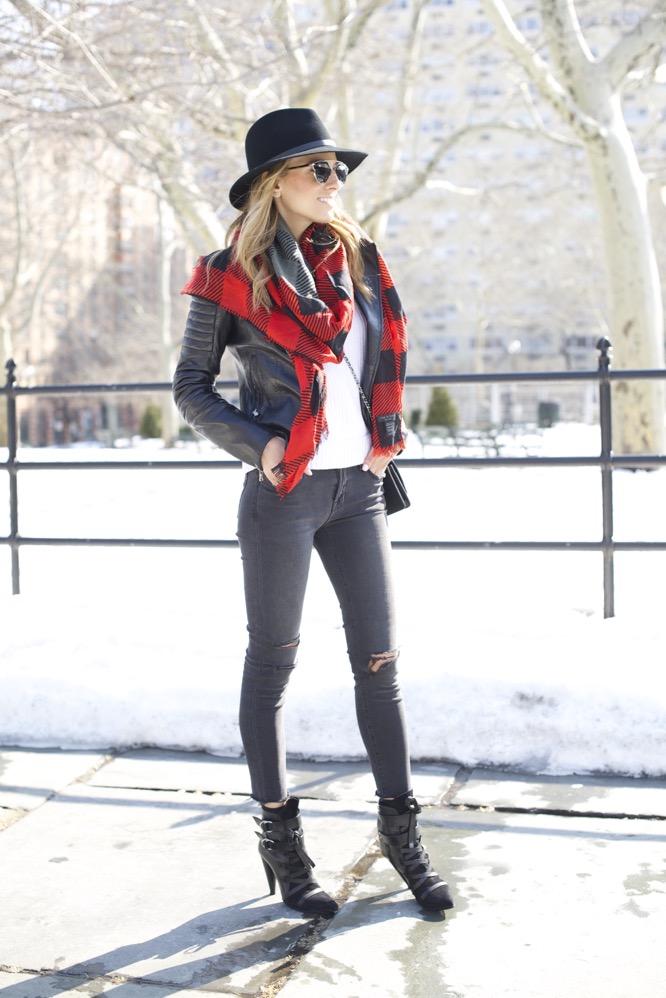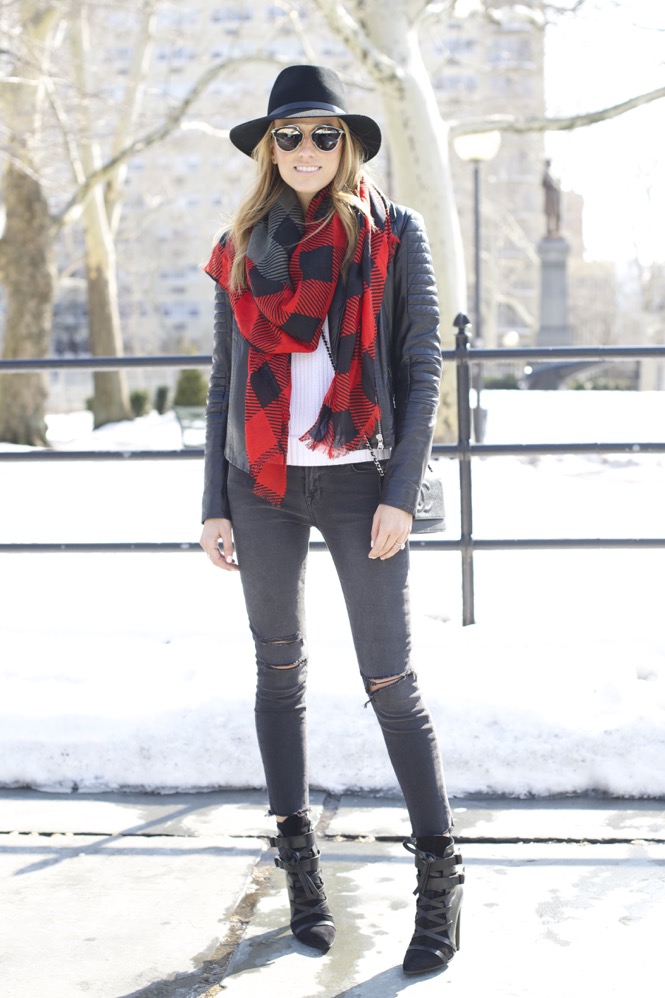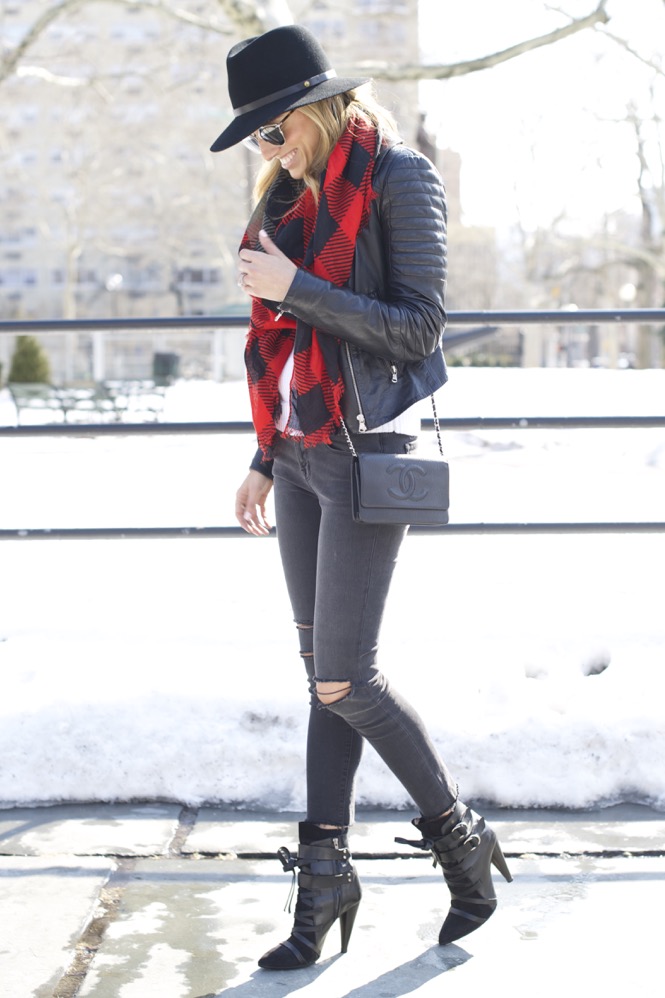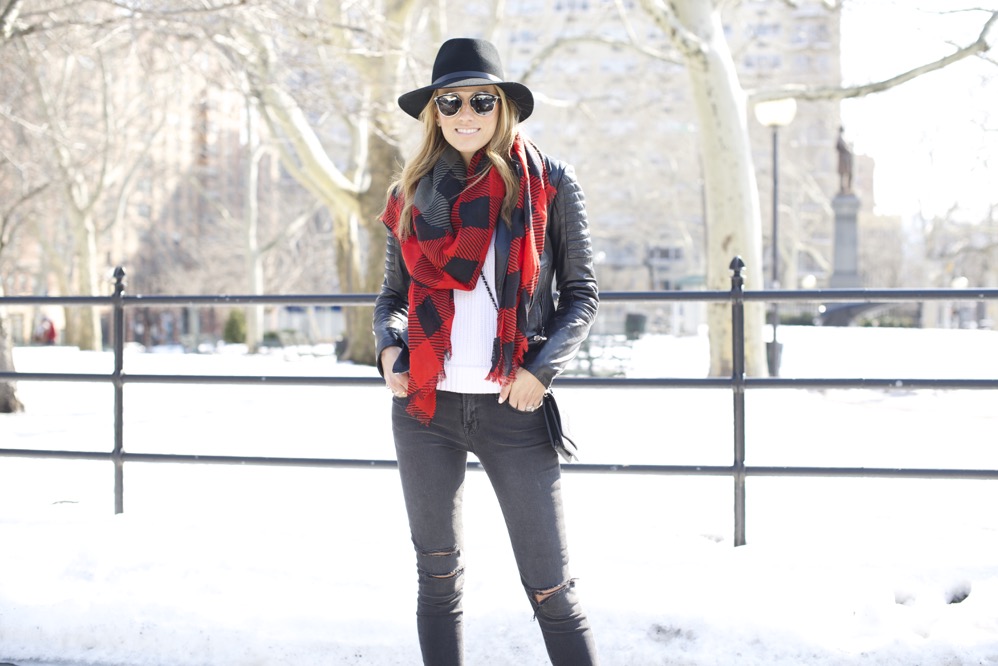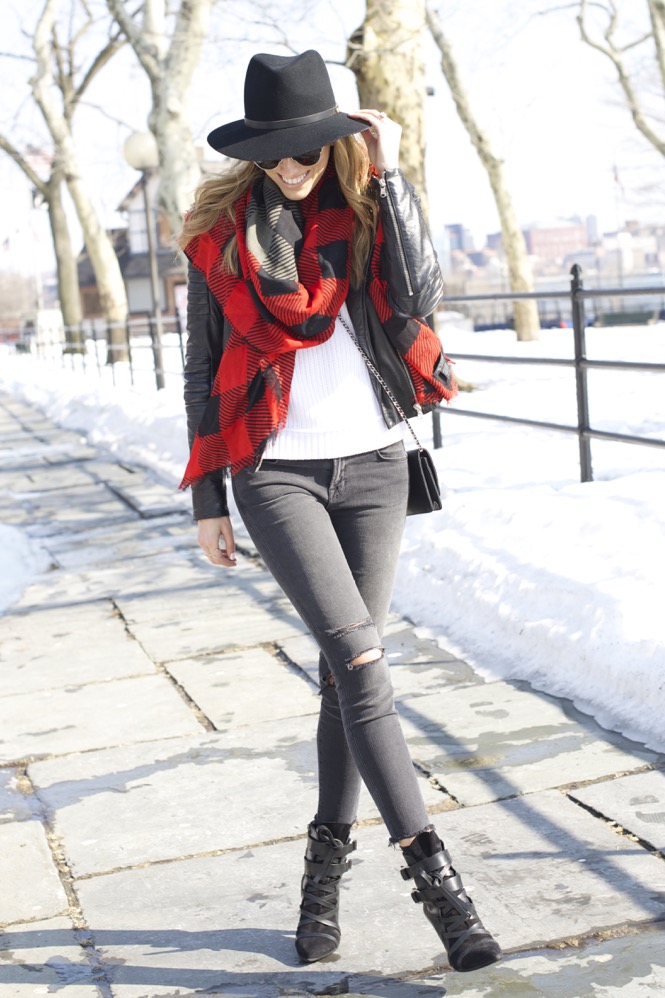 Sweater: Shae
Jeans: J Brand (I also own them in this wash)
Jacket: Adam Lippes (similar here and here)
Shoes: Isabel Marant (also here)
Hat: Rag & Bone (also here)
Scarf: Rag & Bone (similar here)
Bag: Chanel
Sunnies: Dior So Real (also here)
SHOP THE LOOK: