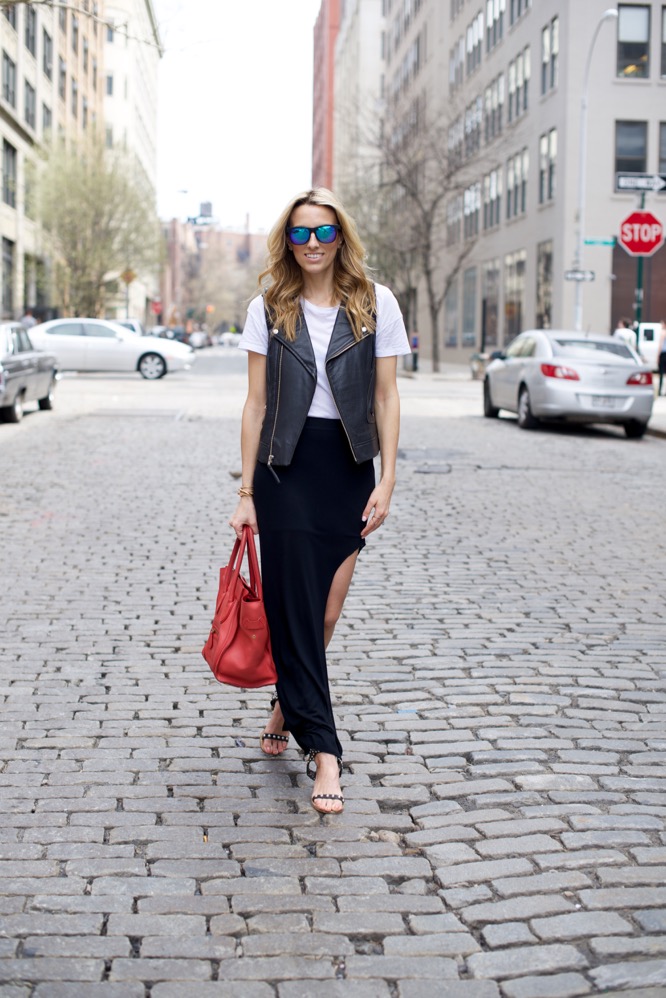 Hi Eveyone! Happy Monday! I hope you had an amazing weekend:) I have a pretty busy week with modeling gigs and getting last minute errands done before we leave for London/Paris on Wednesday. I must say, I'm not a huge fan of packing. Anyone with me?
So you all know I love bags and shoes! If I were to choose to splurge on one thing, it would have to be on a designer bag. My hubby even knows that my favorite gift for any occasion would be a handbag that I'm obsessed with. I purchased a Chanel bag for myself for a milestone birthday and it was less about the bag and more about the idea that I wanted to treat myself to something I absolsutely loved. Designer bags are classic and a good investment in my opinion. I've also been obsessed with Celine for as long as I can remember. My hubby gifted me my first Celine bag that I still use years later. I purchased another one on eBay and was lucky to save money on a brand new Celine. Now, I've only purchased maybe 2 or 3 products on eBay because I'm so leery about the authenticity, especially with designer handbags. This is why I'm so excited about partnering with Trendlee. Some of you have asked me where to purchase Celine bags since you know I'm a savvy shopper (aka FrugaLisa) and this would definitely be on the top of my list of places to shop. They guarantee authenticity, the bags are slightly worn, they have free returns and the best part is you can now get 5% off any purchase using code: LISACAH5. SCORE! It's also rare that you get to shop for these bags online so that's a huge perk.
This beautiful red Celine luggage bag is so buttery soft and is now available for purchase. I was so excited to rock it with a classic black and white outfit. It added just the right POC. I styled the look with this amazing maxi skirt by Helmut Lang (great news, it's currently on sale!) with a T by Alexander Wang t-shirt and a Scoop NYC leather vest. I paired the look with these gorgina Isabel Marant sandals that are seriously one of my favorite sandals EVER. I can't tell you how much I have worn them. If you look back at our Greece trip from last summer you will notice I wore them everyday….LOL! The heel is perfection and they go with everything!
Thanks for stopping by:)

BE SURE TO FOLLOW ME ON:
INSTAGRAM // FACEBOOK // TWITTER // BLOGLOVIN // PINTEREST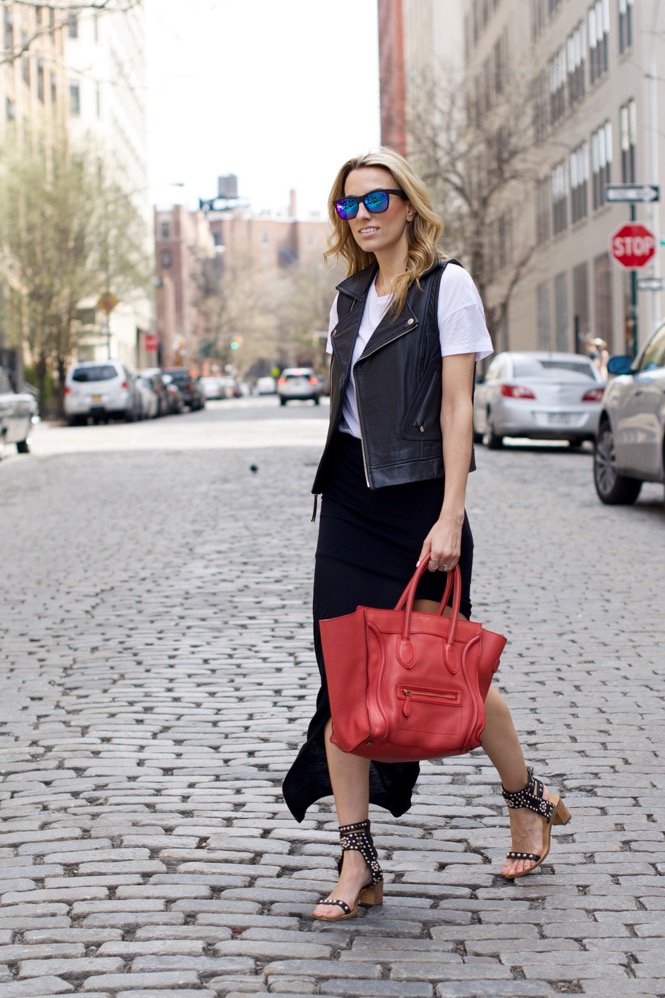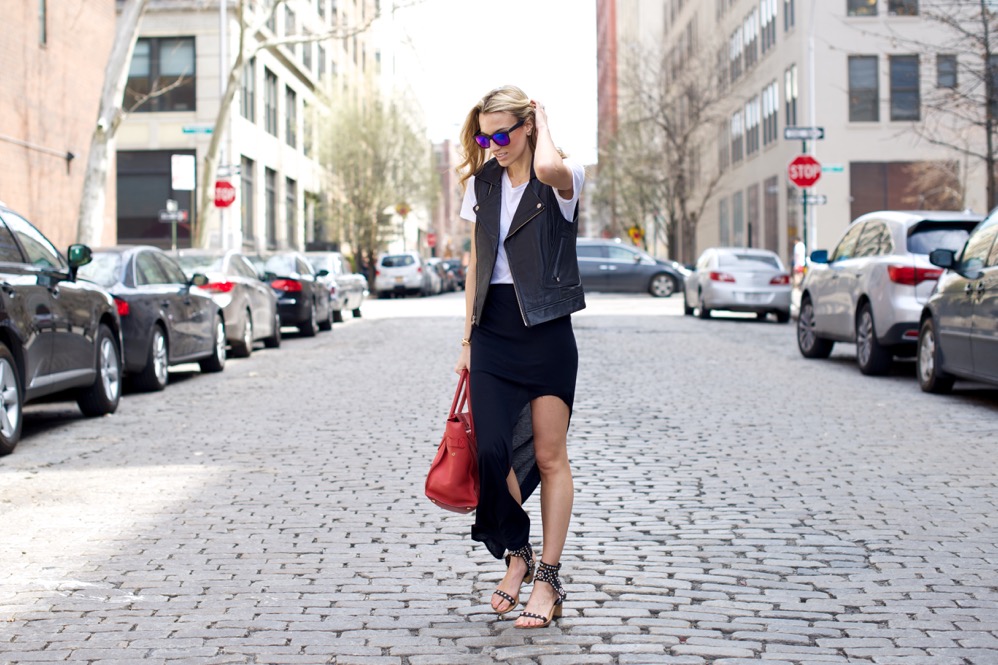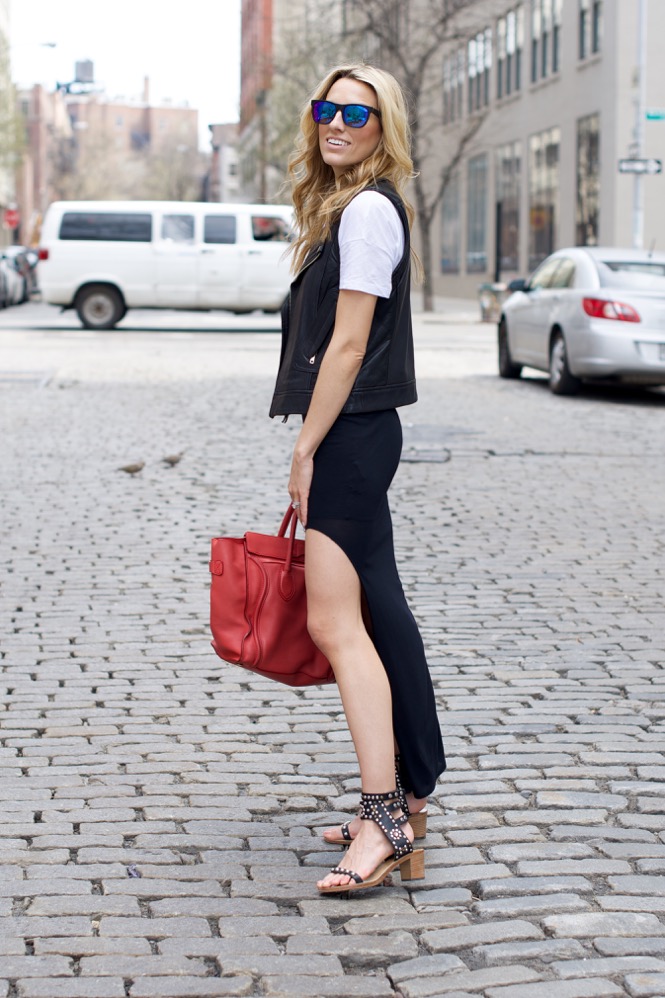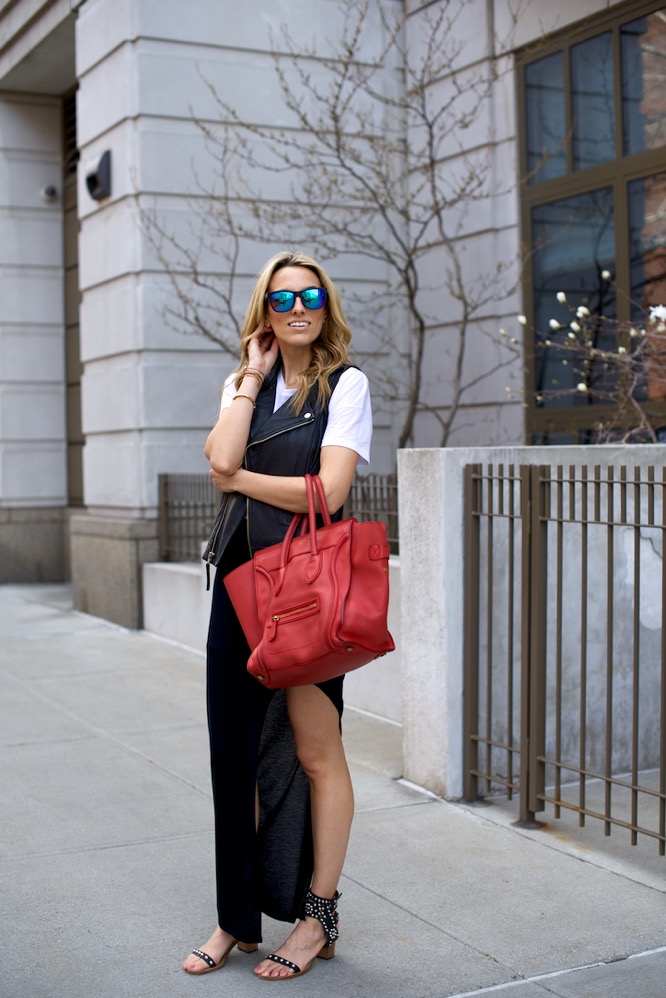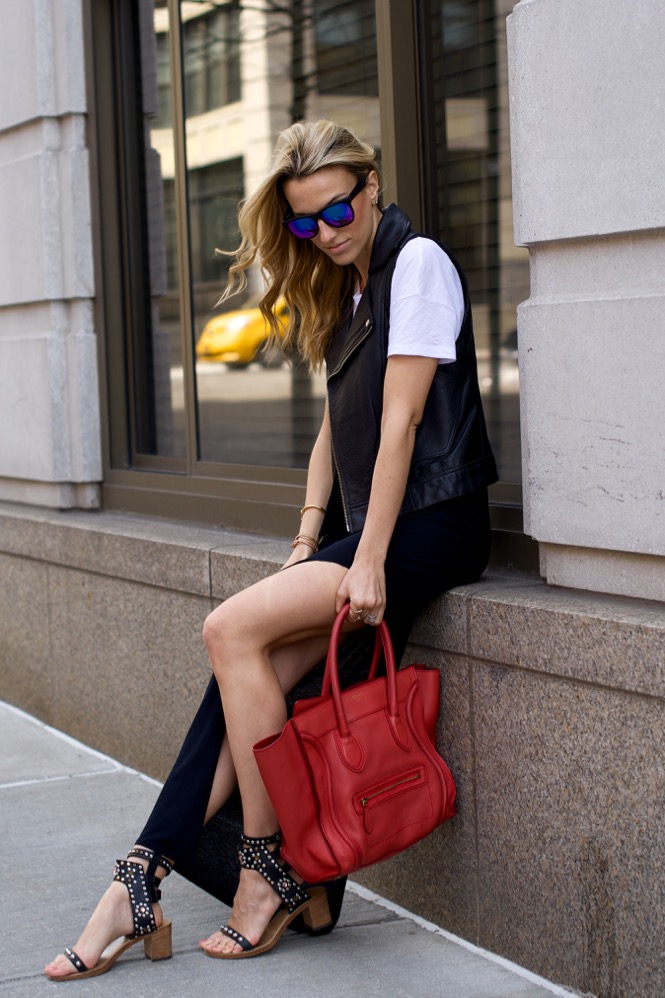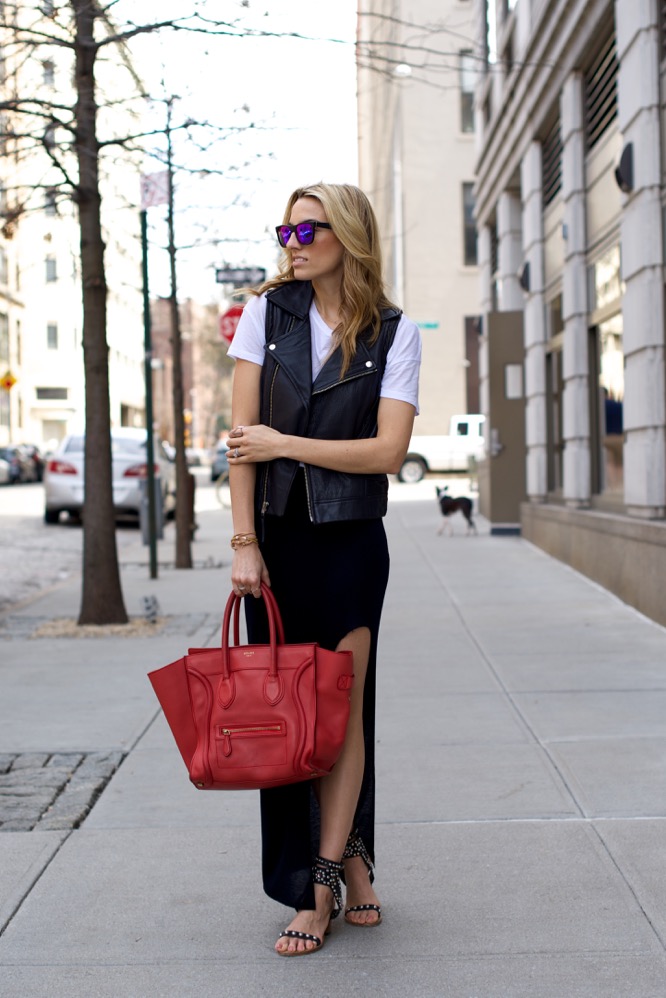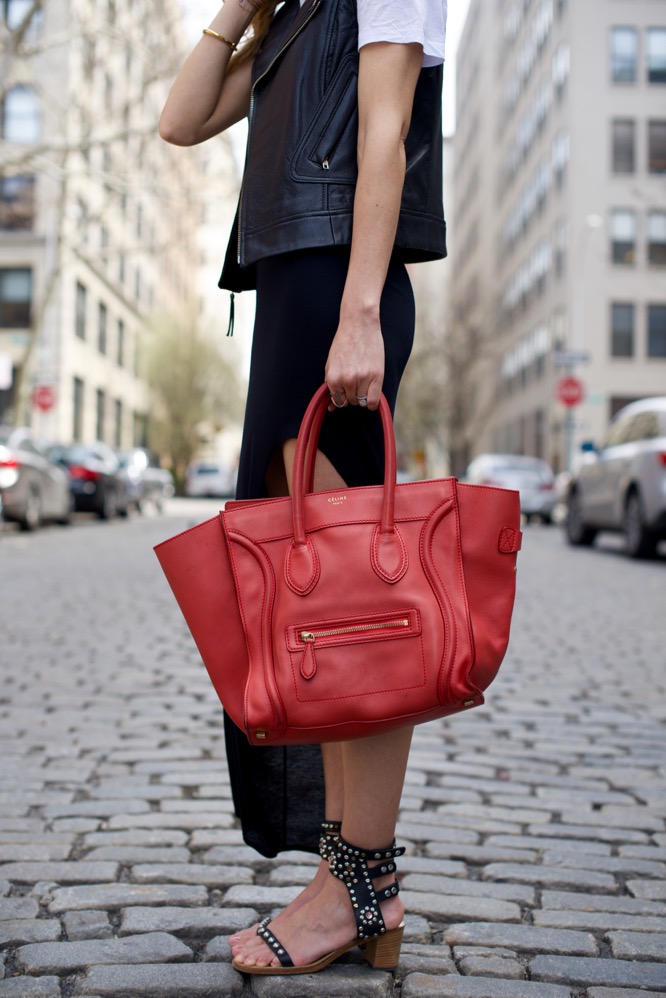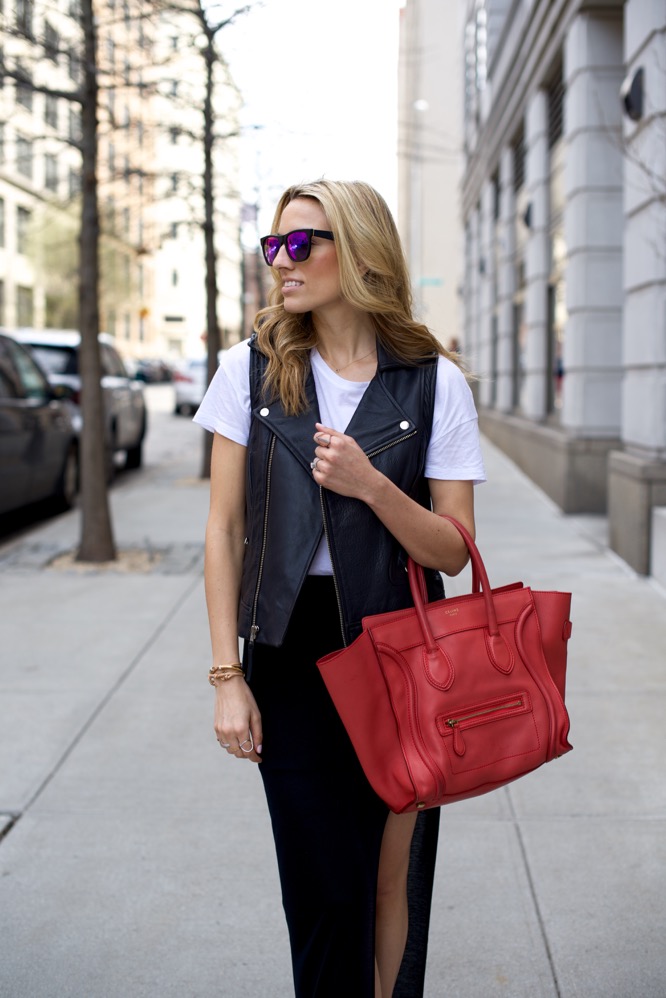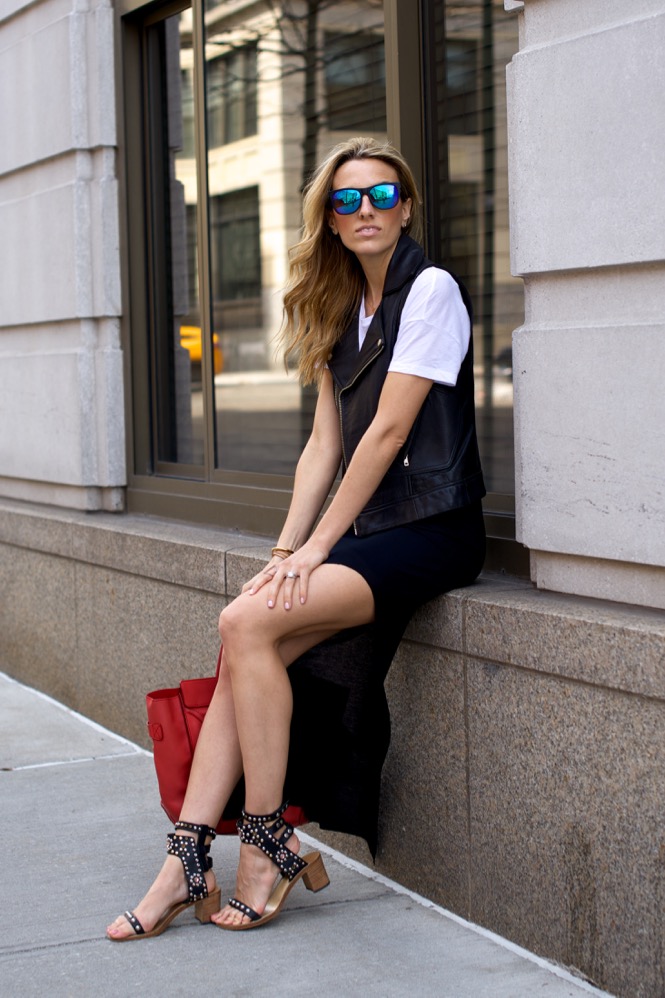 Bag: Celine via Trendlee (5% off with code: LISACAH5)
Vest: Scoop NYC (similar here)
Skirt: Helmut Lang
Tee: T by Alexander Wang
Sunnies: Super
Shoes: Isabel Marant
Ring: Geoffrey Scott ( get 10% off with code: MINDBODYSWAG)
Rose Gold Bracelets: Miansai and Vita Fede
SHOP THE LOOK: