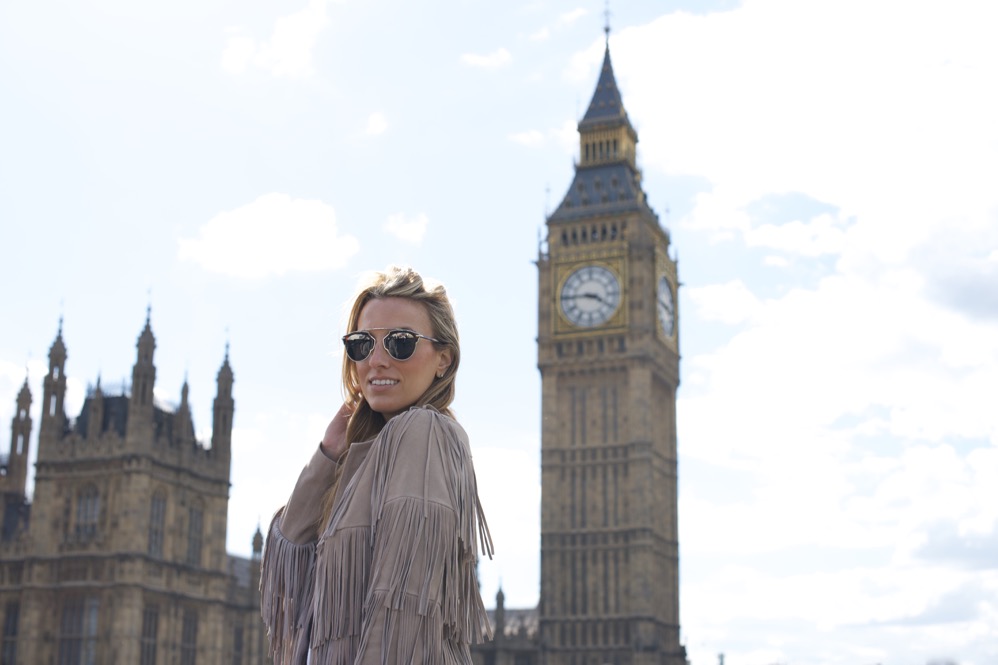 Hi Everyone! We are officially back from vacation.  London and Paris were both perfect. We had the most amazing time! I will be sharing all my looks as well as some travel tips for each place.
London was our first stop and it's such an amazing city with so much to see and do and with great food. The people were so pleasant and I was excited the Princess was born while we there. I think the taxis in London are so unique and seriously the best in any country I have been to. I loved taking the tube everywhere! It was very convenient and easy to navigate. We were fortunate that it didn't rain at all on our trip but the weather was very cold. Thank goodness I brought a few sweaters and layers! I wish I would have brought more but I was hoping to wear all new Spring gear…LOL.
After we checked into our hotel at the London Edition, which is perfectly situated in Soho and made it easy to walk to many places, we headed straight to Oxford Street. Oxford Street has great shopping like Primark and Topshop. We spent the whole day exploring and admiring the Big Ben, London Eye, Westminster Abbey, then took a cruise down the Thames River to the Tower Bridge, then walked around and saw the Shard building and Borough Market. That night we eat a traditional British meal at The Wolseley.
For my #OOTD I wore this to die for suede fringe jacket from Intermix. The minute I saw this jacket in the store I knew I had to have it. It is the perfect color and I just love the way the fringe lays. I styled the look with skinny jeans, a white sweater and leopard espadrilles. I had so much fun twirling in this jacket (if you follow my snapchat @lisadnyc, then you have seen all the videos…LOL). Also who can resist the red Telephone booths. I couldn't stop taking photos next to these iconic landmarks.
Stay tuned for more looks and travel diary from London. Thanks for stopping by:)

BE SURE TO FOLLOW ME ON:
INSTAGRAM // FACEBOOK // TWITTER // BLOGLOVIN // PINTEREST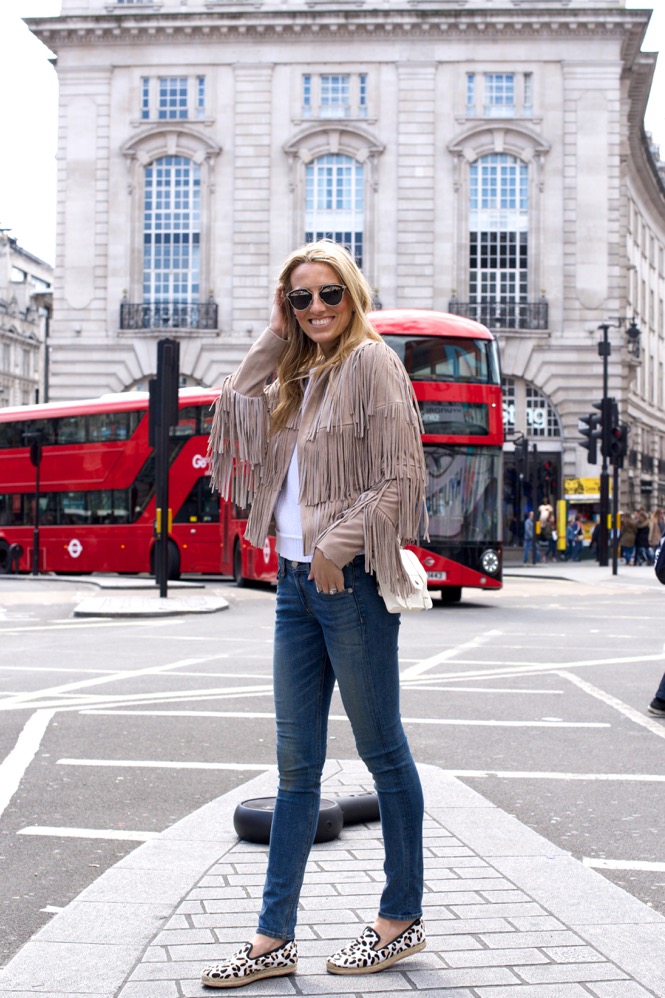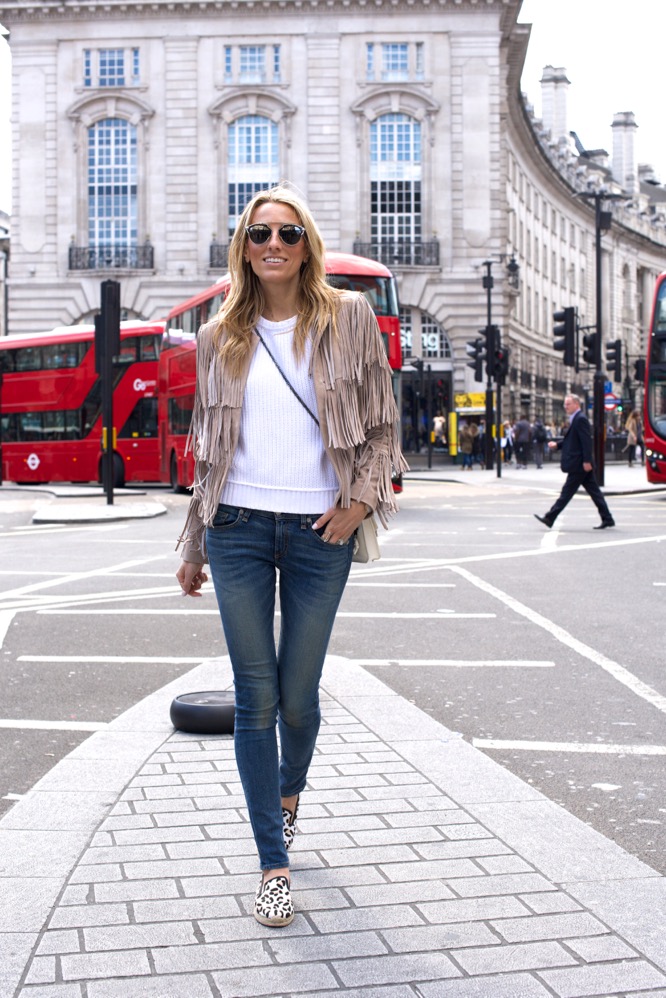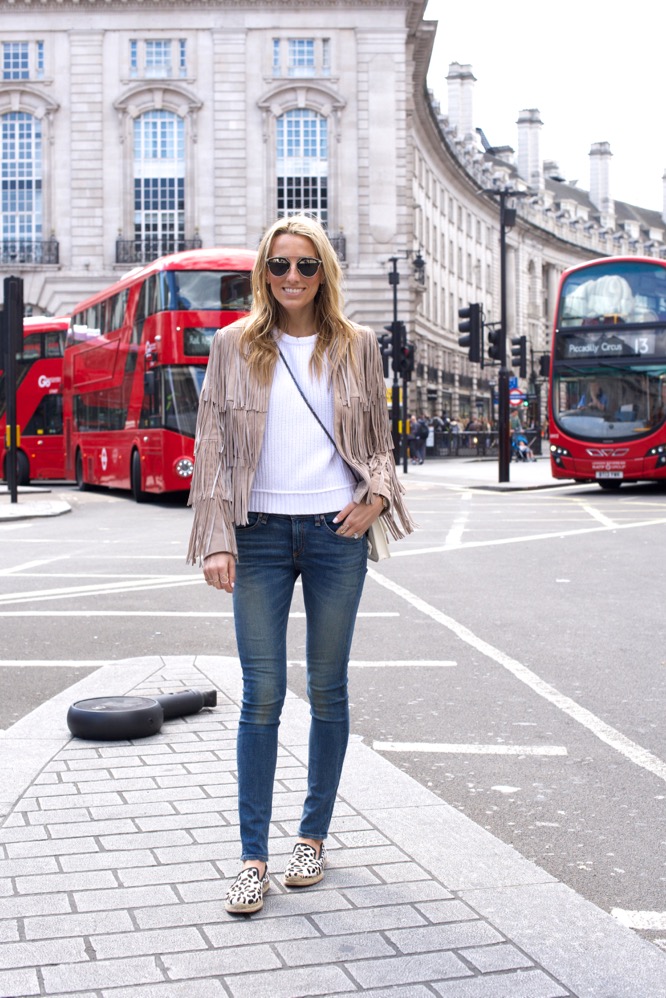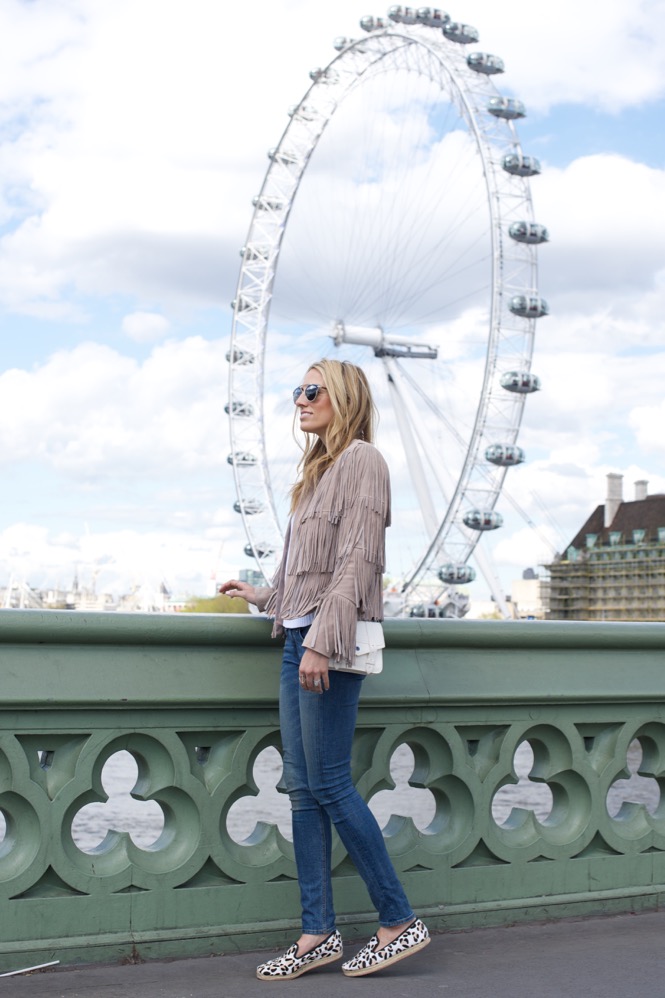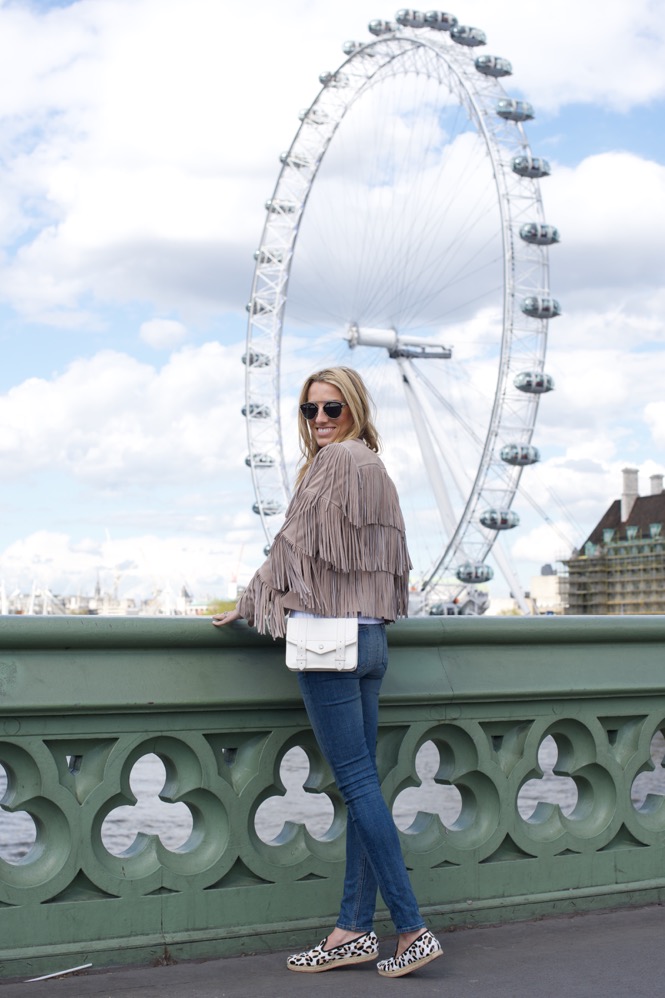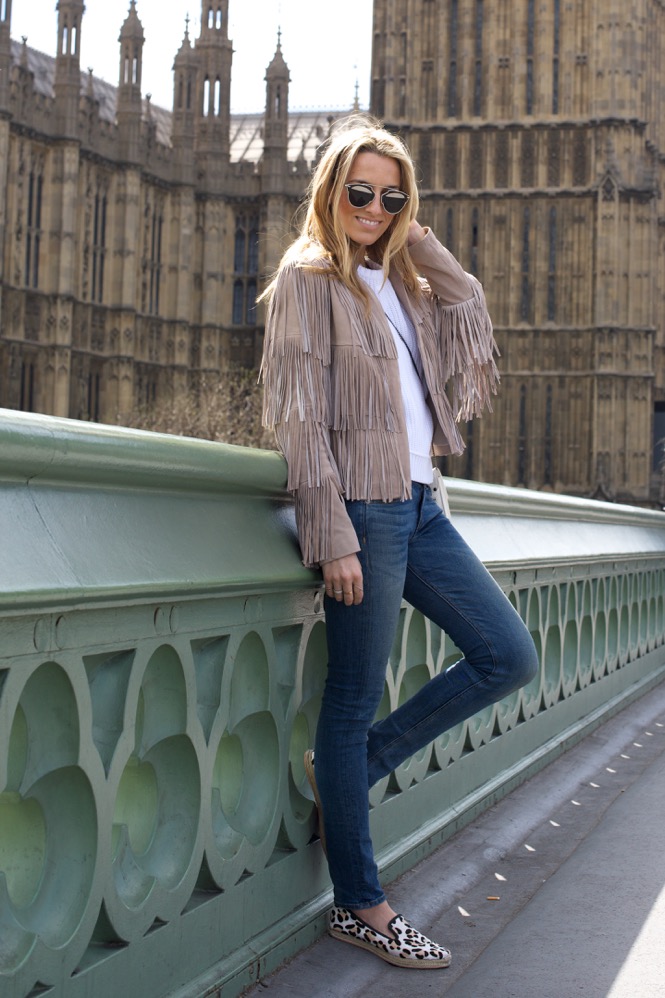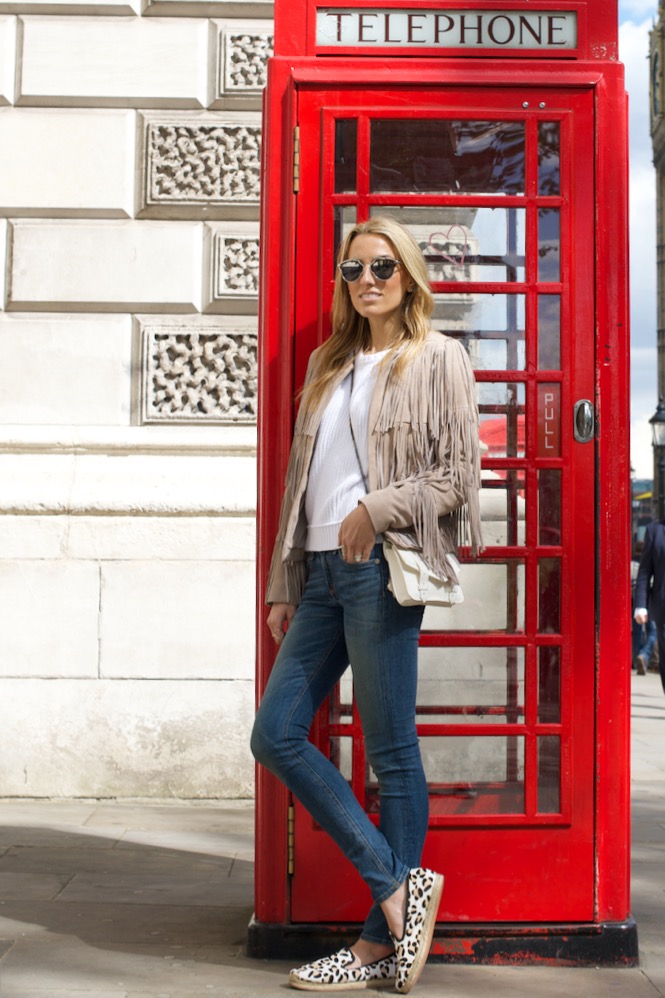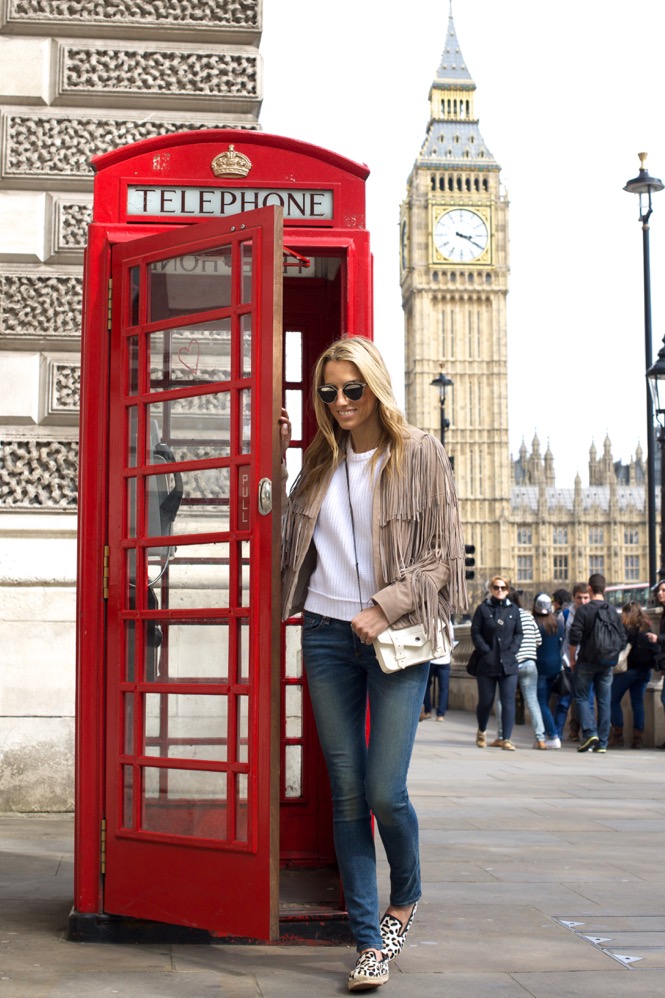 Fringe Jacket: Intermix (similar here and here)
Jeans: Rag & Bone
Sweater: Shae
Shoes: Senso
Bag: Proenza Schouler
Sunnies: Dior (also here)
SHOP THE LOOK: