Hey Guys! Happy weekend! Less is more has always been my motto when it comes to fashion but it also translates into my life. I truly believe that simplicity always wins.
I've been in the fashion industry for over a decade so by this time I kinda know how crazy it can be but at the same time I truly love it! You can't possibly stay in something this long without loving it, right?! But full discloser: there are parts of it that I really don't love especially when it comes to blogging. This is not a judgement, everyone is entitled to do whatever they want but I sometimes feel like there is this inauthencity when it comes to blogging. Whether it's buying followers or following a million people (legit, one girl followed a m-i-l-l-i-o-n)  in hopes they follow you back just doesn't sit well or feel genuine to me. I started my blog as an extension of my career as a model. I wanted a platform to pursue my dreams and goals of inspiring others! I love the community and the messages people write to me all the time saying that I've made a difference in their lives even if it's just to look and feel great, which is truly the reason I continue to do this. It is so humbling especially when you love what you do. I'd be kidding to say that I don't want more followers or to grow my brand because that's absolutely the goal but I want to do it organically, with integrity and authenticity. I know it will take a lot longer (fingers crossed not too long..LOL) than someone else who is buying engagement and followers but I feel that at the end of the day and as cheesy as it sounds….Rome was not built in a day! Any successful business that has staying power and longevity has it because they have stayed true to the aesthetic of their brand. I hope this inspires you to stay true to yourself in anything you do and remember everyone is unique in their own way:)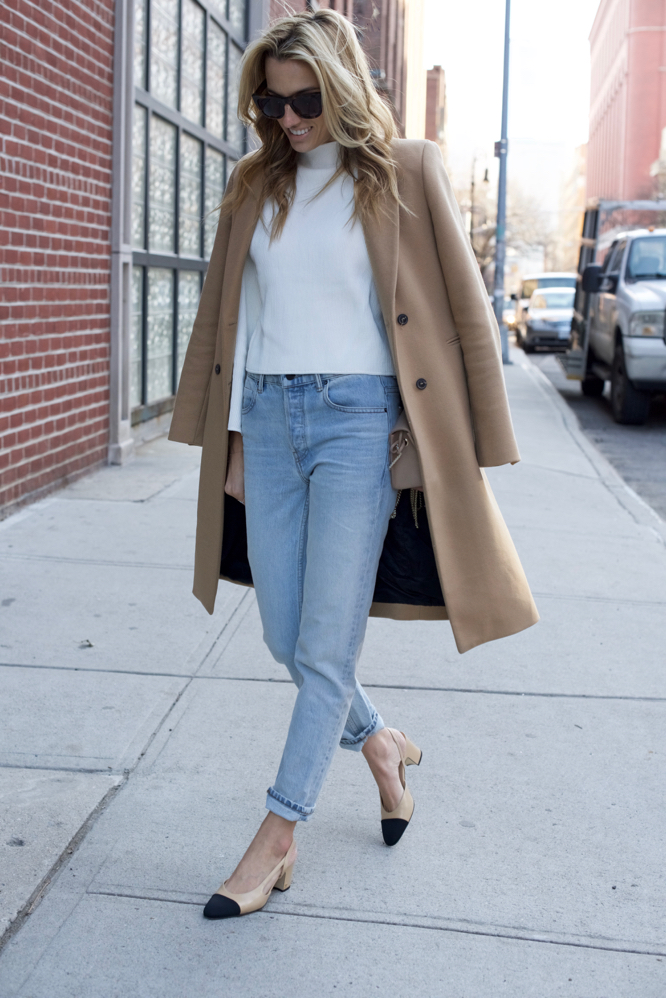 After many months of searching I finally found the Chanel slings in my size…YAY!! I'm so obsessed with these shoes. They are so unique and the epitome of classic! I love everything about them but most of all I have to say they are extremely comfortable. The minute they arrived I had to shoot them. Look out for a ton more posts with them because like I always say I must get my CPW (cost-per-wear) in…LOL!
I styled this "OOTD" with Denim x Alexander Wang jeans and an amazing Topshop top that I saw on a blogger friend of mine and had to buy. The sleeves on this top are so one trend for Spring. I was impressed with the quality as well given that it was less than $100 (major score!). I paired the look with a camel Zara coat, neutral Furla bag and Super tortoise sunnies.
Photos by Adrian Cahue
Fit Notes:
Top- I'm wearing a size US 4. Topshop pieces run small and since this top is cropped I  sized up to get some extra length.
Jeans – I'm wearing a size 24 -they are meant to fit as a boyfriend jean.
Shoes – take your normal size.
Coat – I'm wearing a size small.
I hope you have a great weekend! Thanks for stopping by:) xoxo
Top: Topshop (also here)
Jeans: Denim x Alexander Wang (also here)
Coat: Zara
Shoes: Chanel (similar style here)
Bag: Furla (also here)
Sunglasses: Super (also here)
SHOP THE LOOK: