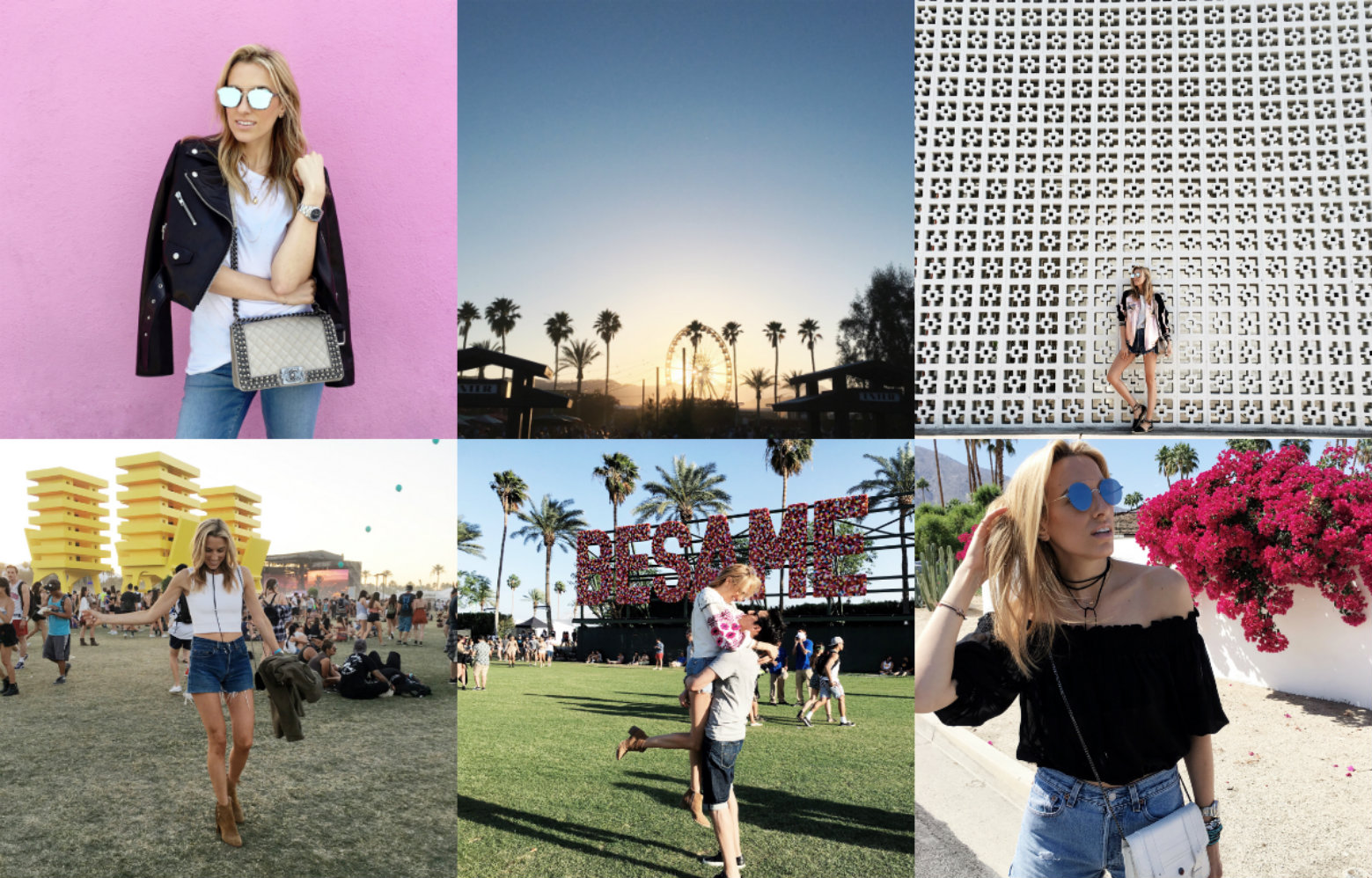 Hey Guys! I know you are probably sick of hearing about Coachella but it was one of the best weekends ever and something I've been wanting to check off my bucket list for some time now. Of course we took so many photos that it required more then one post…LOL! I went a little crazy with Snapchat (@lisadnyc) but you know me when I hear music I have to dance. I was so happy so many of you snapped me saying how much you enjoyed my silliness…haha.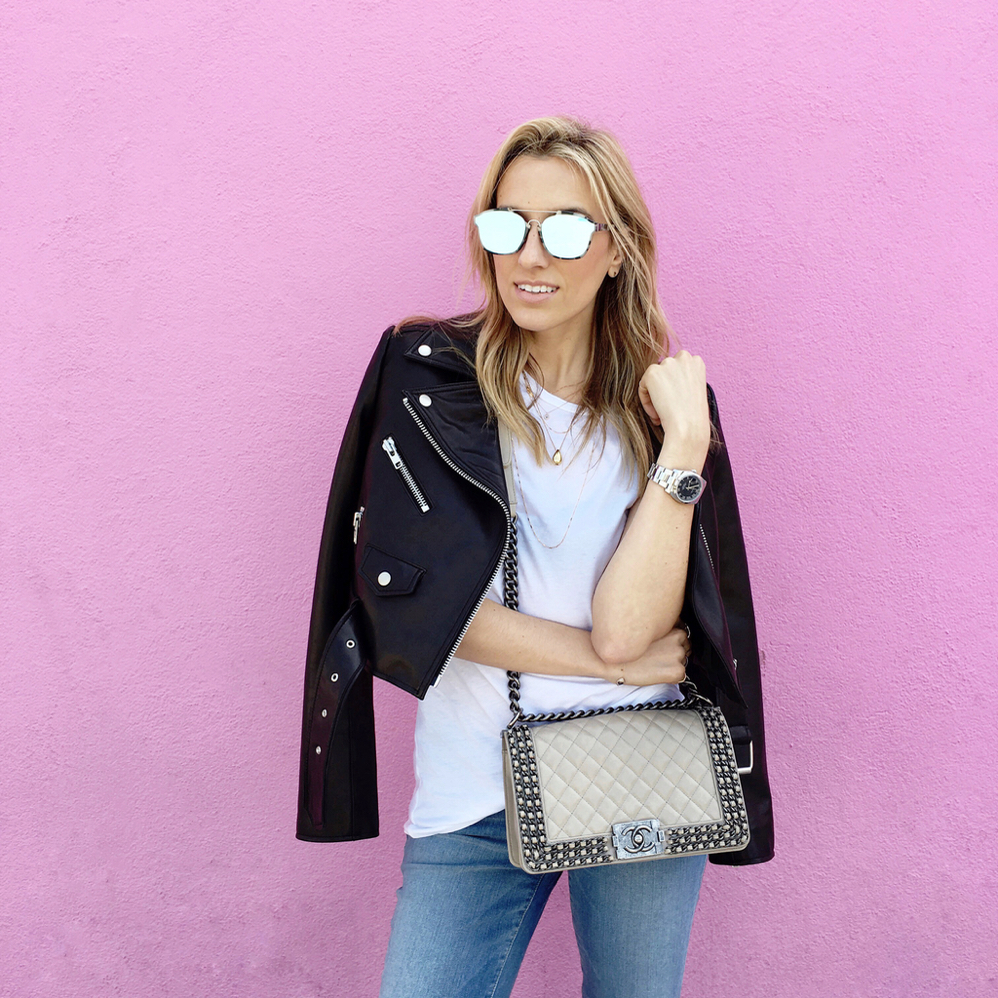 The famous pink wall in LA along with coffee and a green juice (not in that order) was our first stop before heading to Palm Springs.
Lookast Cropped Moto Jacket // Primary Tee // Chanel Boy Bag // Frame Jeans // Golden Goose Sneakers // Dior Sunnies
WHERE WE STAYED: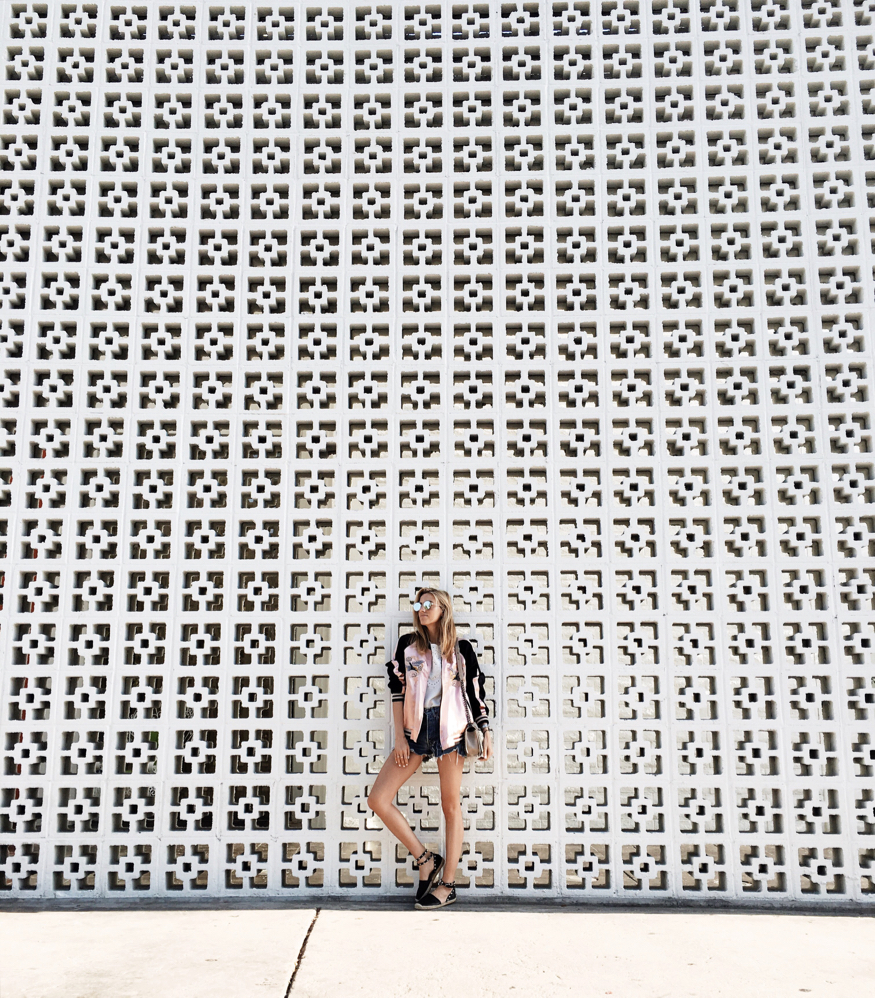 Zara Bomber (similar here) // Vintage Levi's Shorts (similar here) // Rebecca Minkoff Shoes // Veronica Beard Top // Gentle Monster Sunglasses (similar here) // Chanel Boy Bag

We stayed at the Parker Palm Springs, which is a 2 hour drive from LAX and a 30 minute drive from Coachella. I highly recommend staying in Palm Springs. It's not only beautiful, but most of the parties are held at private residences in Palm Springs. The Parker was fully booked but oddly enough I still felt like we were by ourselves when we walked around the gorgeous grounds and chilled by the pool. This was partially because we are early birds and everyone else was sleeping while we lounged around on the hammocks to soak up some R & R. The interior design at the Parker is all Jonathan Adler, who I'm a fan of and have some cute pieces from him in my own apartment.
How cute is this lemonade stand?
Motel Alaska Swimsuit // RE/DONE Shorts // Illesteva Sunglasses // Soludos Espadrilles
DAY 1 – PALM SPRINGS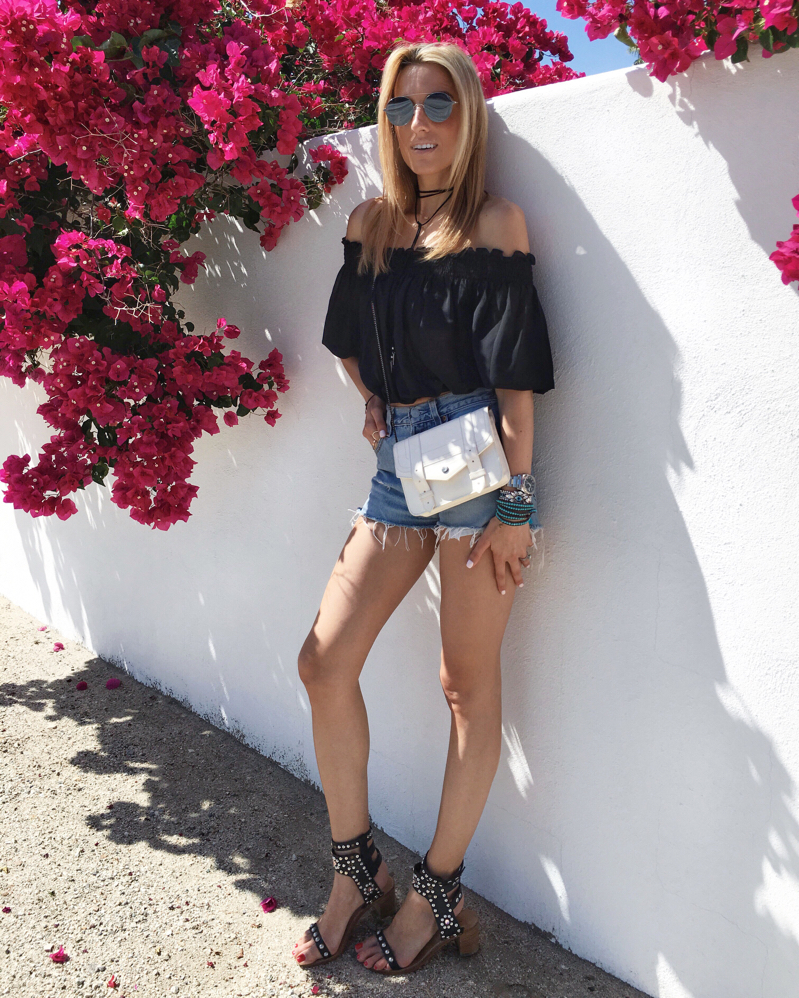 We attended a pool party before heading to the festival. Since the party was in this beautiful neighborhood we had to snag some pictures. I love these gorgeous flowers…they reminded me of our vacation in Greece. I love off the shoulder tops and this black Glamorous top was one of my favorite pieces I wore.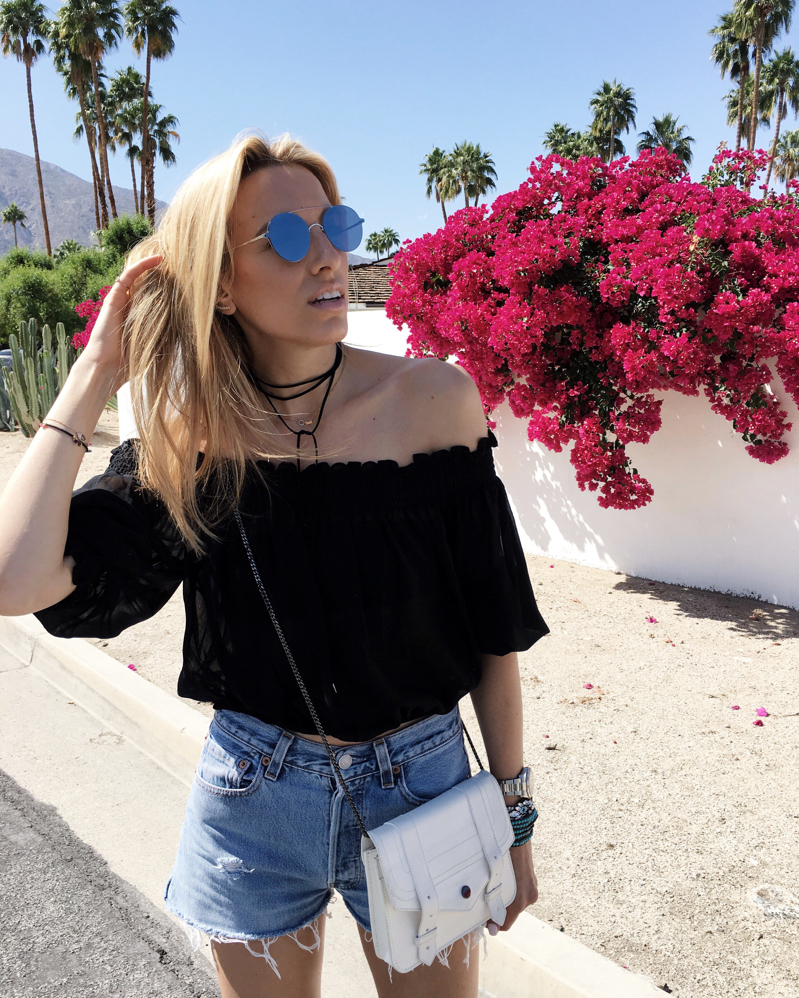 Glamorous Top // RE/DONE Shorts // Isabel Marant Sandals // Gentle Monster Sunglasses (similar here) // Proenza Schouler Bag // Chan Luu Bracelet // Shourouk Happy Bracelets //  Vanessa Mooney Choker

Day 1 – COACHELLA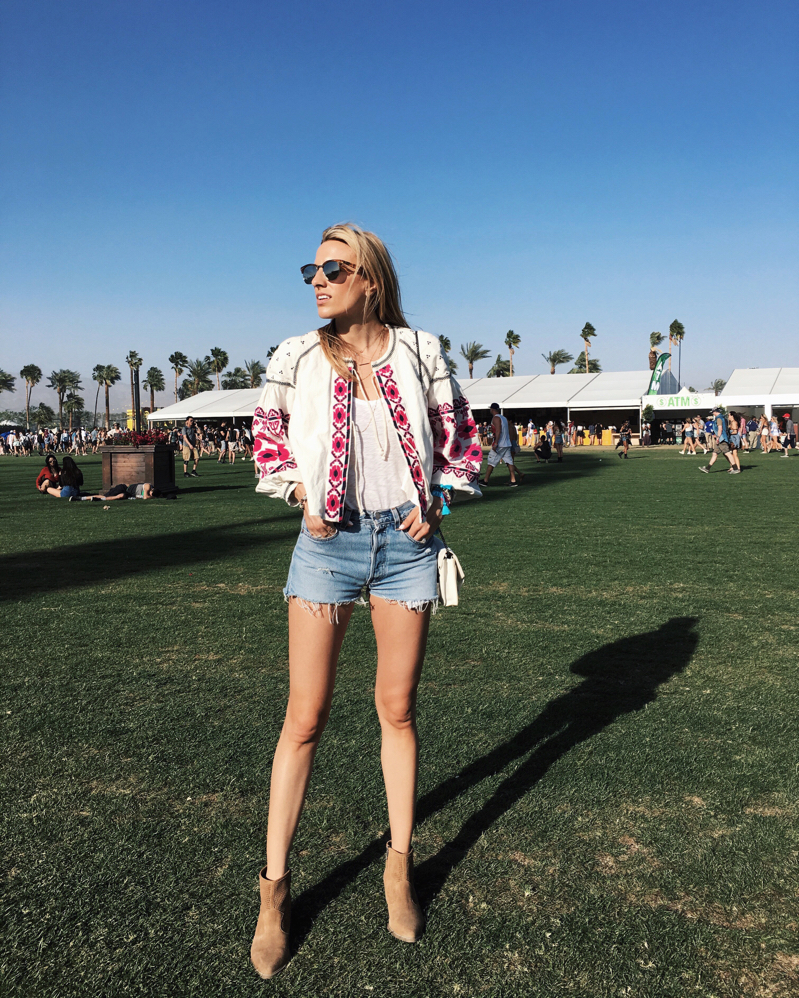 Get all the details of my Coachella Look 1 HERE
Since most of the music we were excited to listen to started later in the day, we didn't rush to the festival because it is too long of a day in my opinion. We preferred to spend the mornings relaxing by the pool, shooting for MBS and going to parties. I also love to get a good meal in instead of relying on the food at the festival, which was surprisingly good when we actually did eat there. They have options for everyone and the salad I ate was so yummy! I also ate a soft pretzel every night there because I was starving after dinner and dancing…LOL! I'm like 95% gluten free (I don't have celiac) because of my digestion issues so I can eat gluten on occasion and this one was worth every single salty piece.
My favorite performances from Day 1 were A$AP Rocky who brought out Kayne; Disclosure, who brought out so many surprise guests including Sam Smith and Lourde; and I loved Ellie Goulding and Marco Carola.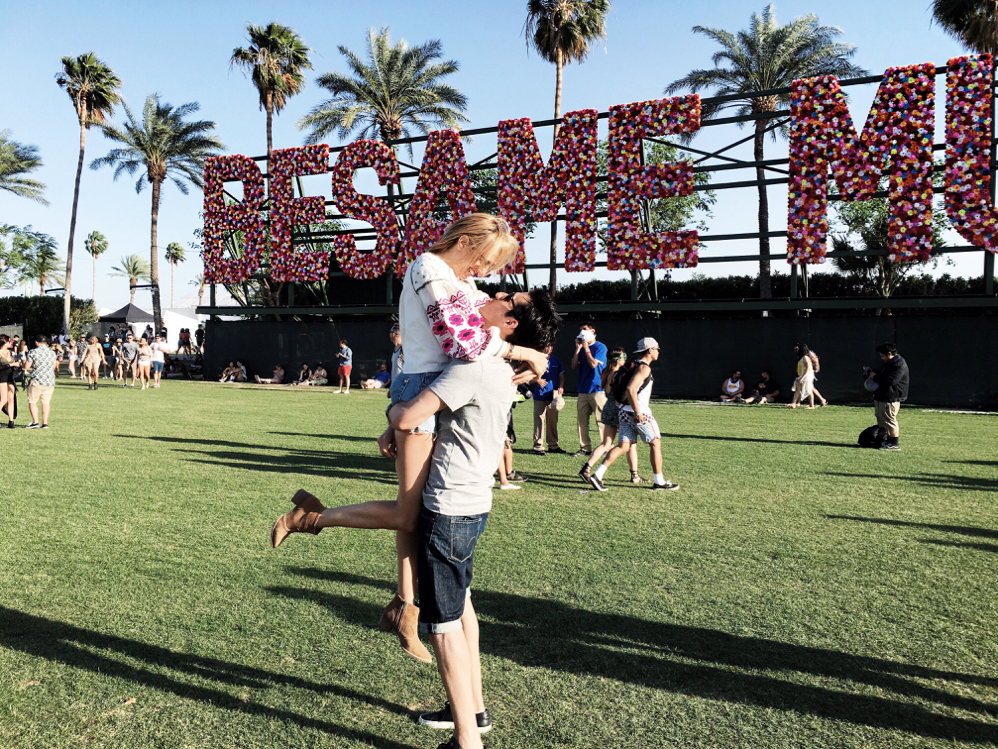 Bésame Mucho<3
DAY 2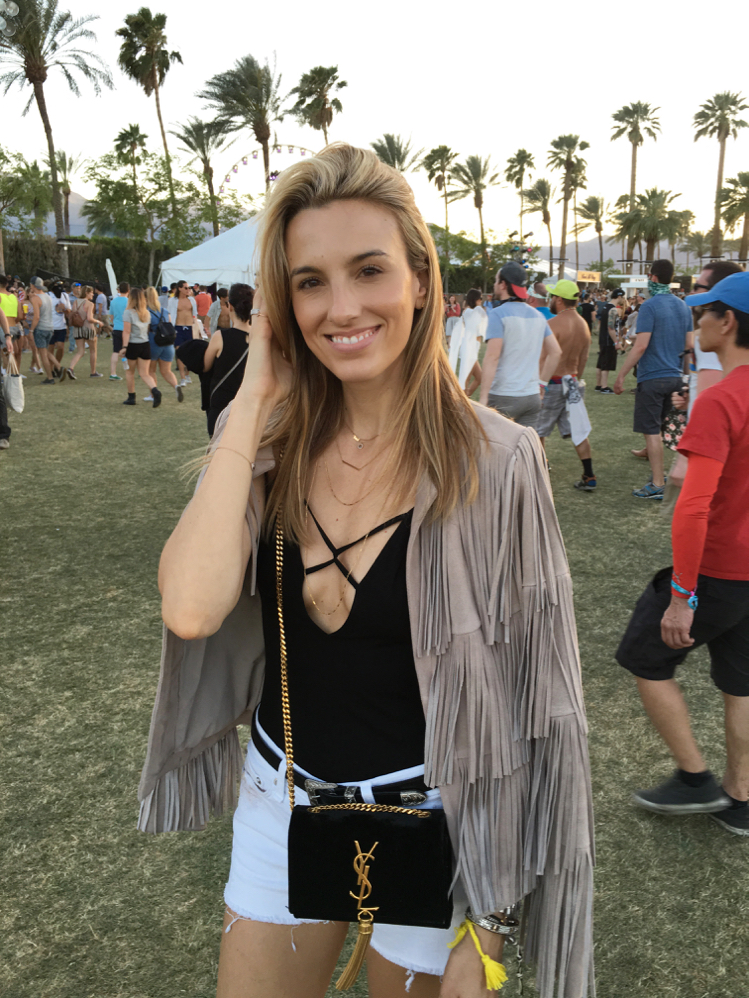 From the moment I started packing, which was very last minute as per usual, I knew I wanted to incorporate this fringe jacket. I mean, it's Coachella…think boho, fringe, white crochet, lace and vintage denim. Truth be told I never plan outfits. I don't know why but it never works out for me when I plan so I have an idea about what I want to wear but I bring a few different options just in case. And thank goodness I did for this trip because seriously I didn't wear one outfit head to toe that I thought I was going to wear. I also think it's important to stay true to your personal style. I'm a minimalist and even though I add some bright colors or trendy pieces in from time to time, my aesthetic never changes. I know it's Coachella and people push the style envelope and want to wear crazy, fun things and that's all good but it's just not me and I never want to be uncomfortable in my own skin.
My favorite performance from this night was definitely Ice Cube. I'm all about rap music so this was amazing especially when he brought out Snoop Dogg!
Intermix Jacket (similar here) // Nastygal Bodysuit // Rag & Bone Shorts // Ray- Ban Sunnies // Chloe Boots // Saint Laurent Belt and Bag // Shourouk Happy Bracelets // Geoffrey Scott Wrap Bracelet // Jennifer Zeuner Necklace

DAY 3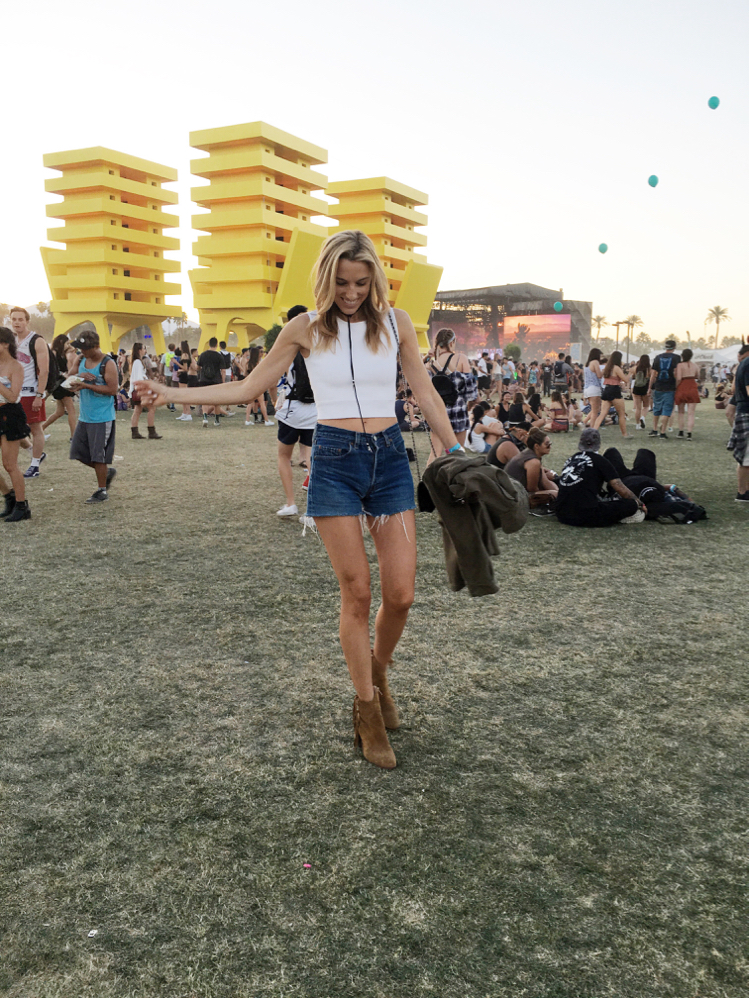 See my Day 3 Coachella Look HERE
This day was my favorite because of Major Lazer. I've loved their music for quite some time now but the performance at Coachella was epic! It literally gave me chills to look around and see every single person there dancing and having the best time ever. Right after their performance I literally couldn't breathe from all the dust in the air. Long story short but I deal with throat issues so the dust was unbearable for me. Sadly, Adrian and I had to leave the festival early without seeing Calvin Harris:( I think health is more important so I wasn't too bummed.
With my love<3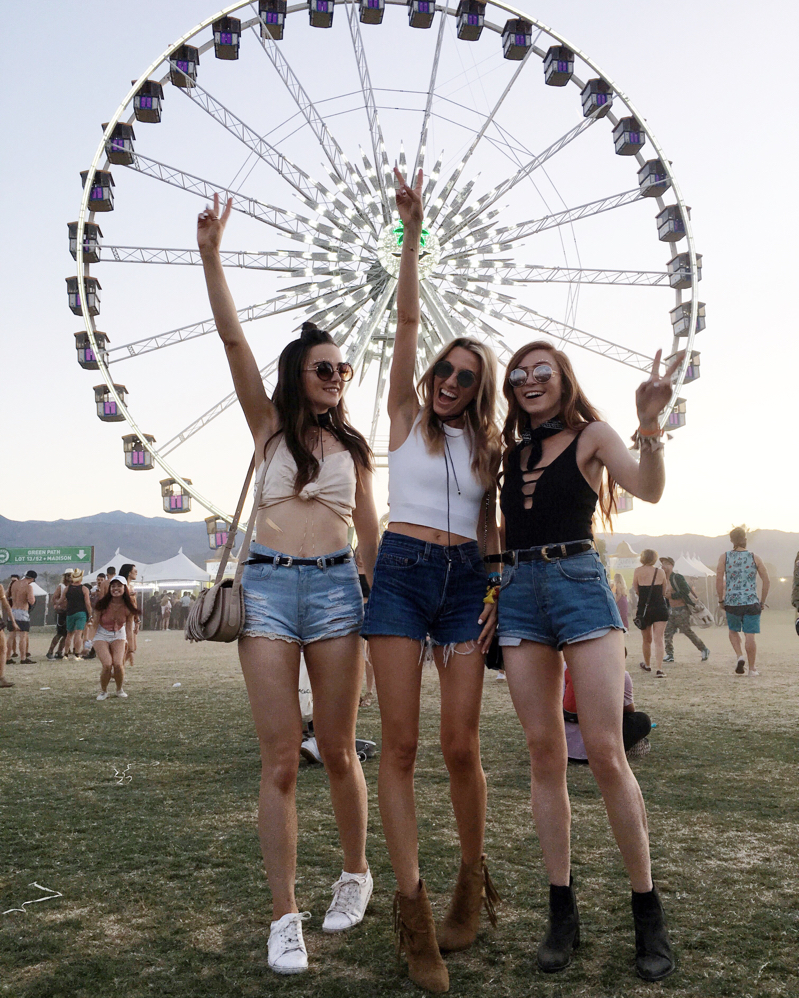 There's nothing like hanging out with your favorite people (Erika and Niamh). The memories….
The sunsets were extraordinary:)
I hope you enjoyed this post. Let me know what you guys think in the comments below. Have a great day!
xoxo
Lisa