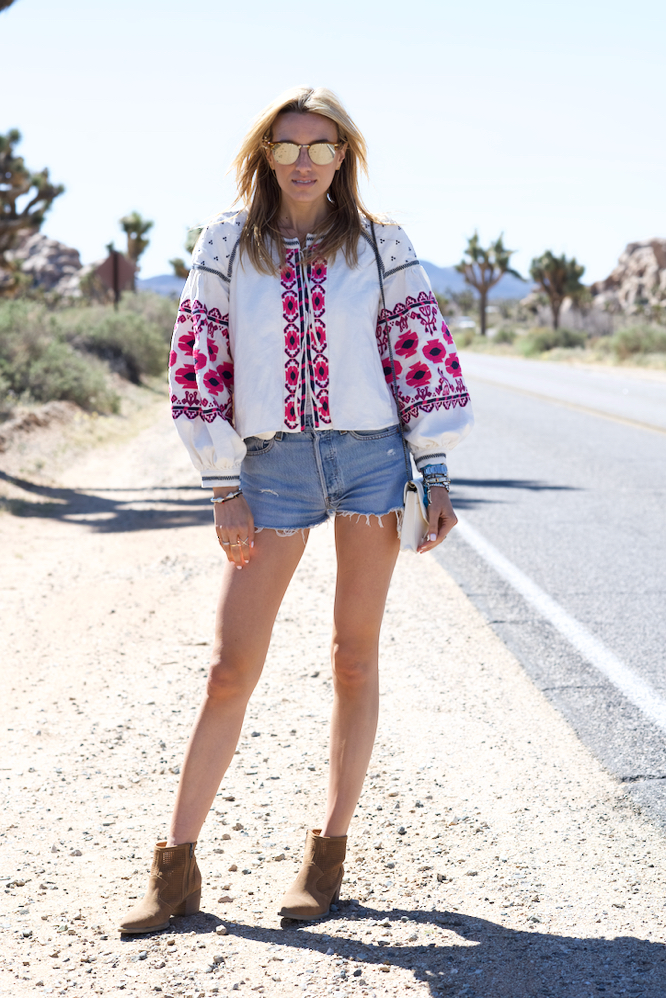 "You must give everything to make your life as beautiful as the dreams that dance in your imagination." ― Roman Payne
Hey Guys! I just got back from California for weekend 1 at Coachella. I've always wanted to go to Coachella but I never had the opportunity. It was such an amazing experience and definitely something I recommend doing at least once in your lifetime. I also went to honor my brother because he loved music. I've been focused on honoring his life by living my life to the fullest so this was definitely one of those YOLO moments for us.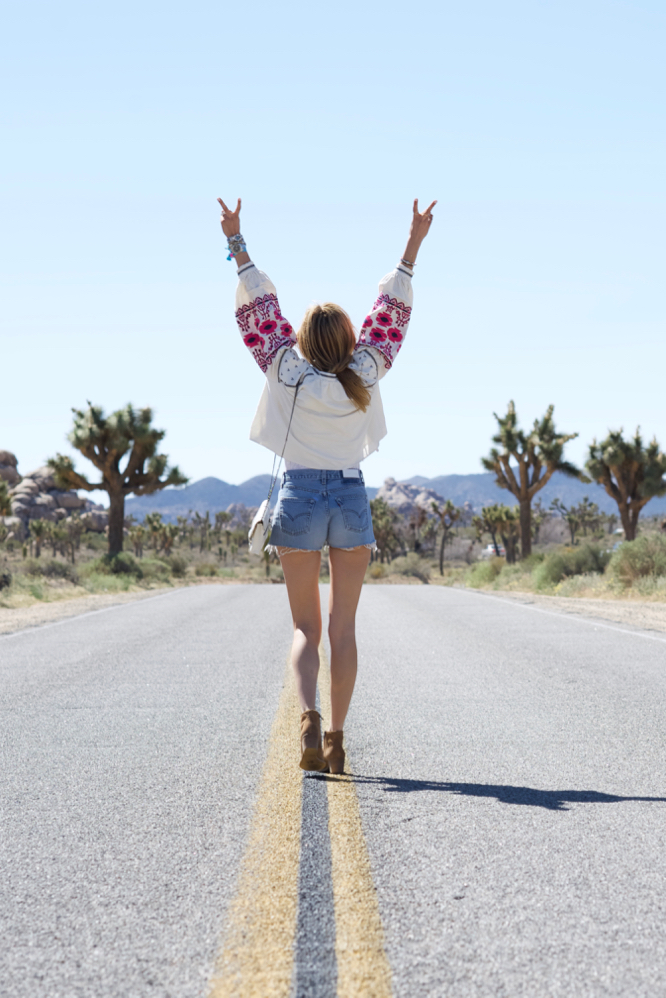 We stayed at the Parker Palm Springs, which I will share my travel diary of in a later post. It was a beautiful weekend! The weather could not have been more perfect. I was so happy to be in the warm sun surrounded by palm trees, which are my absolute favorite. The memories we made this weekend will last a lifetime. It's hard to describe but I'm so happy I got to do something that was so outside my comfort zone but at the same time was pure joy. Just being there in the moment and appreciating life was exactly what I needed at this hard time in my life. We had such a blast hanging out with my girls Erika and Niamh, who I was so happy to share this experience with! It was epic and too much fun that my voice is still recovering from all the singing…LOL!
Coachella is insane….the music, the fashion and the weather! It's definitely hot in the desert and the wind blows all the dust but we lucked out because it wasn't as hot as I heard it has been in the past. The weather changes dramatically so if you are going to Weekend 2 I highly recommend bringing a jacket when the sun comes down.
For Day 1 I wore vintage Levi's RE/DONE shorts with a Free People swingy jacket I'm obsessed with. This jacket is so on point for the globetrotter trend. I love the embroidery and bright color. It was perfect for the festival! I paired some Steven brown booties, a white Proenza Schouler bag and TOMS sunglasses to complete my look.
Stayed tuned for more from Palm Springs and Coachella….in the meantime check out more photos on Instagram (@lisadnyc).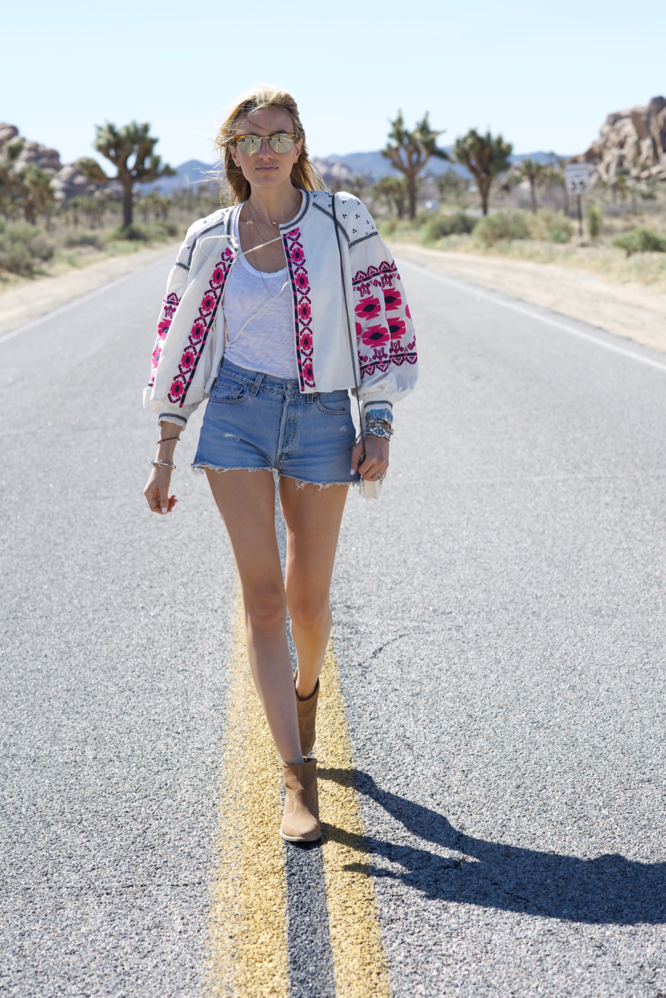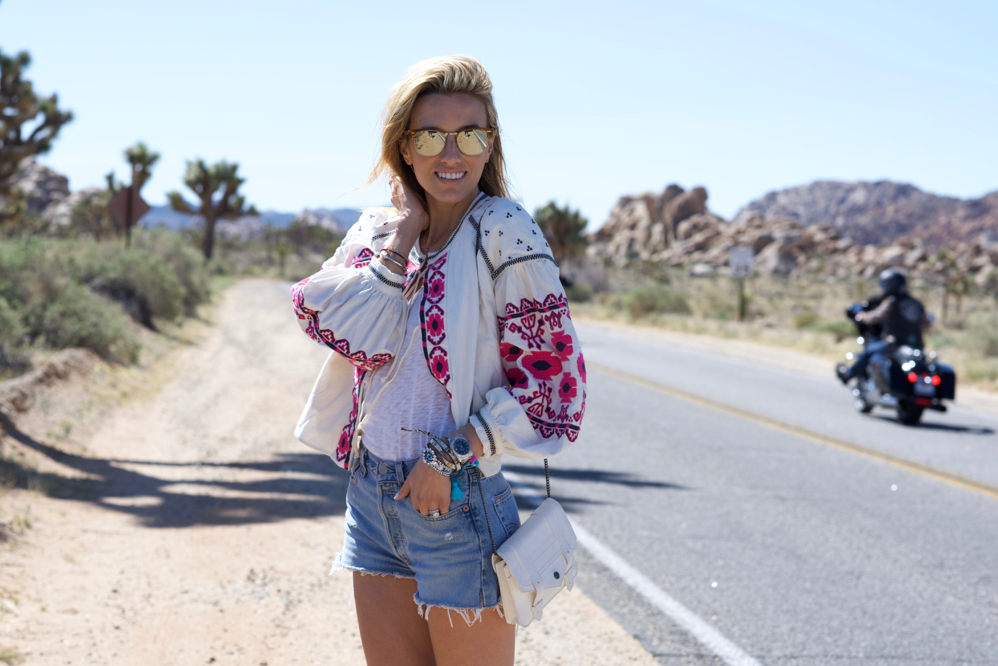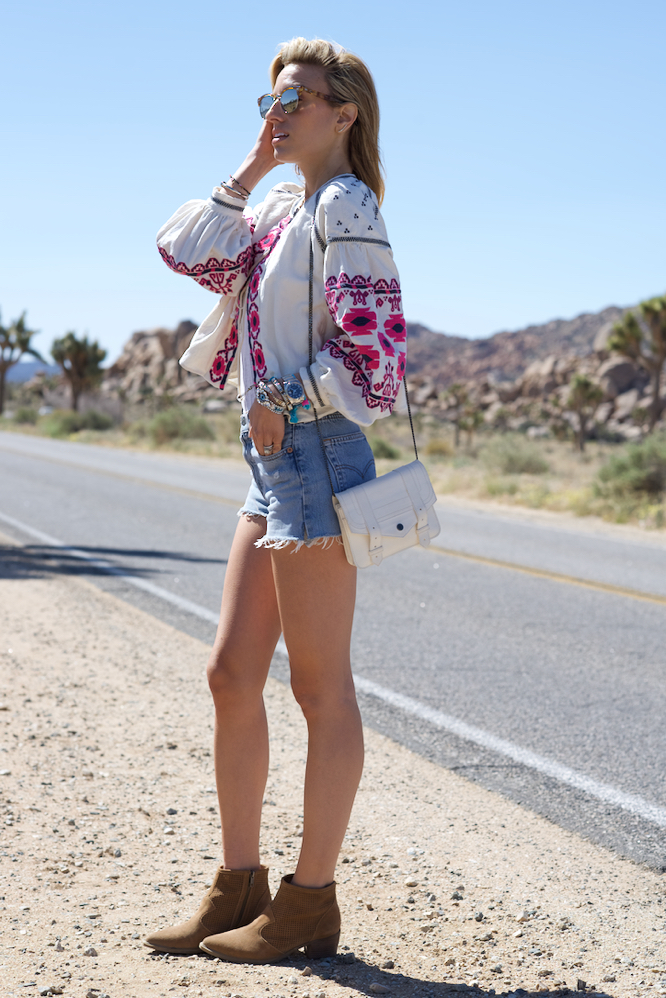 Photos by Adrian Cahue
I hope you have a great day! Thanks for stopping by:)
xoxo Lisa
Jacket: Free People (also here and here)
Shorts: Levi's RE/DONE (also here)
Tank: Rag & Bone
Boots: Steven
Bag: Proenza Schouler (also here)
Sunglasses: TOMS
Bracelets: Shourouk, Vita Fede, Geoffrey Scott, Shashi Lili
Necklace: Jennifer Zeuner (also here)
Earrings: Gorjana
SHOP THE LOOK:

[thefeedproducts style='four']