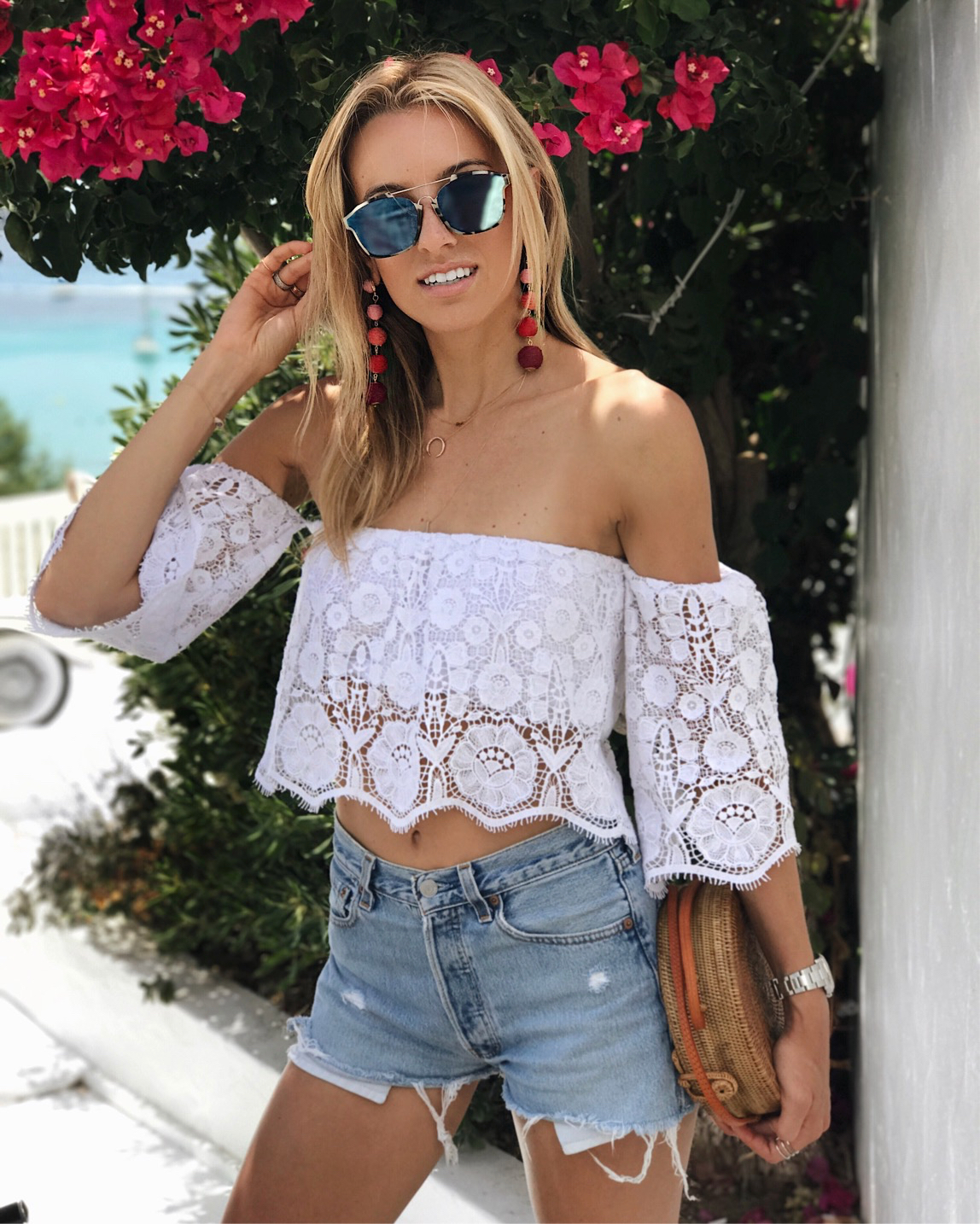 "Sometimes you find yourself in the middle of nowhere, and sometimes in the middle of nowhere you find yourself."
Hey Guys! This summer has been so amazing and even though we typically travel every summer to Europe, we don't typically visit 3 different countries. We will be heading to Mykonos today to celebrate Adrian's milestone birthday. I feel so grateful we have been able to travel more often. It's seriously the best investment you could ever make. I remember years ago when we were both just starting our careers we would chat about all the places we would love to visit one day. With lots of patience and a whole lot of hard work (I still have 2 careers! LOL) we have been able to do and see more. A lot of people have asked me if my travels have been sponsored and even though traveling for work is amazing it's very different when you travel for pleasure. Not to mention the gorgeous content that I get to create each time I visit a new place. Honestly the memories we have created will last a lifetime.
Airport swag: Love my Away black luggage. It's seriously my favorite new bag I never go on any trip without it.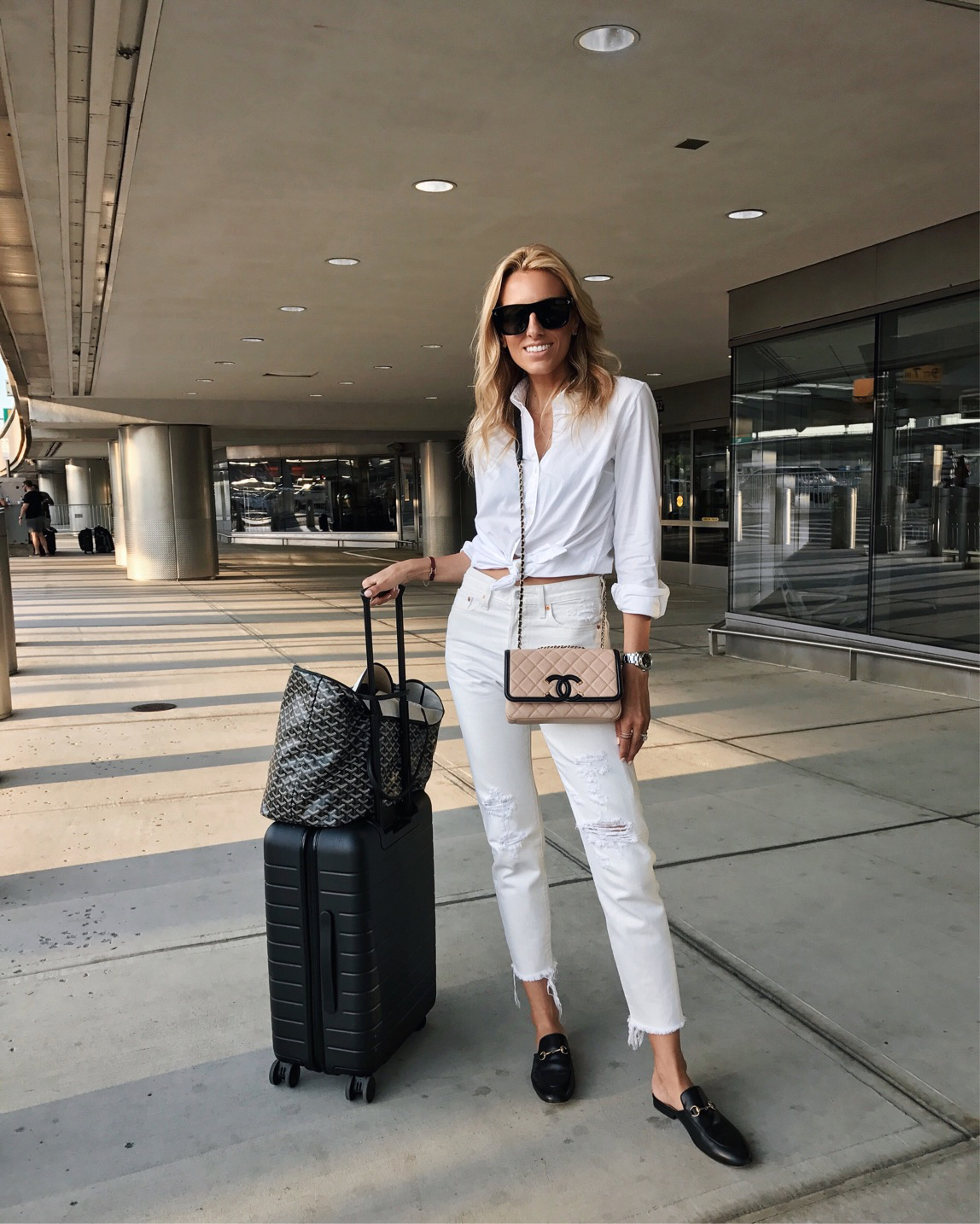 SHOP THE LOOK:
Ibiza is known for being a party island but what most people don't know is that it has so much more to offer than just a party scene. We have been there twice and absolutely love it. It's such a magical place. The food, the beaches and the latin culture make this place a must-go on any travel bucket list. The food is so fresh, healthy and delicious. I love that there were so many great vegetarian (and of course seafood) options for me since I don't eat meat.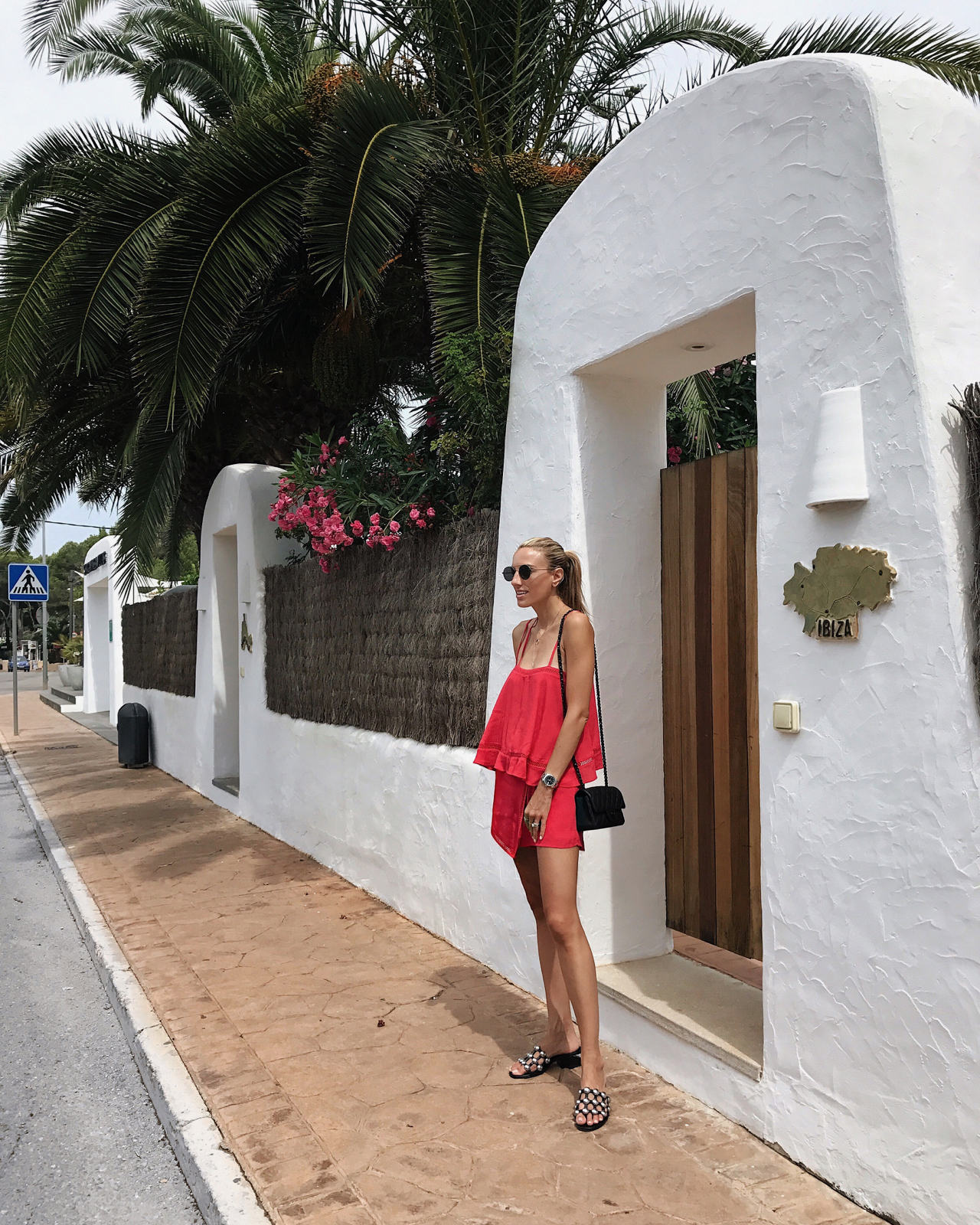 SHOP THE LOOK:
And get this…I'm not a party girl. Although I do LOVE to dance, I don't drink alcohol (I know kinda crazy, right?) but I have a blast in Ibiza because you can pick and chose what experiences you want. Some nights we went to romantic dinners and strolled the streets in town and other nights we went out dancing until the wee hours of the morning. There is a buzz in the air in Ibiza that no one can really put into words. You just have to see it and experience it for yourself.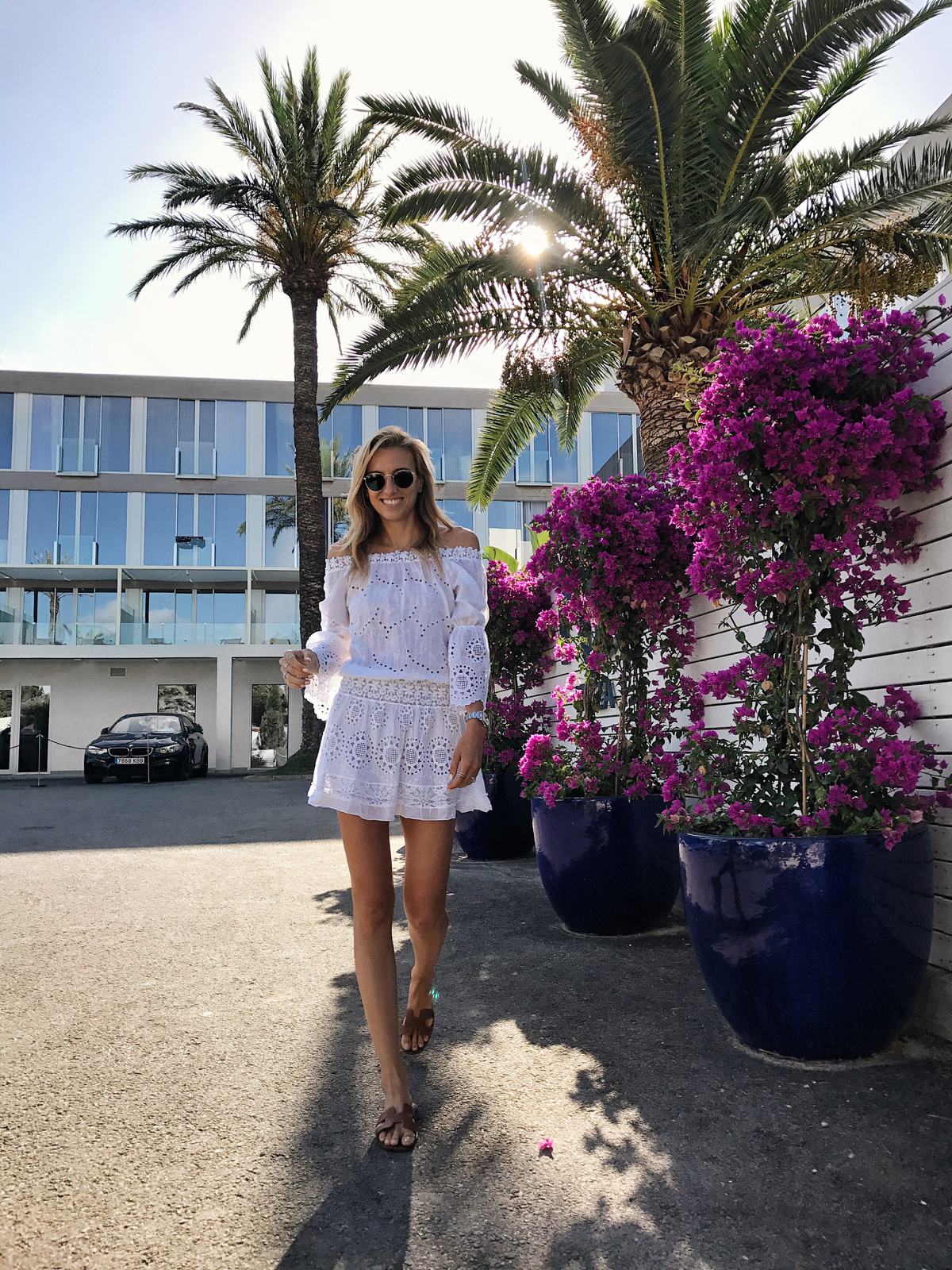 SHOP THE LOOK:
This year I celebrated my birthday (July 5th) in Ibiza and it was so much fun. We stayed at the ME Ibiza, which is such a beautiful hotel located about 30 minutes from Old Ibiza Town. It's away from the party scene, which is why we love it so much. It's also super clean and has gorgeous pools; the roof top pool has panoramic views of the bay. We arrived at the hotel just as the sun was setting. It was magical!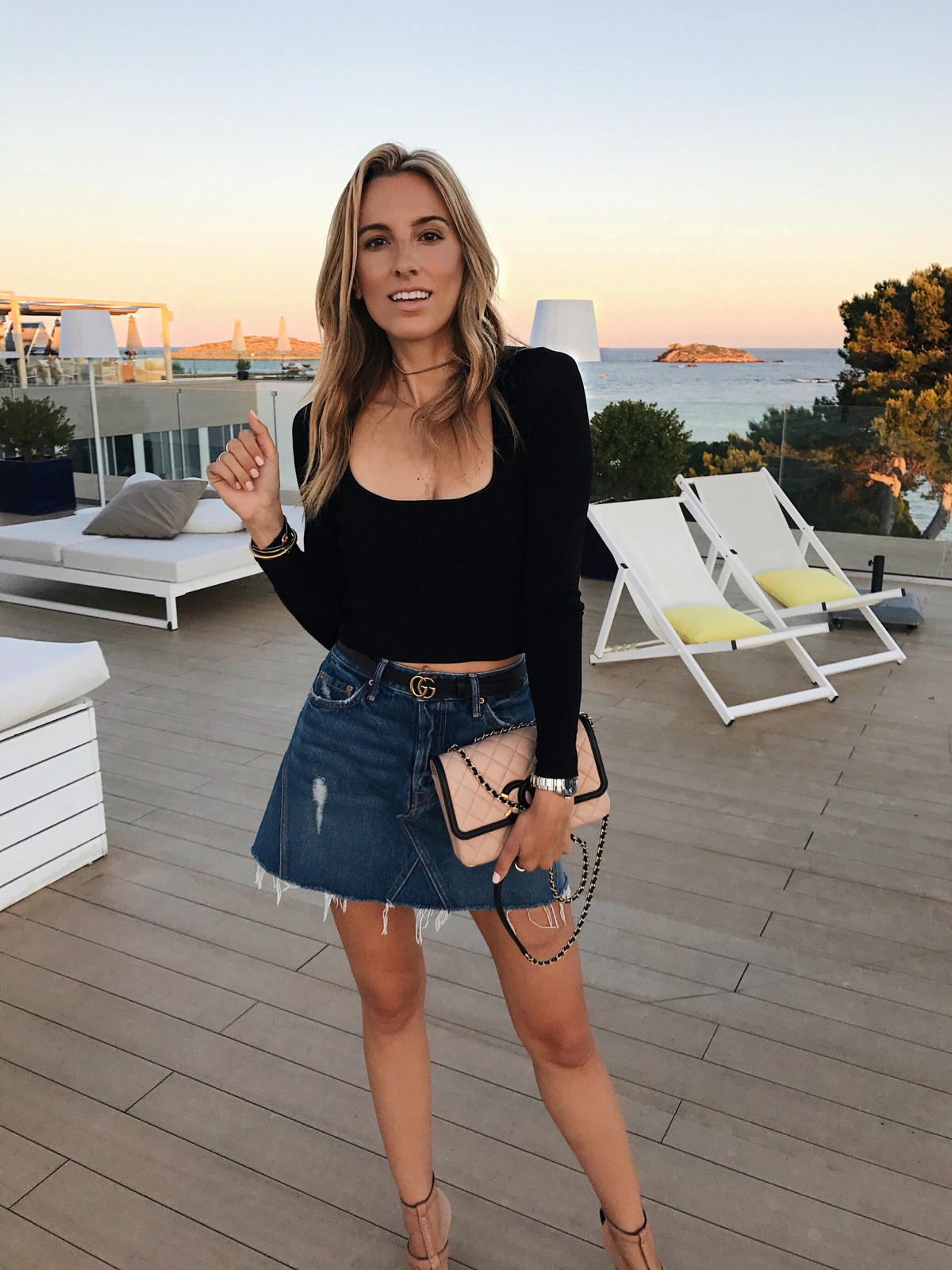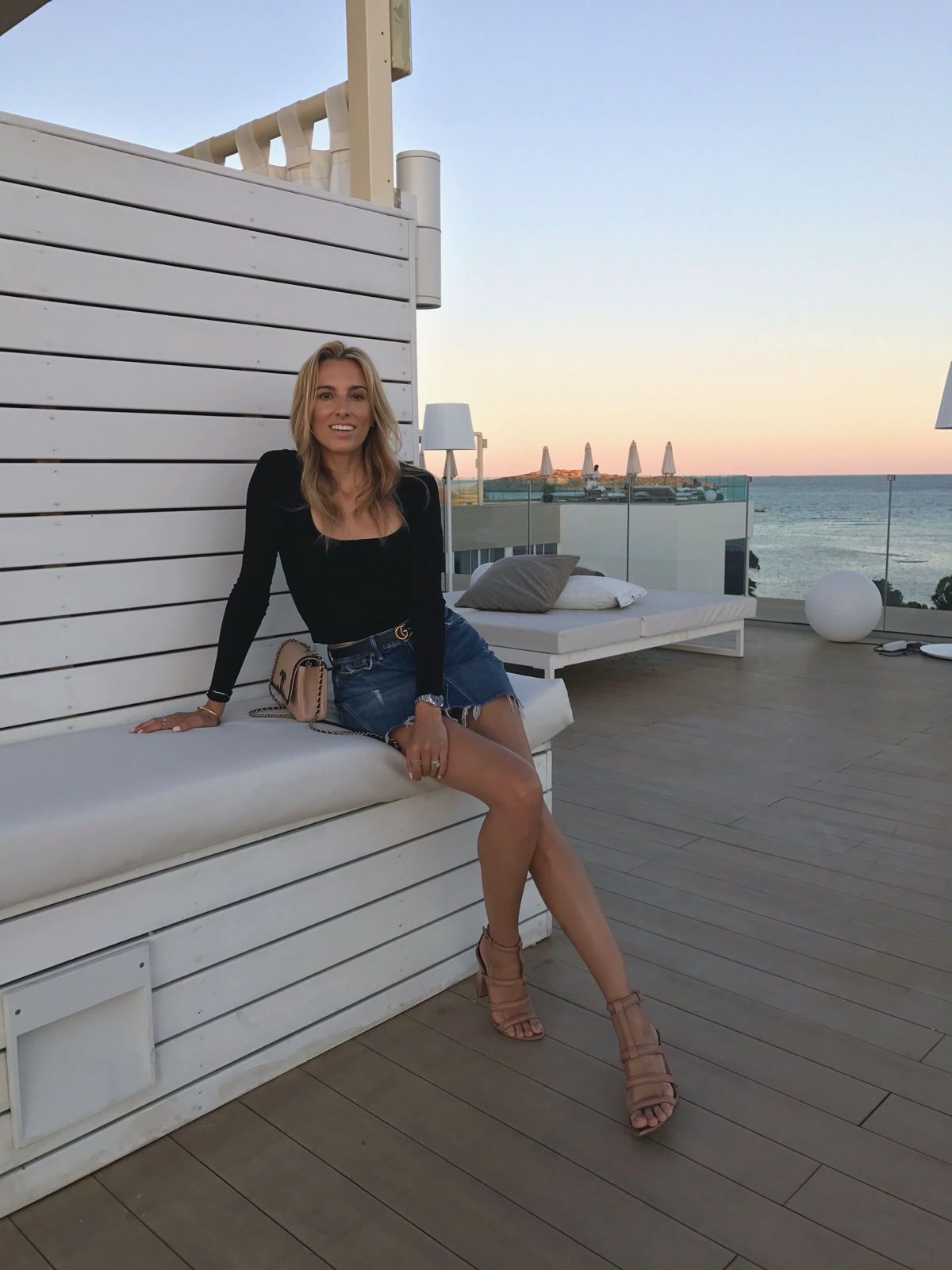 SHOP THE LOOK:
I highly recommend renting a car. Some of the best beaches are off the beaten path. If you follow me on IG (@lisadnyc) you know I laugh because whenever we explore different places I call us Deigo and Dora….haha! On this adventure "Deigo and Dora took Ibiza." One day our WIFI was not working and we followed a map and found a beach we wanted to visit. It was actually one of my favorite memories from the trip because it was exciting to figure out where we were together.
WHERE TO EAT:
1.Breakfast – we ate breakfast at our hotel each morning except for one day we ventured into the marina and went to Cappuccino. It's such a cute little spot with delish food and even better views of all the boats and yachts. There were so many great healthy options as well.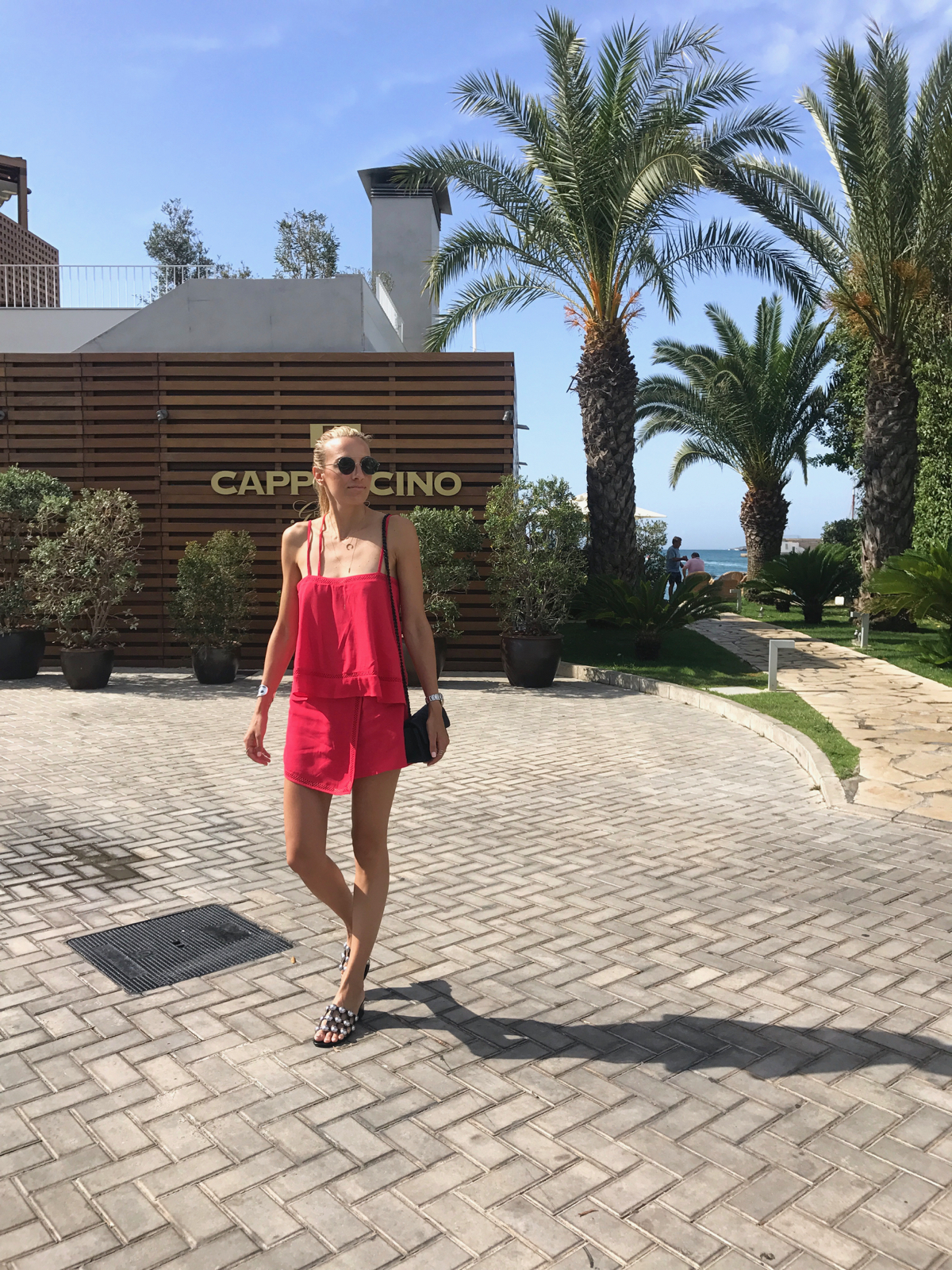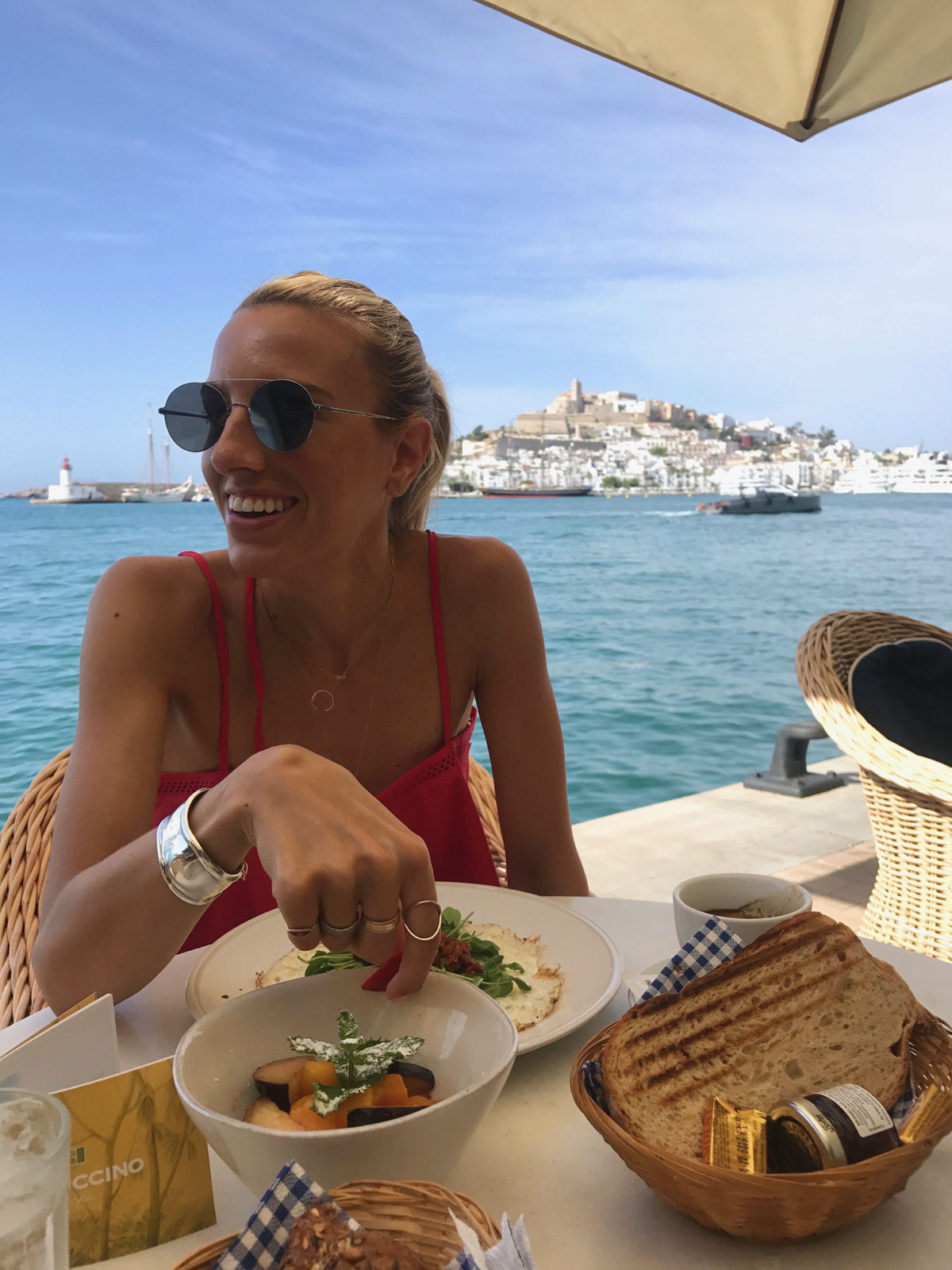 2. Sa Punta: This restaurant has fabulous Mediterranean food and amazing views. We also couldn't help loving it because Ginger's name was displayed at it's sister restaurant. The 3 restaurants all serve different cuisine but Sa Punta is so good and so yummy so we never tried the other 2.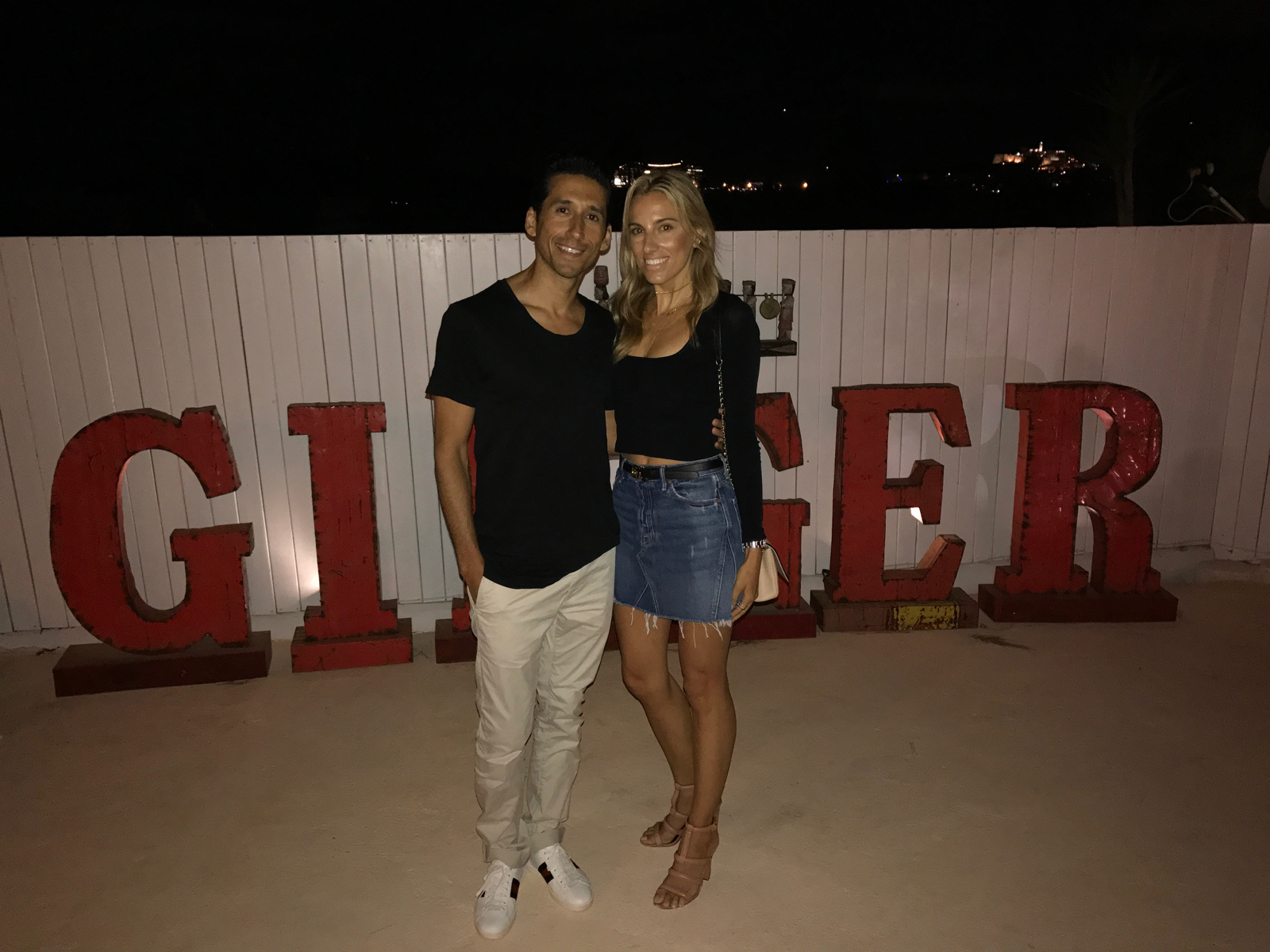 3. Amante: This is a new resturant and beach club. We ate lunch here and loved it. I wouldn't recommend it for the whole day given the beach was rocky and not as swimmable as some other amazing beach clubs on the island.  Nonetheless, it was excellent for lunch as well as a great place for dinner.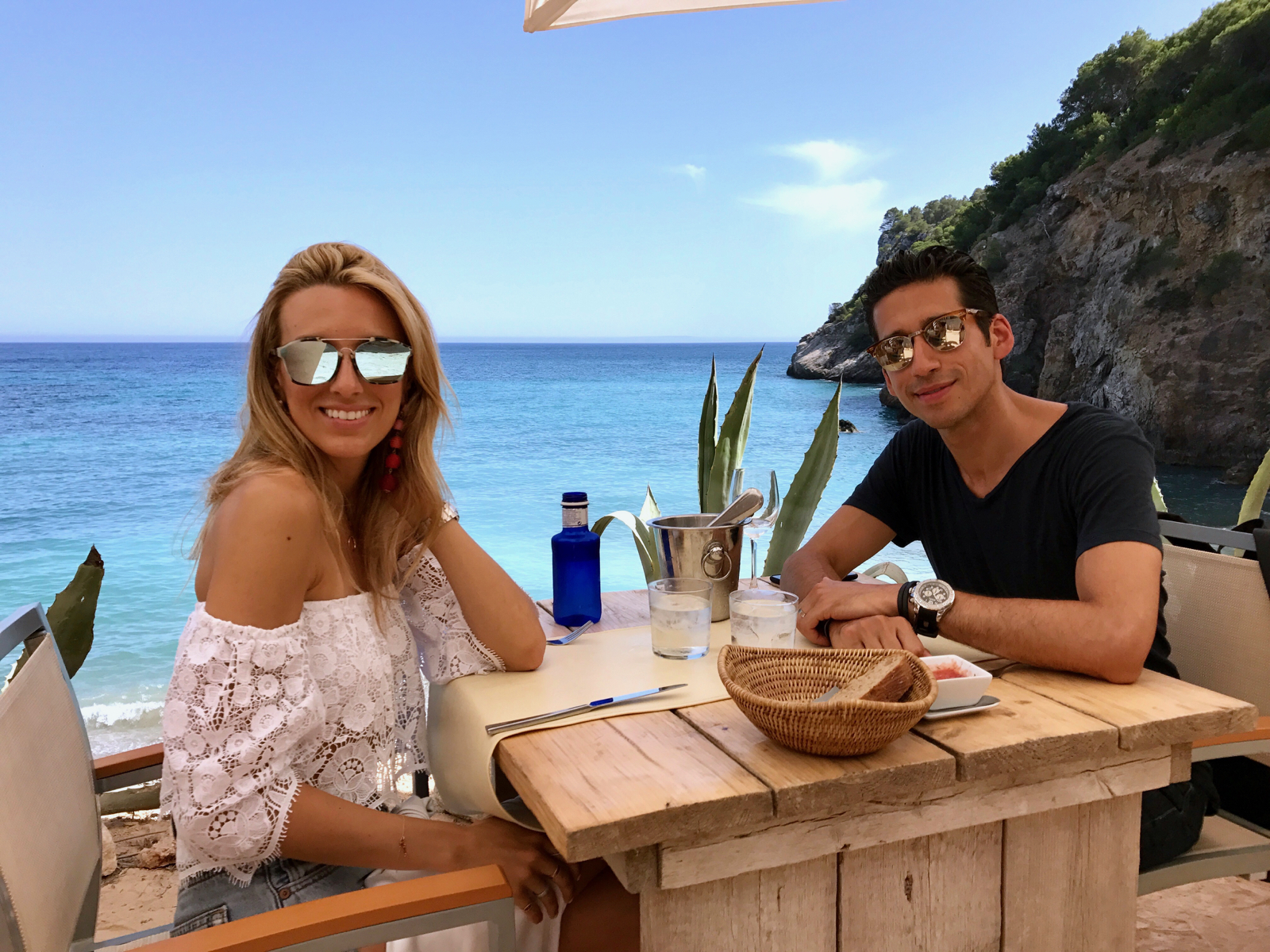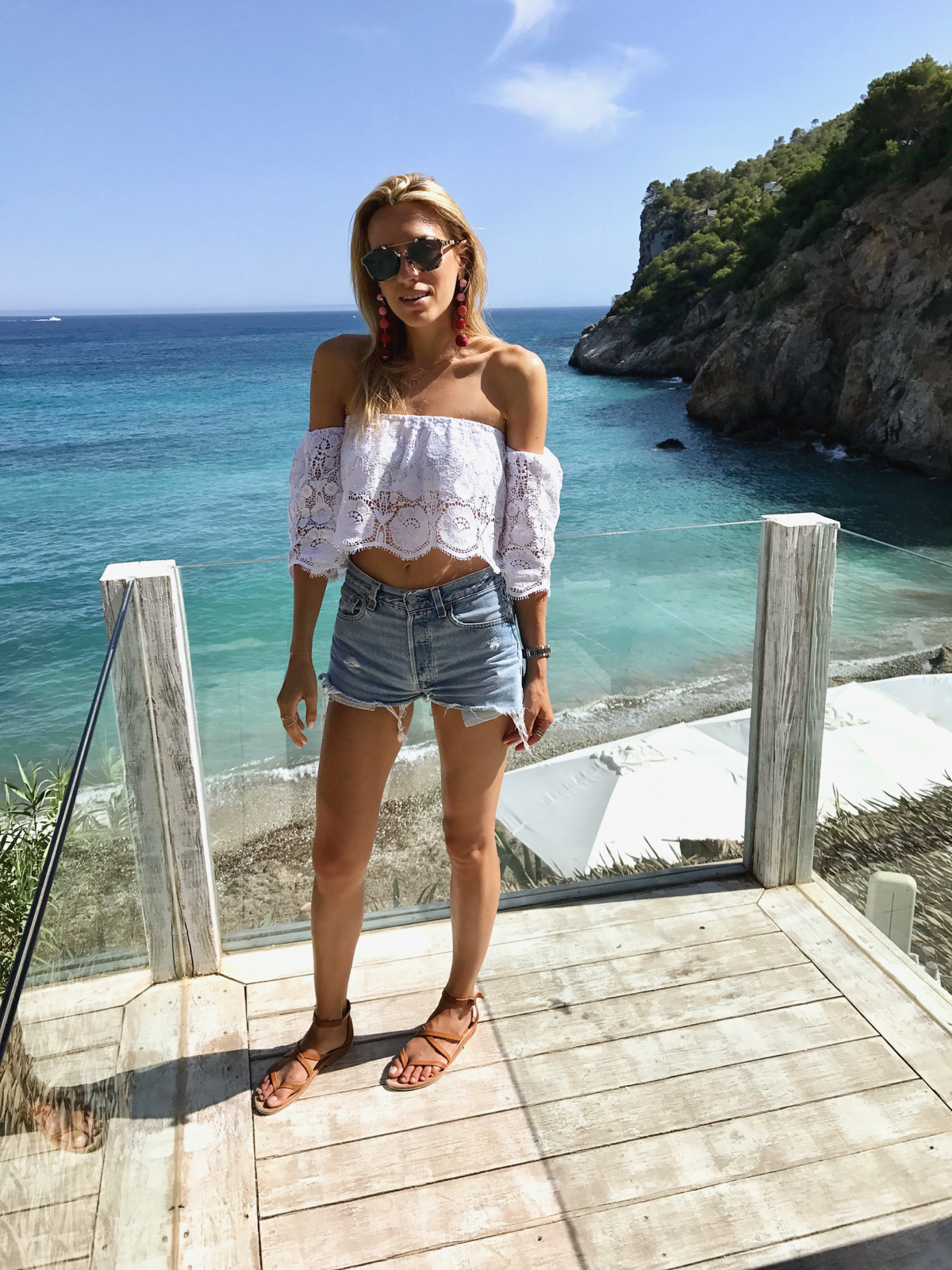 4. Cotton Beach Club: One of our favorite places because of the all white decor along with the gorgeous beach. We booked a day bed here and ate lunch.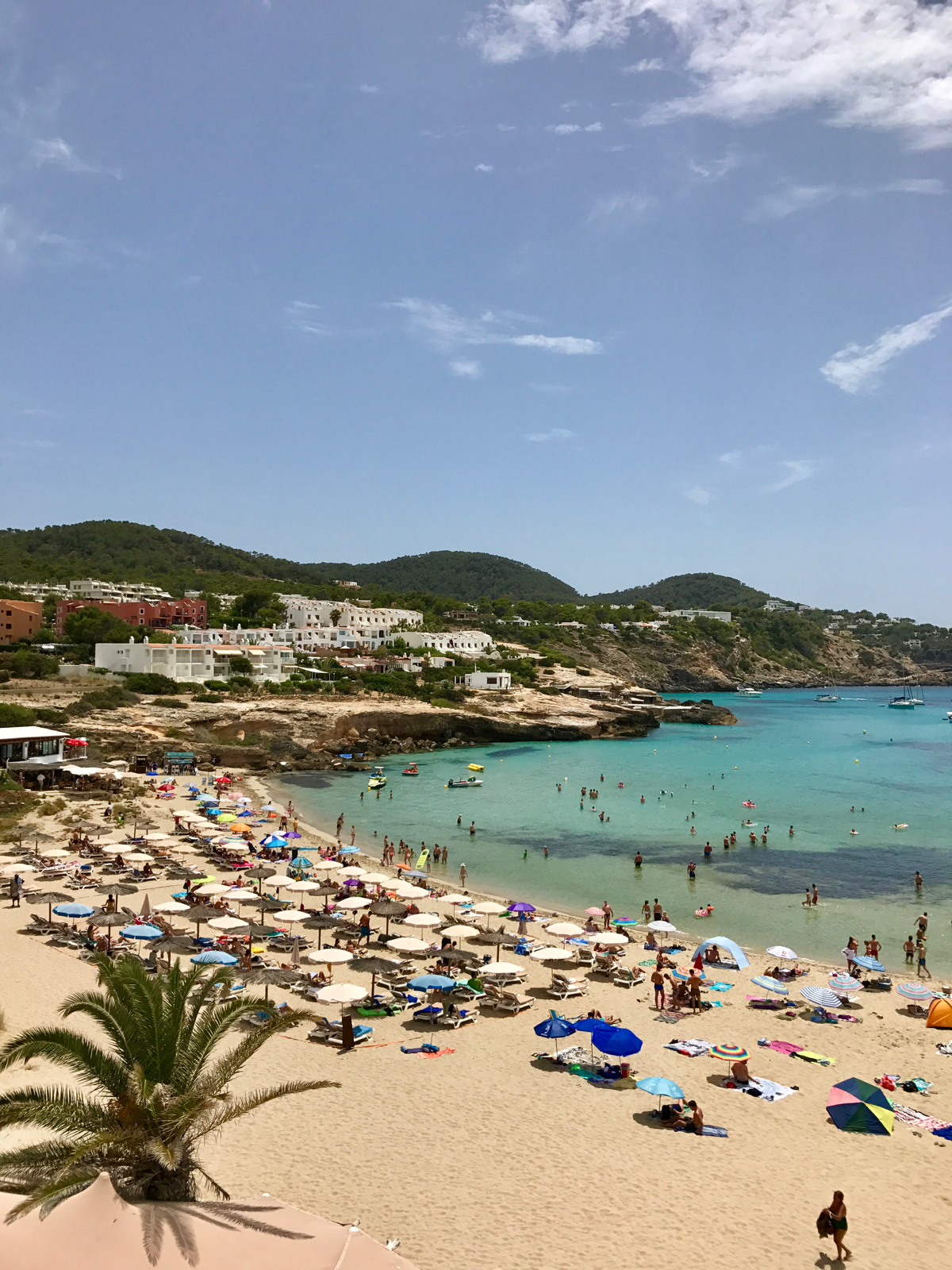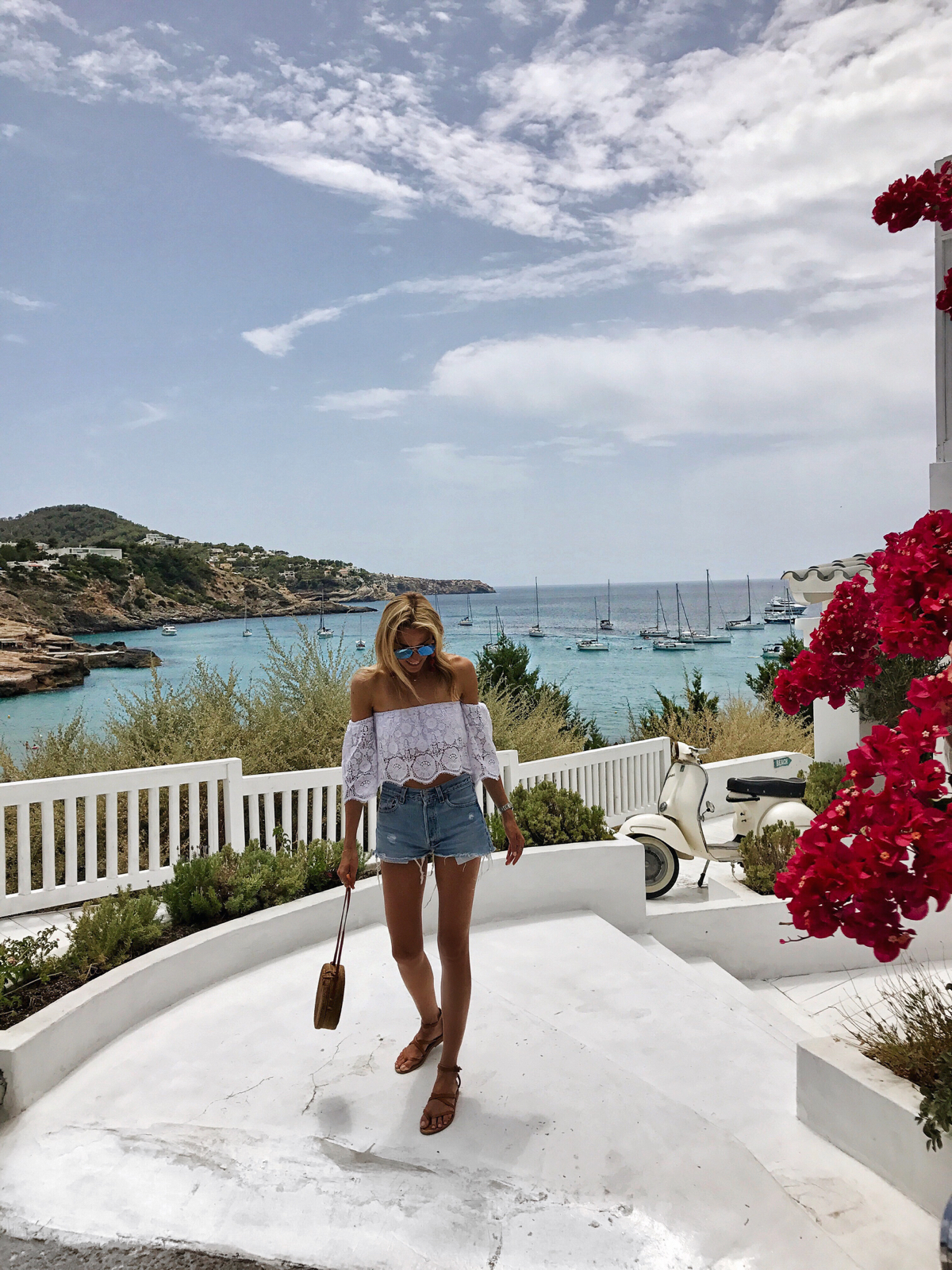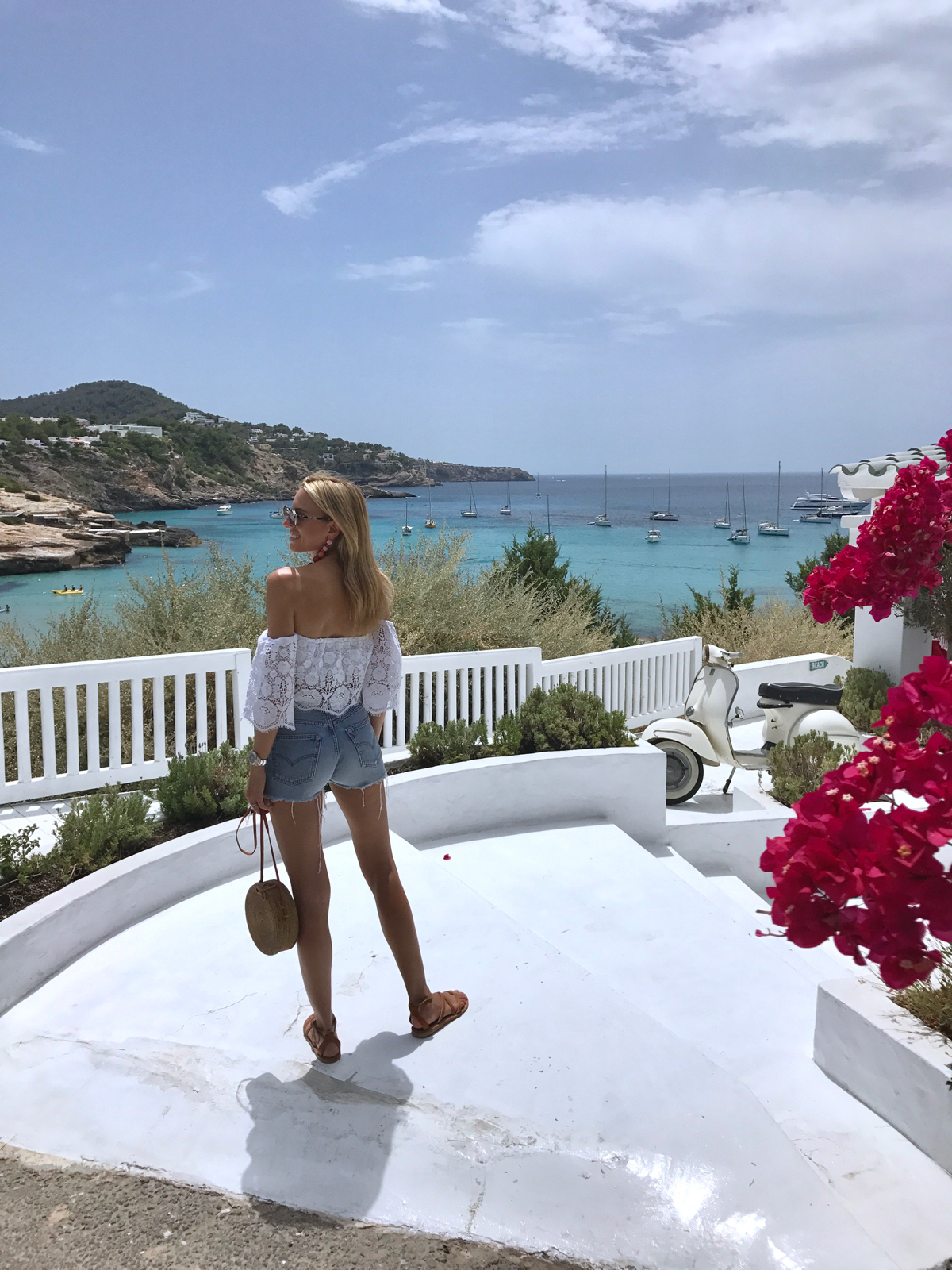 SHOP THE LOOK: 
5. La Escollera: We ate lunch here and it was one of the best meals. We even tried the vegetable paella. It was so delicious!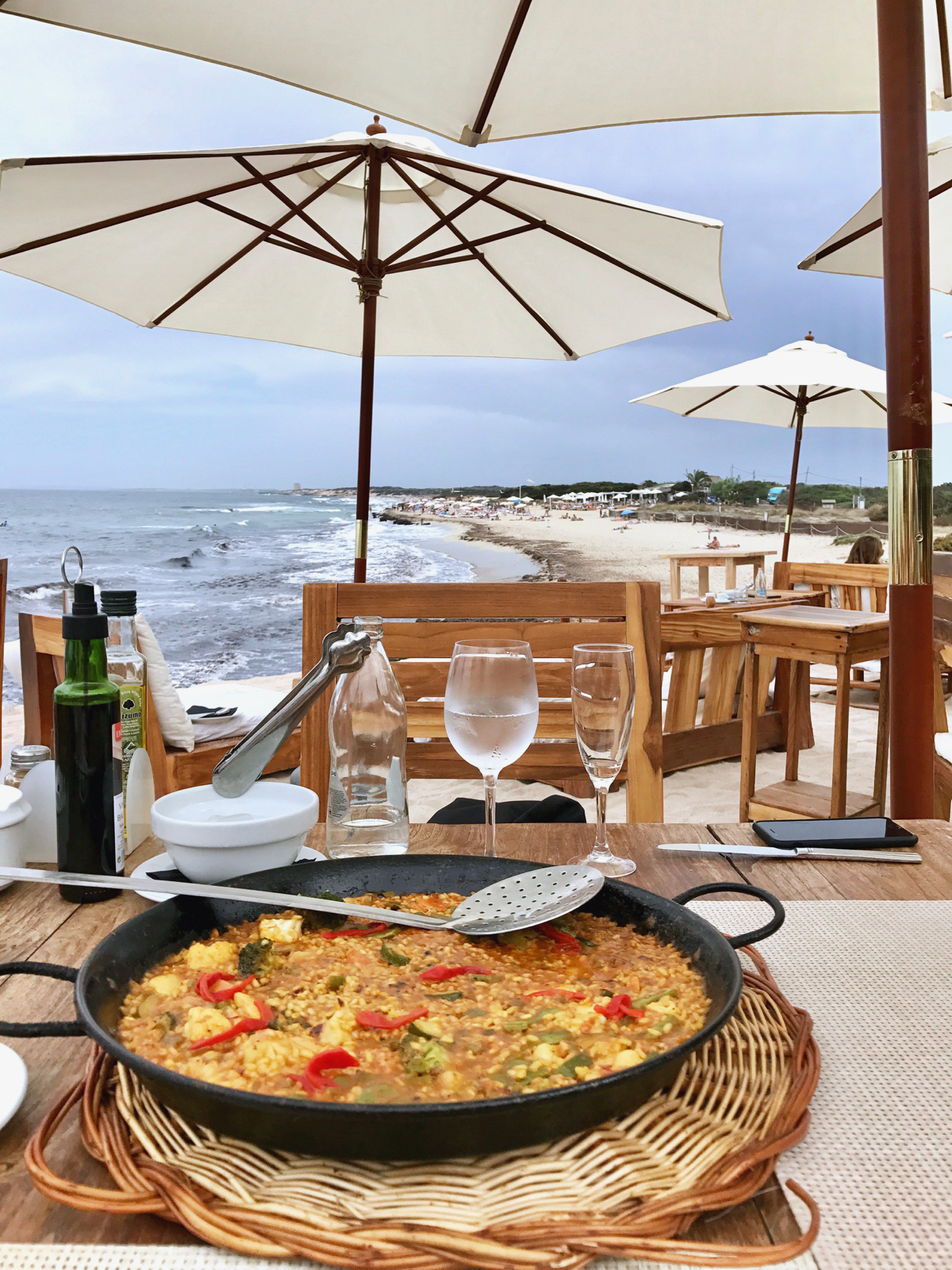 6. Aiyanna: Amante's sister restaurant. We watched the sunset here, drank espresso and enjoyed the gorge view of the sea. I recommend this place for lunch as well.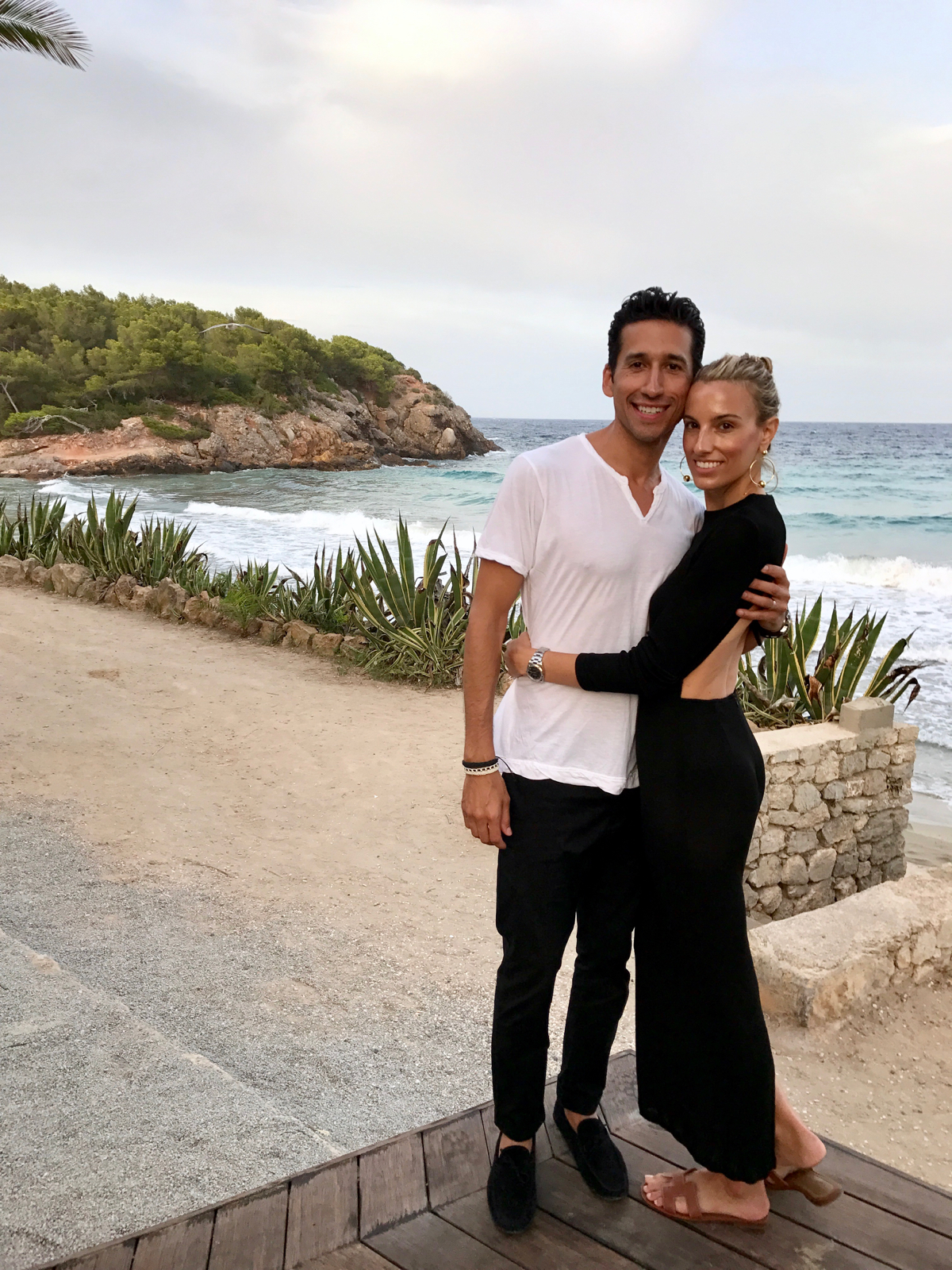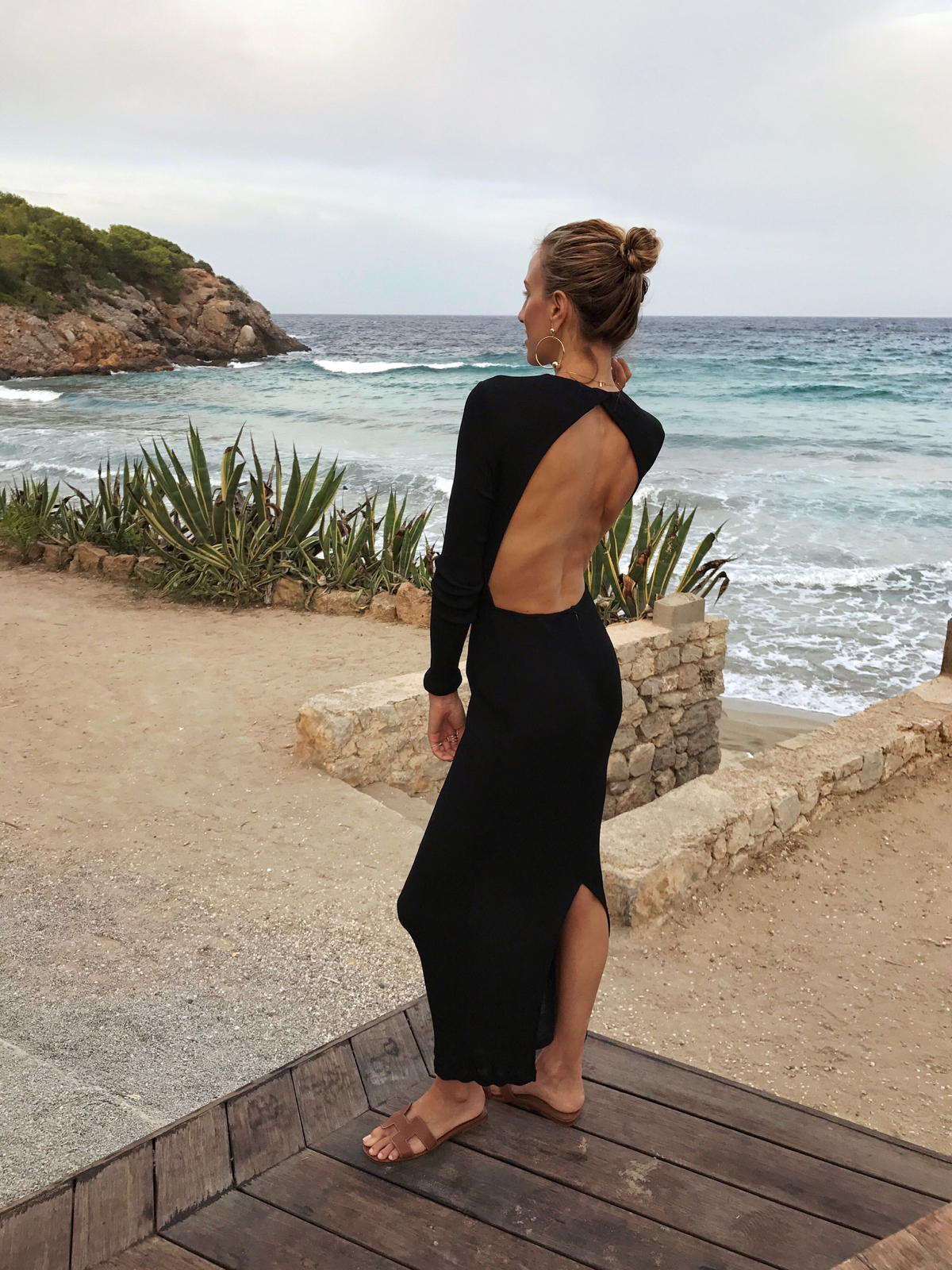 Dress: Houghton Spring 2018 // Shoes: Hermes // Earrings: Shashi
7. Chringuito: I loved dinner here. It was so fresh and situated right on the beach so it was very romantic. I was so glad I wore my hair back because it was very breezy by the water.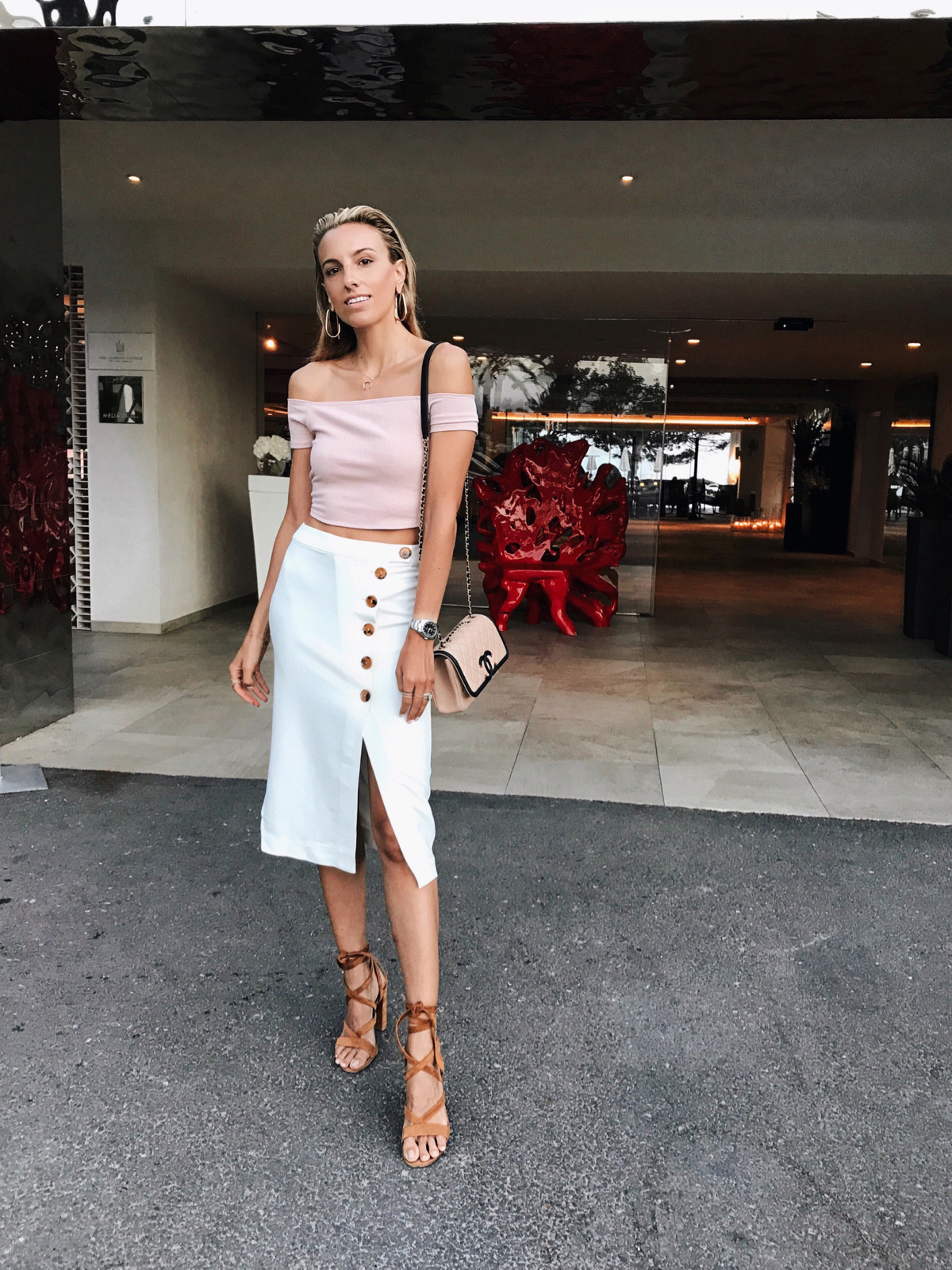 SHOP THE LOOK:
8. Beso Beach: We ate here in Formentera and it was amazing. The boho beach vibes, fabulous food, and prime location make it a hot spot.
9. Juan y Andrea: Also in Formentera. We ate here on our last trip and loved the food. The vibe is a bit more pretentious, which is why I loved Beso Beach more.
10. Blue Marlin: This beach club is amazing for a day party but we ate dinner here and loved it. It was great food with loads of options.
TOP THINGS THING TO SEE AND DO IN IBIZA
1.Beaches, beaches and more beaches: We visit Ibiza for the beaches. The beaches on this island are some of the best I've ever seen. The water is so clear and blue, especially in Formentera. Beach clubs are our thing. You need to book the day beds in advance. We ended up eating lunch at each beach club so it made things very easy. We especially love Cotton Beach Club.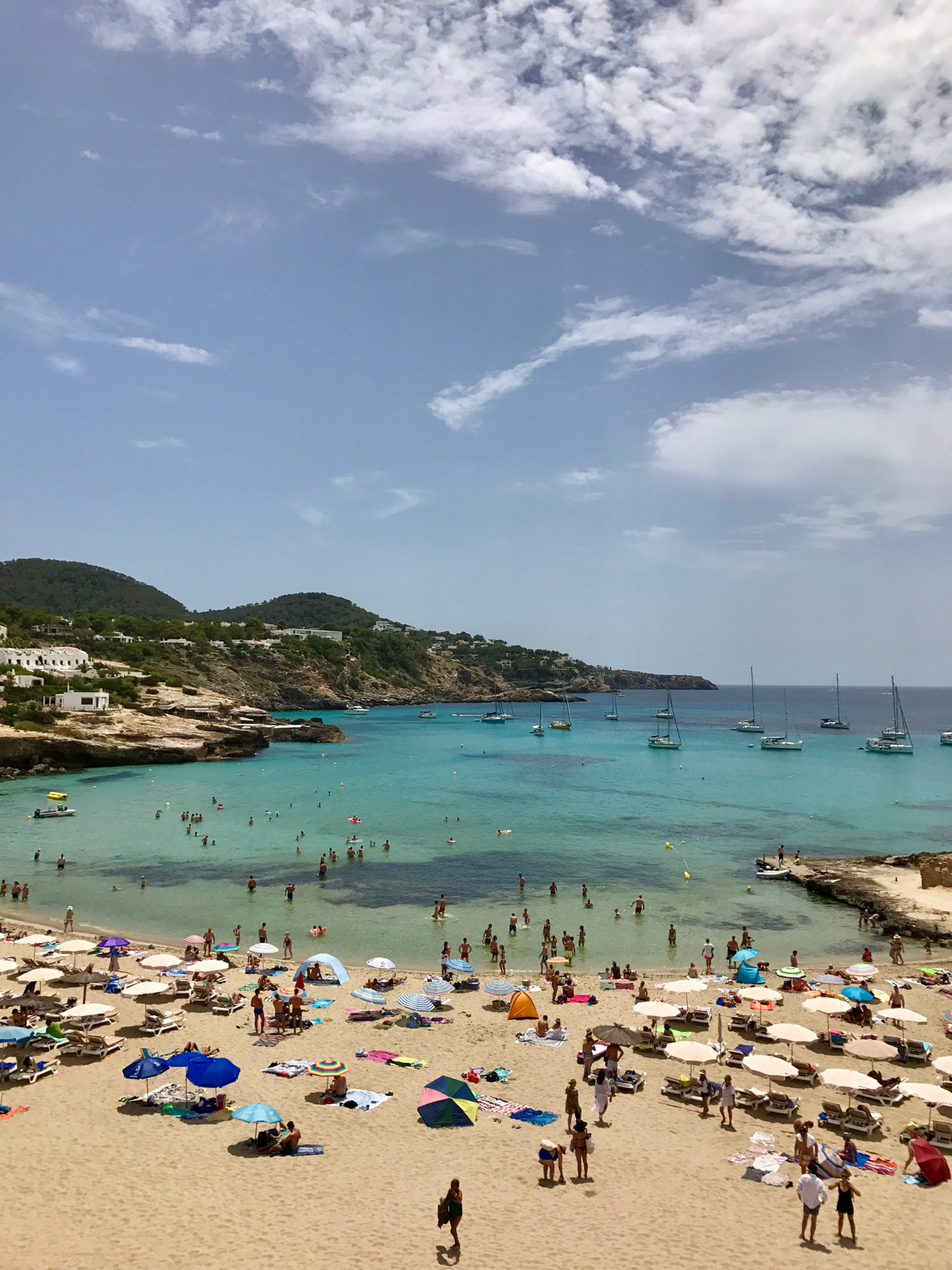 And Cala Comte: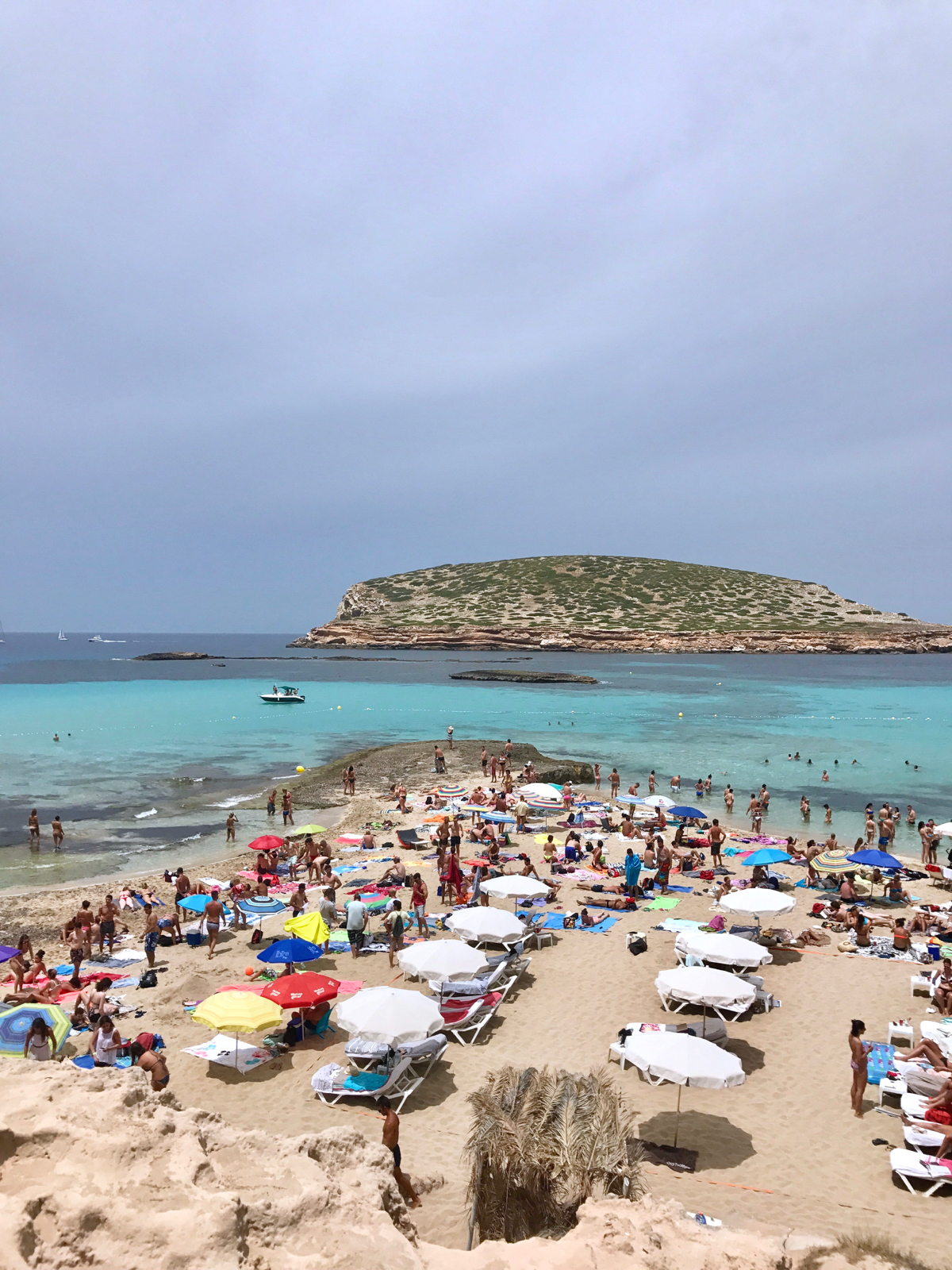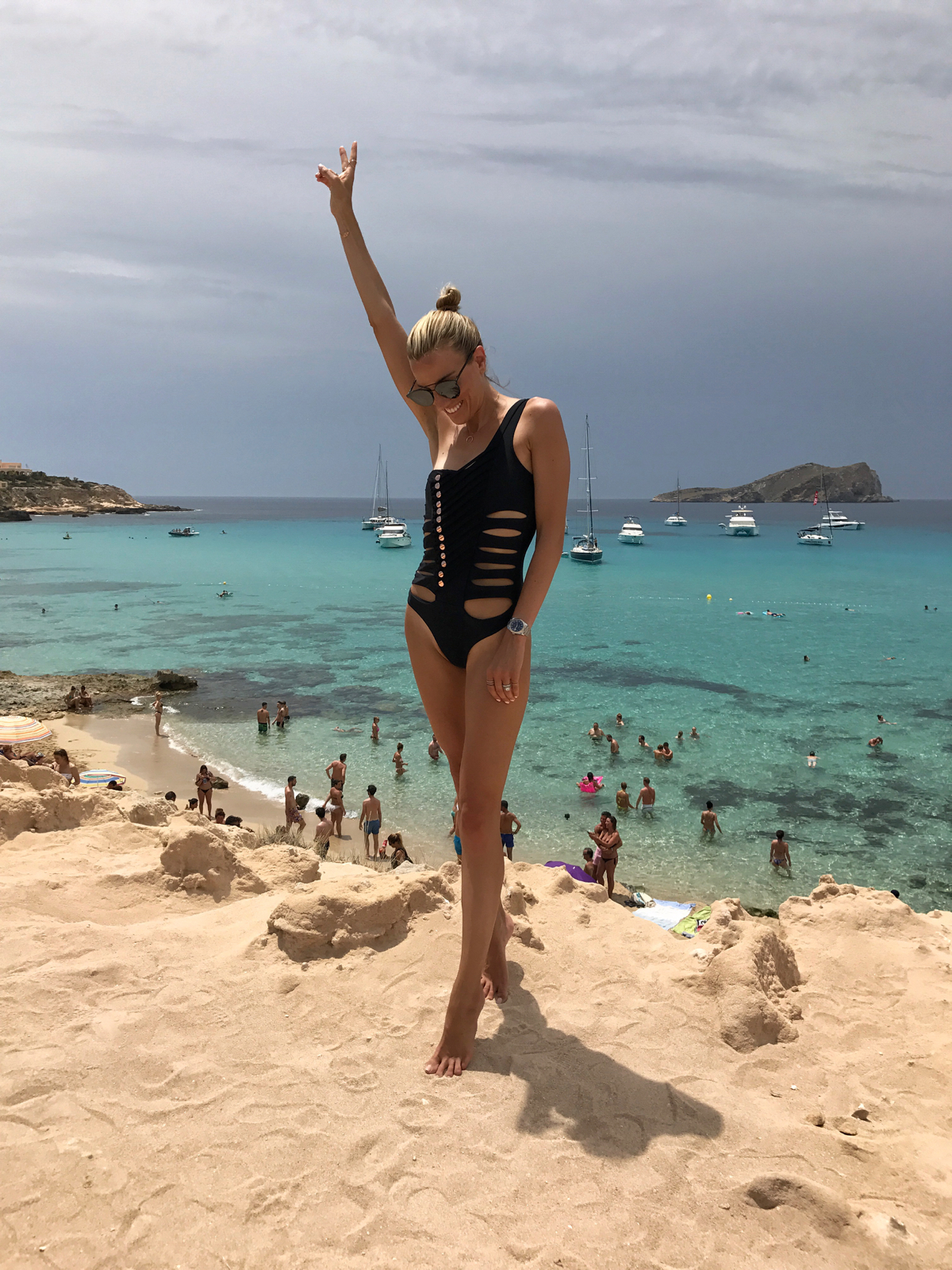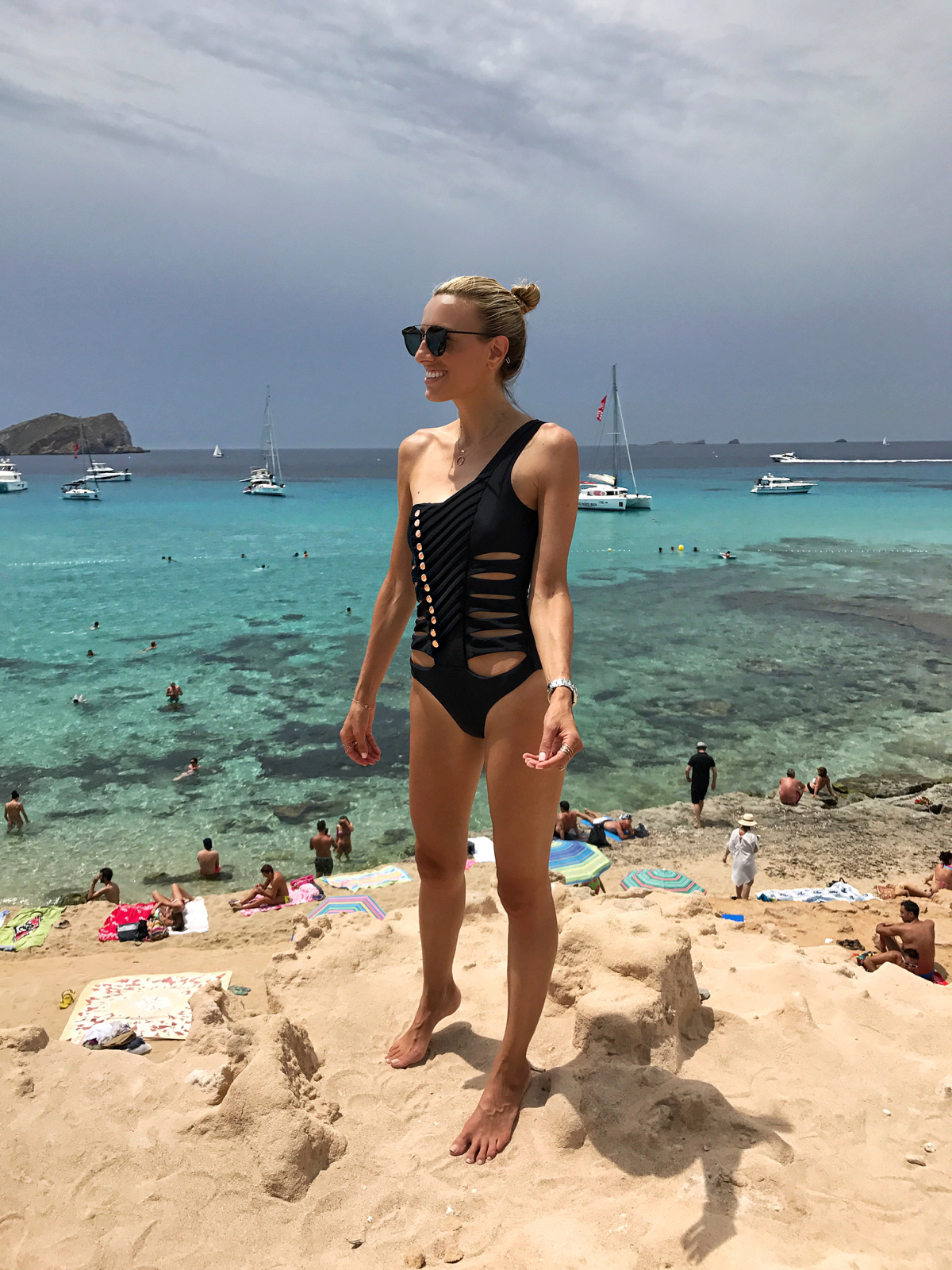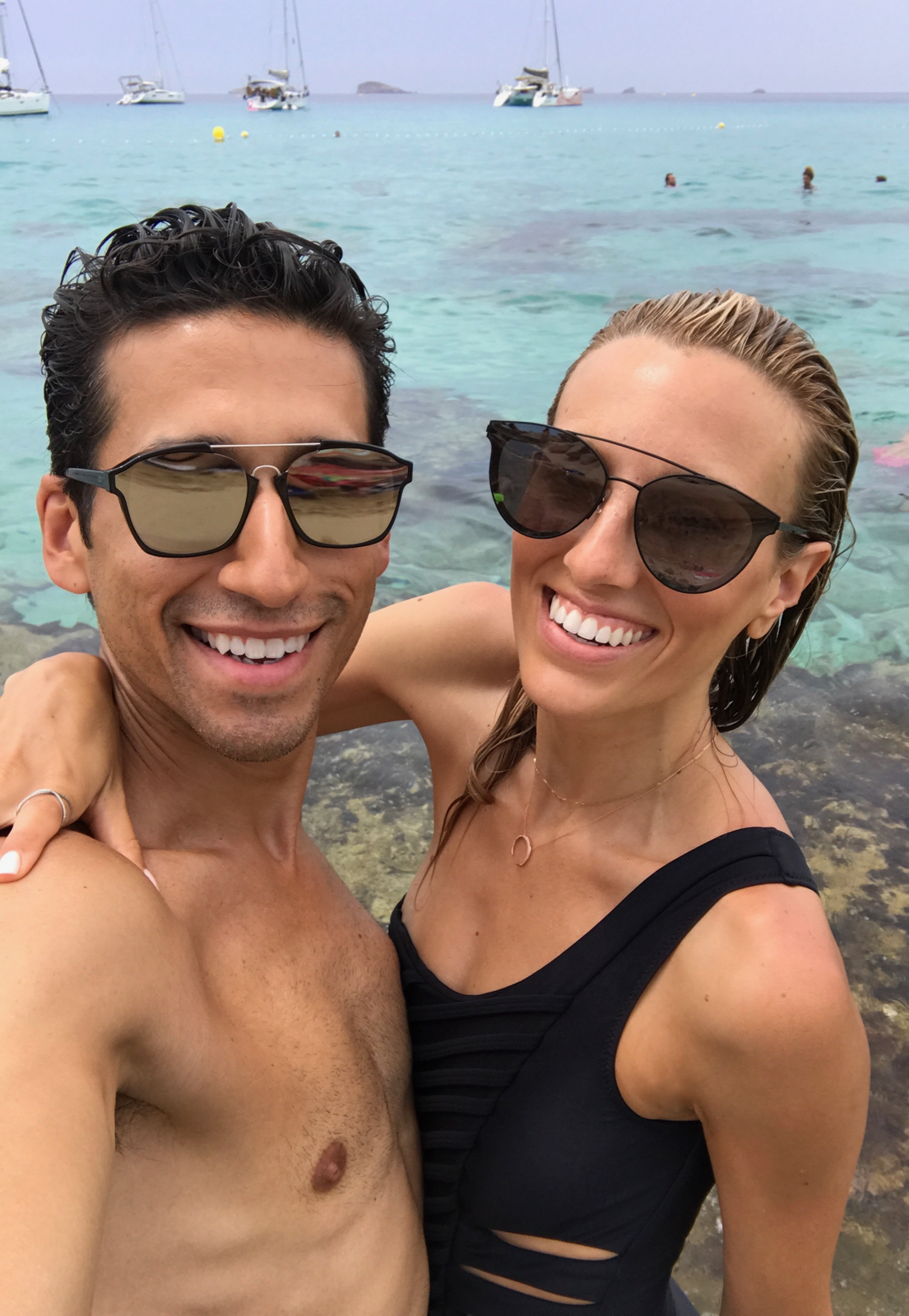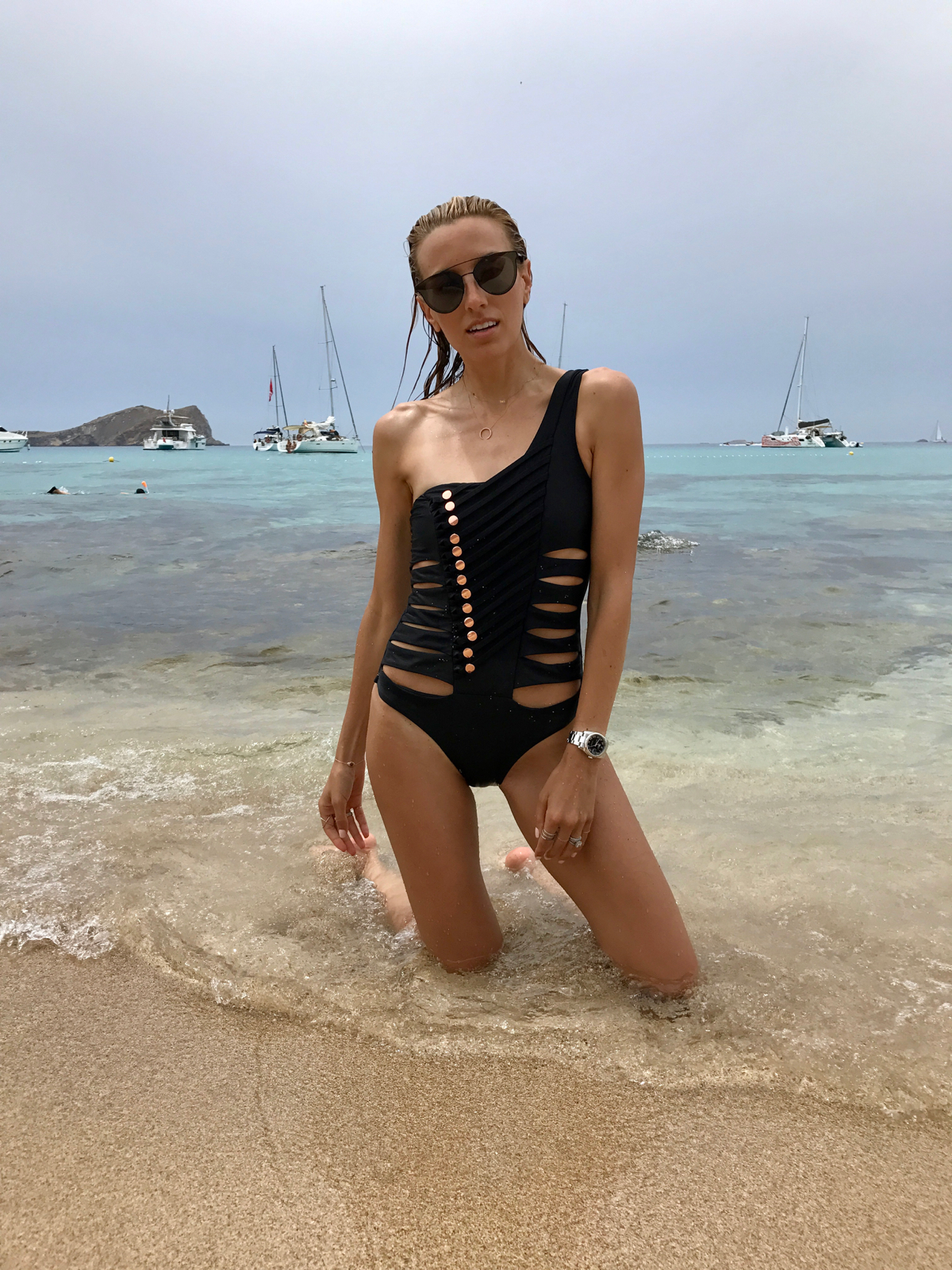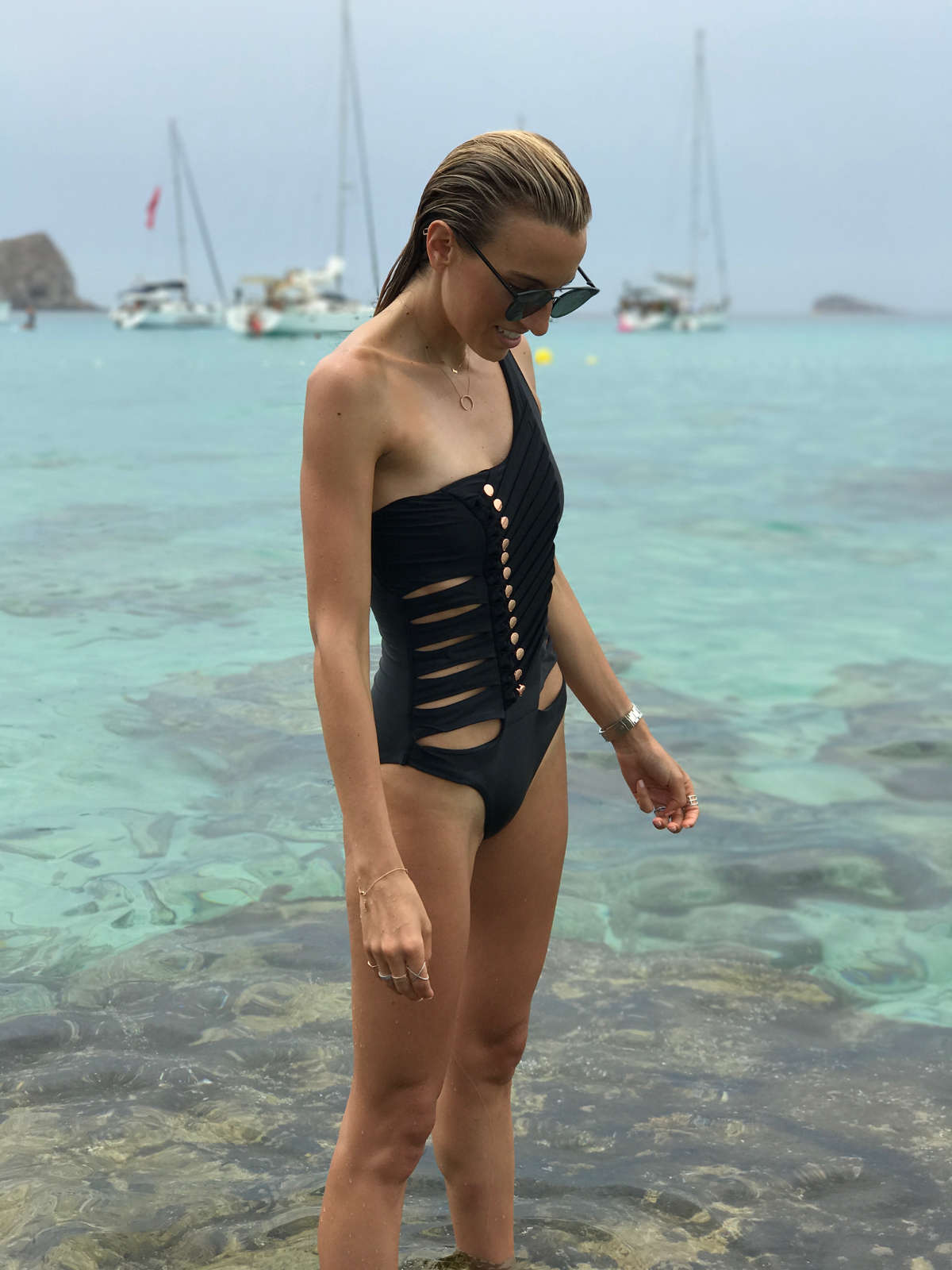 One Piece: Norma Swimwear // Sunnies: Gentle Monster
2.  Visit Formentera for the day: You can't go to Ibiza and not visit Formentera. It's an island only accessible by boat or ferry. We took the public ferry on a previous trip. I recommend going as early as possible. Since it was my birthday Adrian rented a private boat for the day to visit Formentera. We had such a blast. It was honestly one of the best days EVER. We anchored in different parts of the island and swam all day long.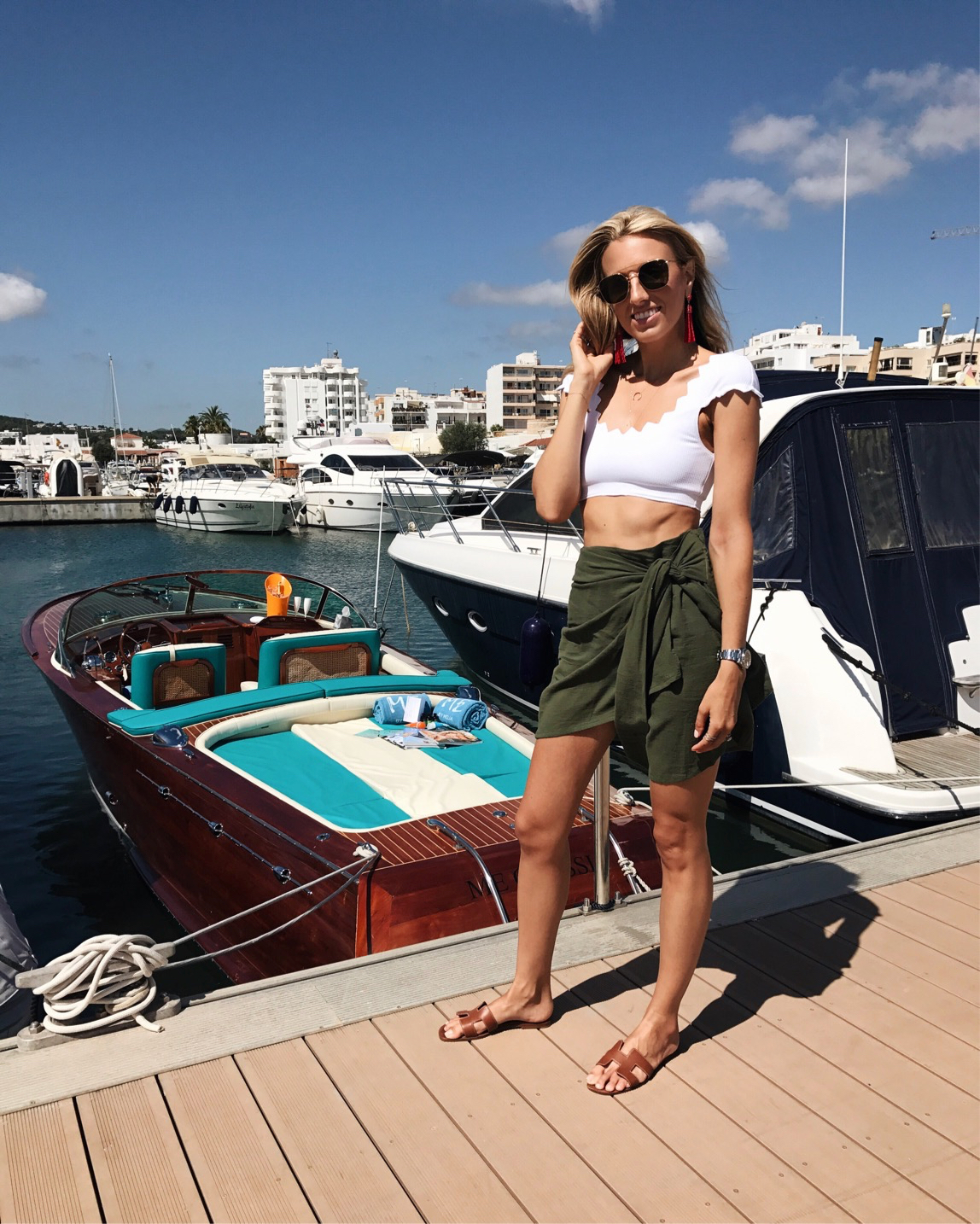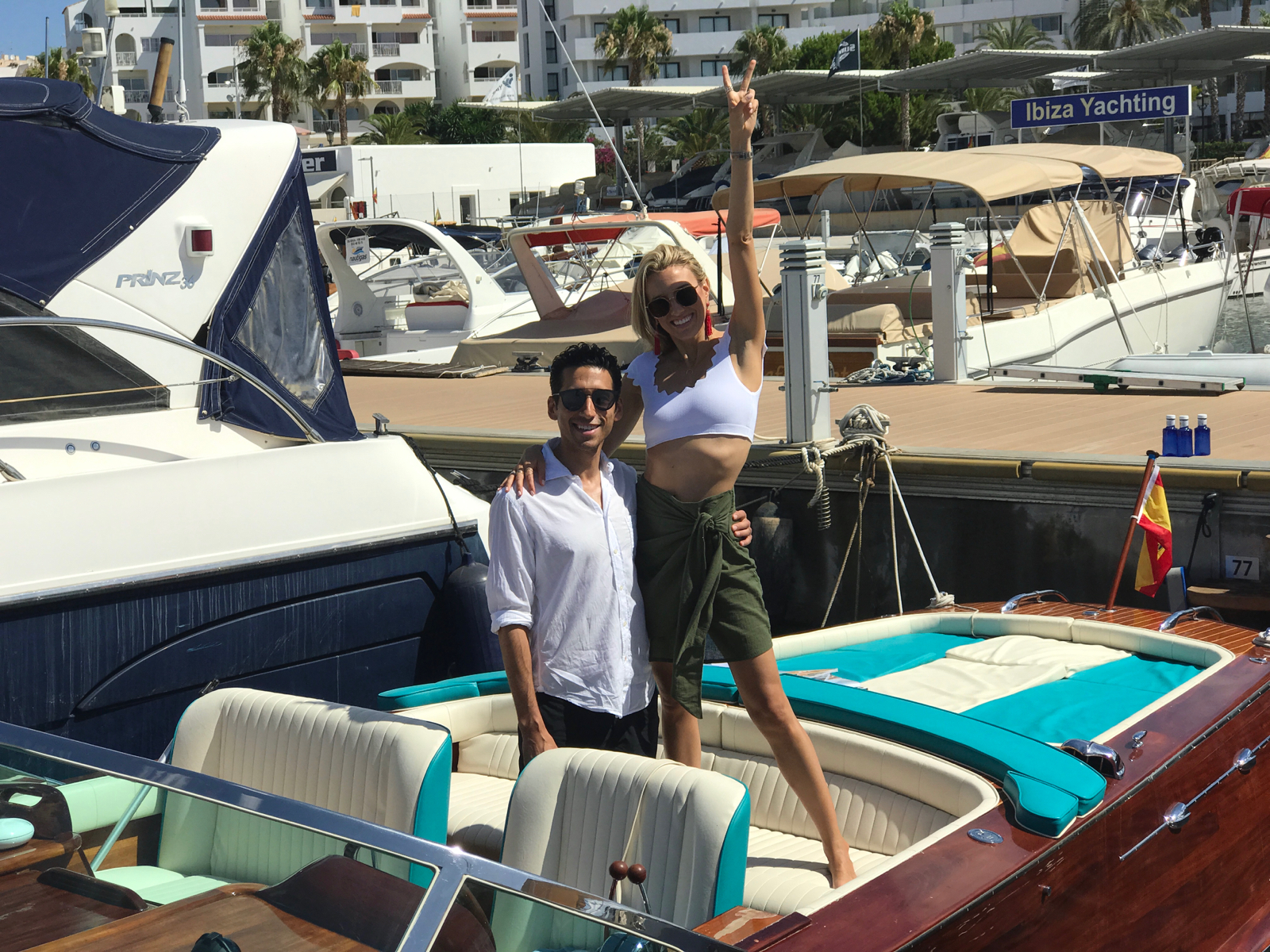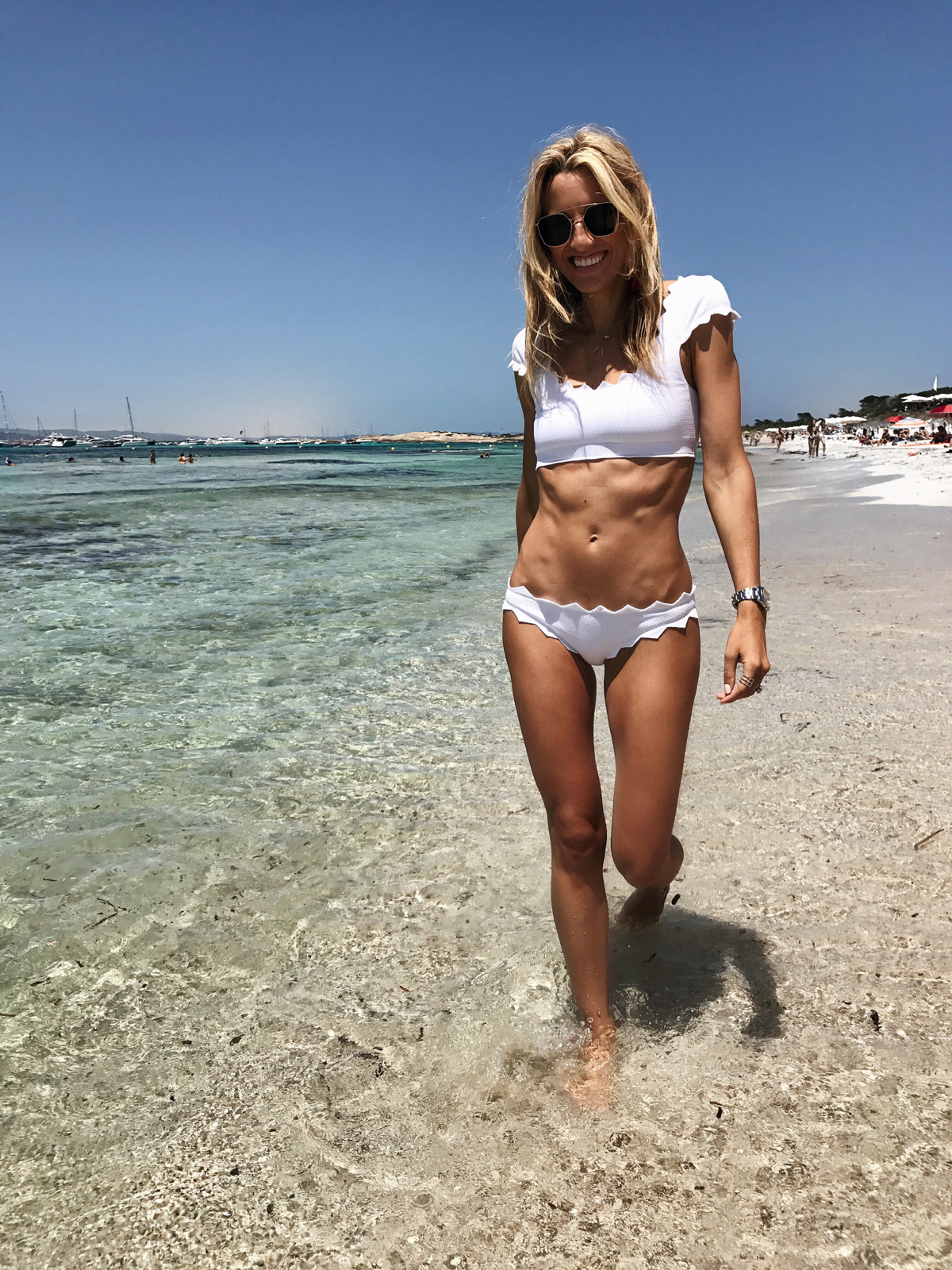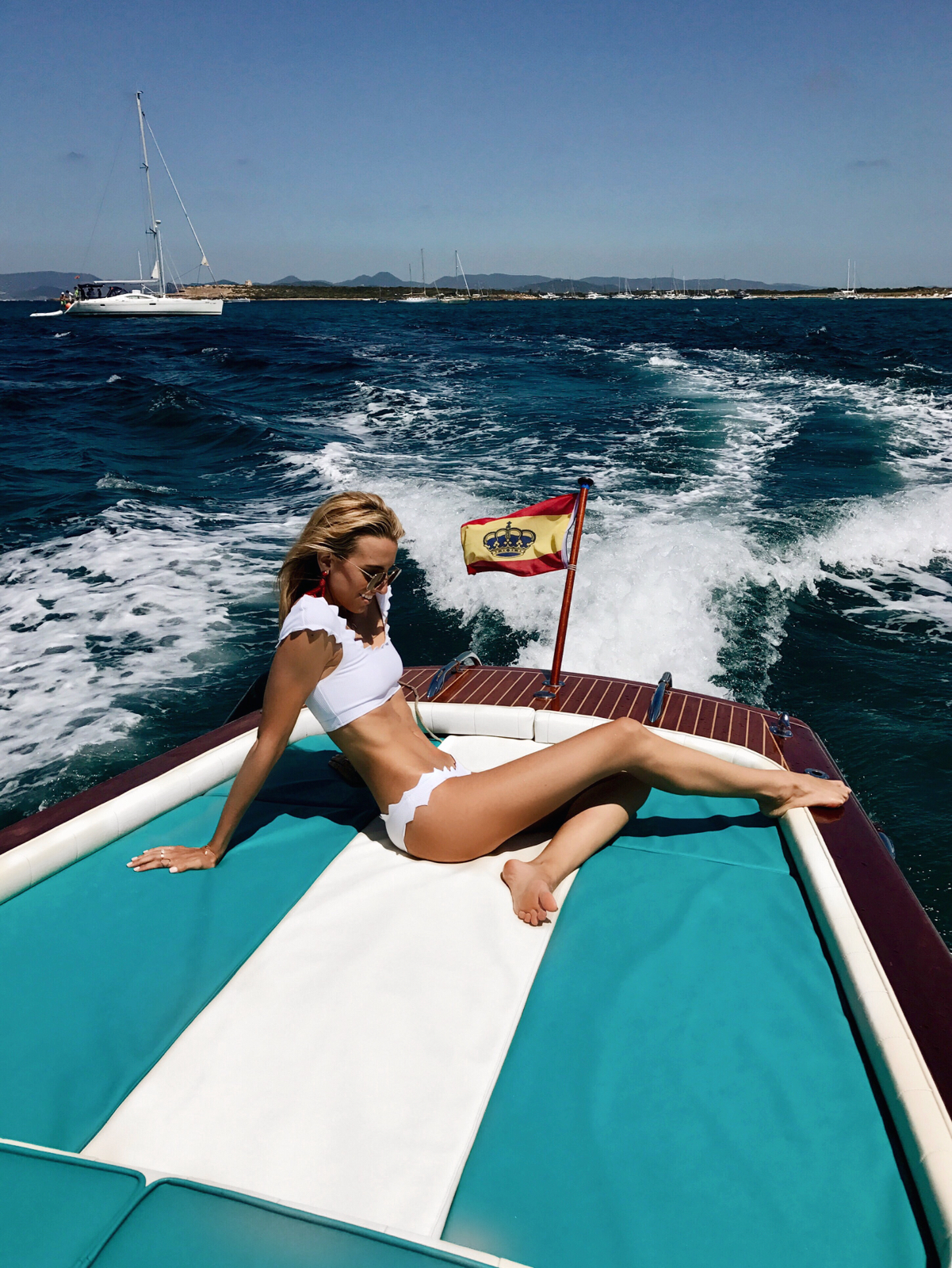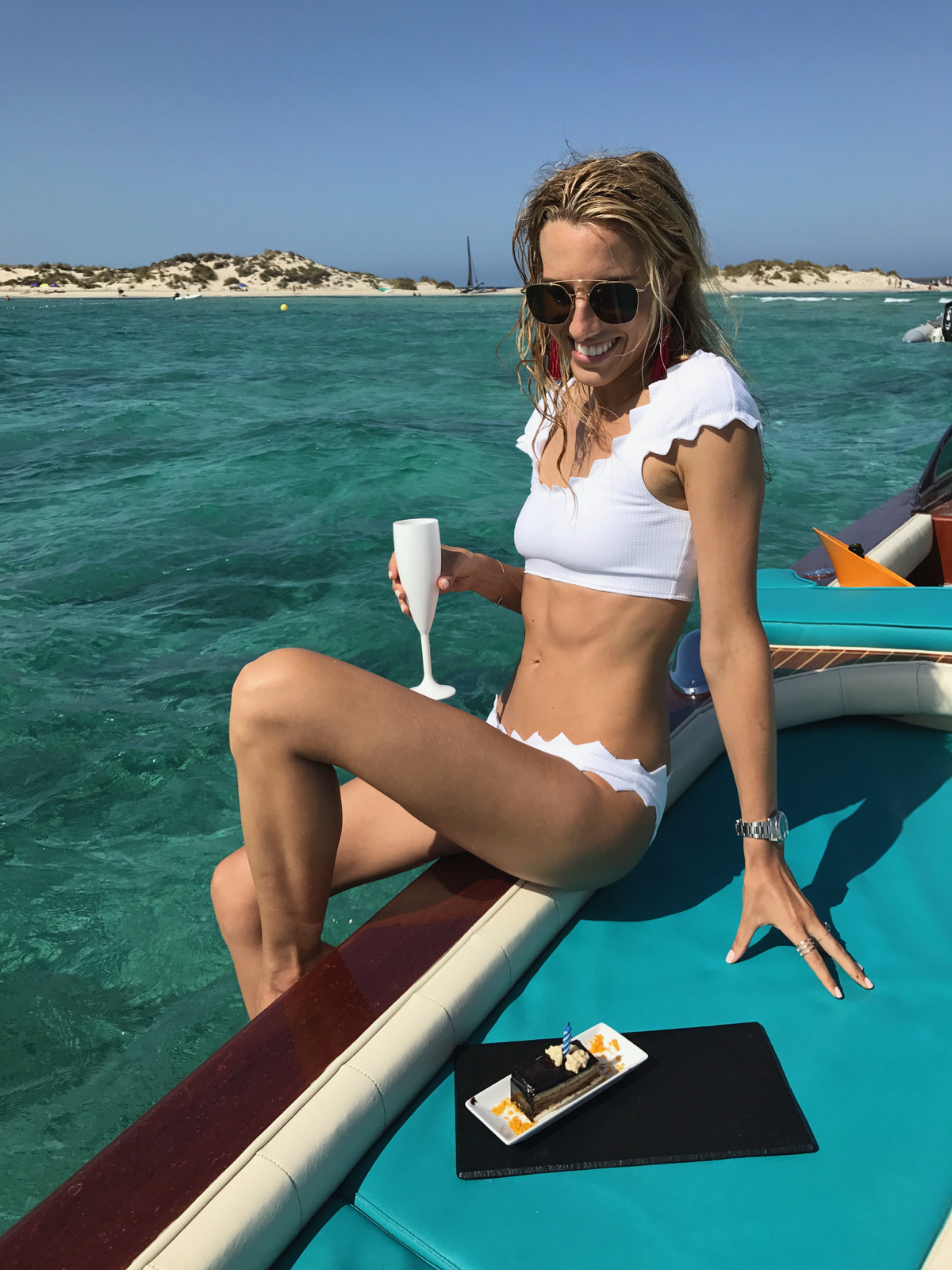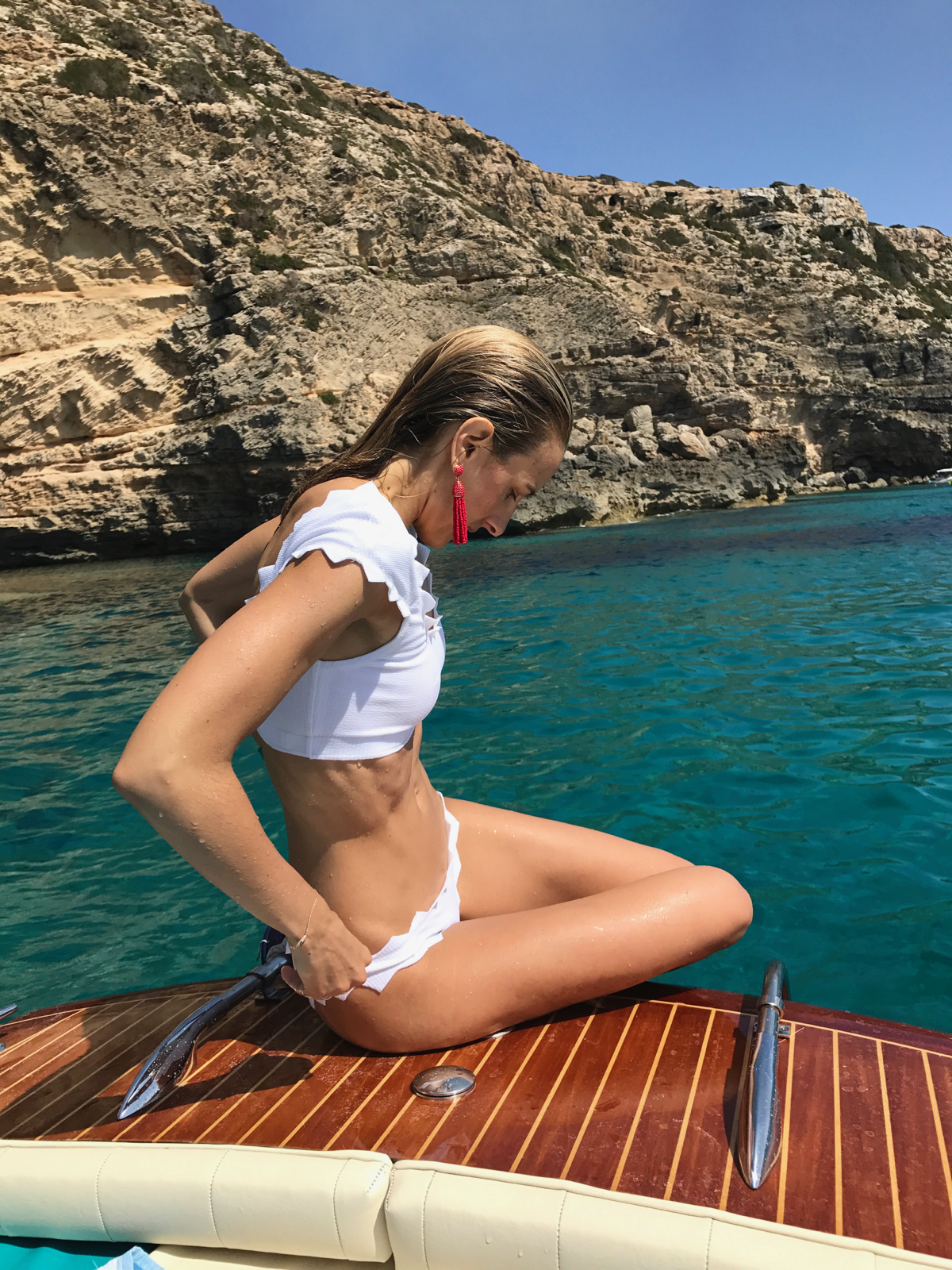 3. Visit Old Ibiza Town: It's such a pretty sight during the day and at night. The cafes, restaurants, and shops are all in town so we loved just walking down the streets and taking it all in.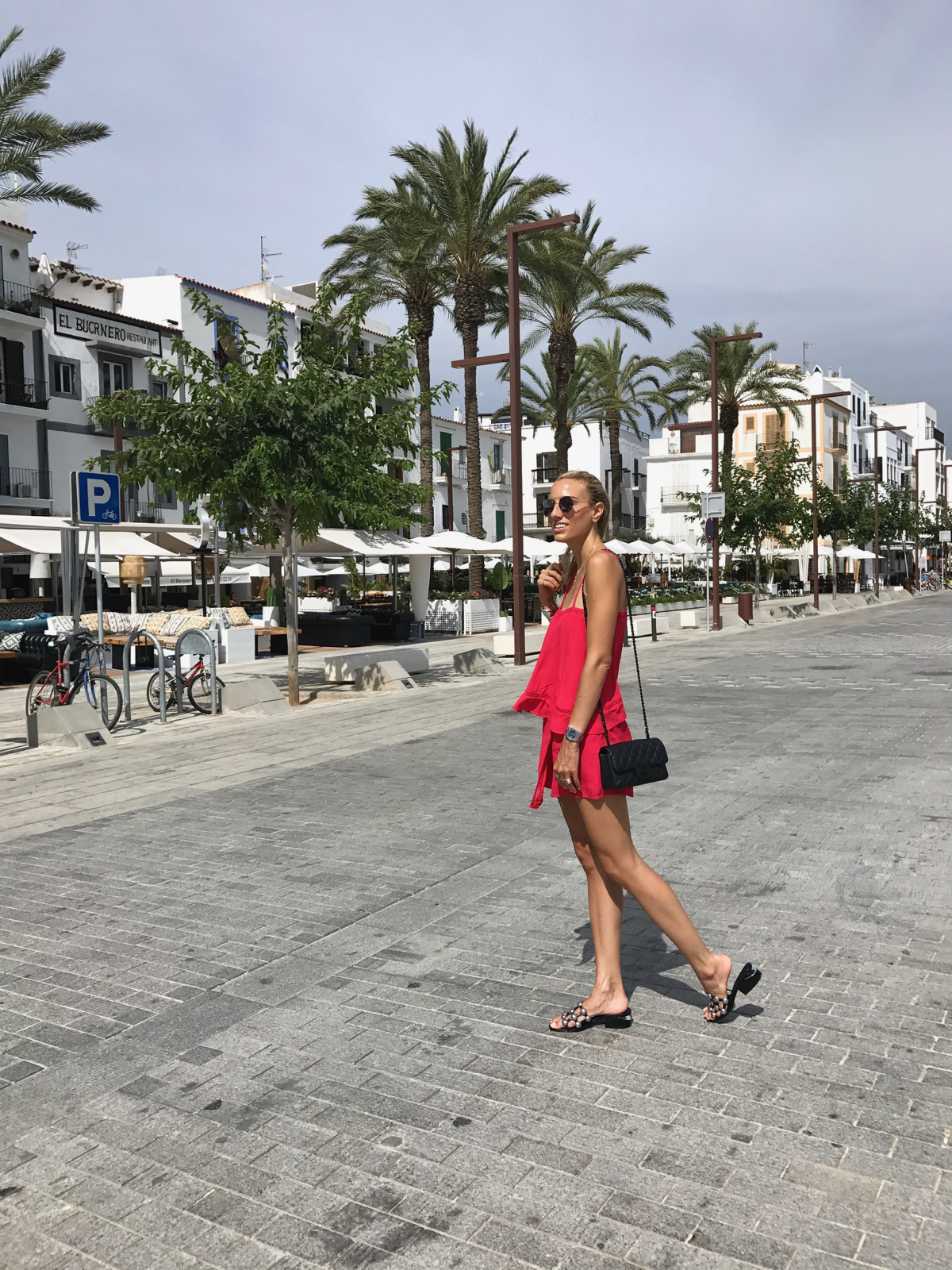 4. Rent a Boat for a day: If you get a chance I highly recommend this because you can see so much of the island on a boat.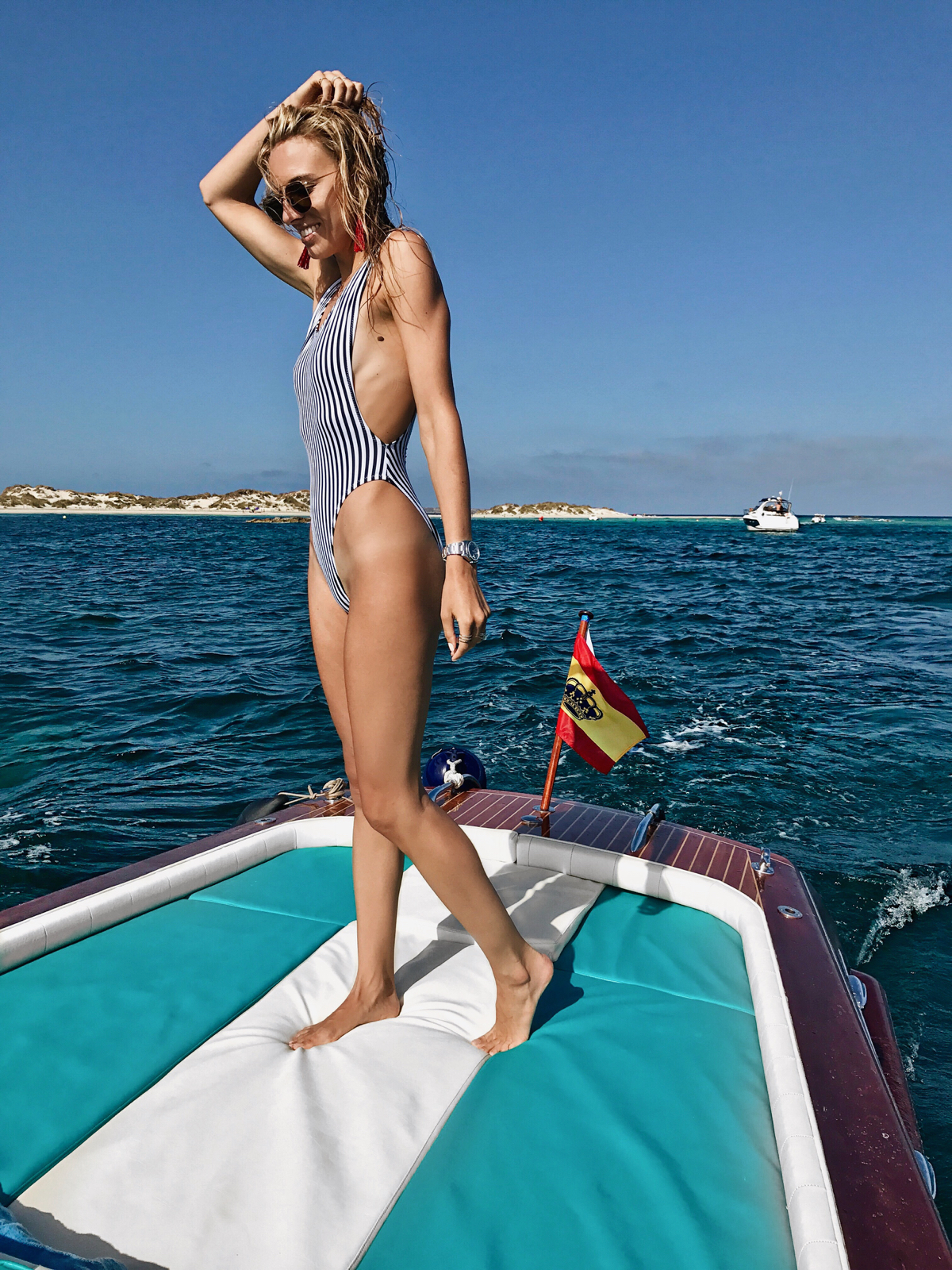 5. Go to Leo's: This place is a must. It's such a unique nightclub with performances, cabaret and at 1am it turns into a full on dance party. We went for my birthday and had such a fun night.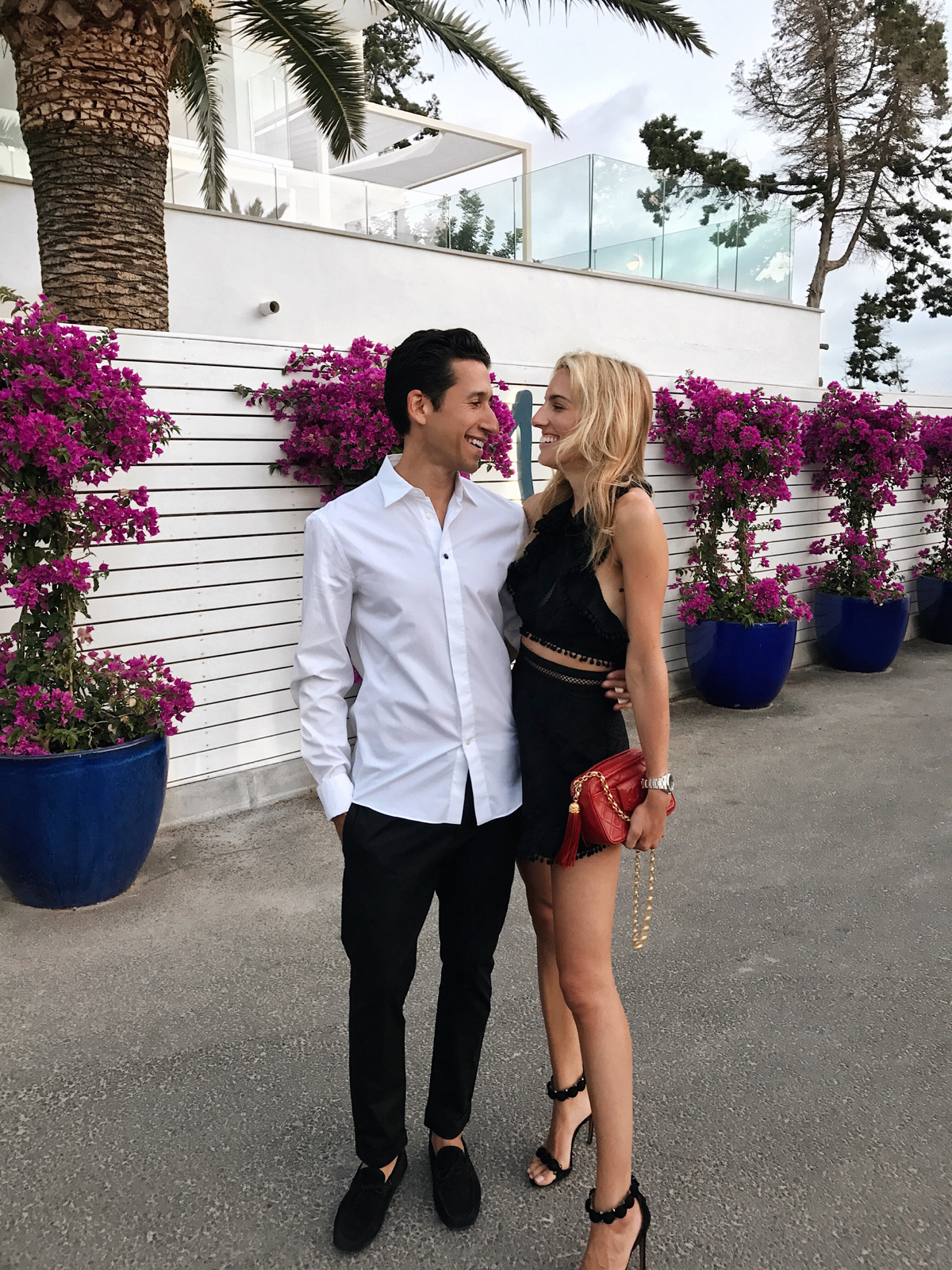 SHOP THE LOOK:
6. Day Beach Party: There are so many on the island if you are into large crowds and big parties. For us we preferred the boho beach vibe scenes more.
7. Nightlife: I mean…you can't go to Ibiza and not experience the nightlife. There are some really great famous DJs playing at different places on the island. I recommend checking out Ushuaia, Pacha, and Heart.
8. Shopping at the Hippy Market: I loved checking this out. I bought Adrian and my family handmade things at the market. You can really find some local products at great prices.
9. Watch Ibiza's infamous sunset at Cafe Del Mar: The sunsets in Ibiza are epic. At this place every night people gather to just chill and watch the sunset.
Let me know if you guys need any recommendations. I would also love your thoughts on these travel guides. Leave a comment below.
Follow along on Instagram @lisadnyc as we head to Mykonos, Greece. Thanks again for stopping by:)
xoxo,
Lisa
SHOP SWIMWEAR LOOKS: