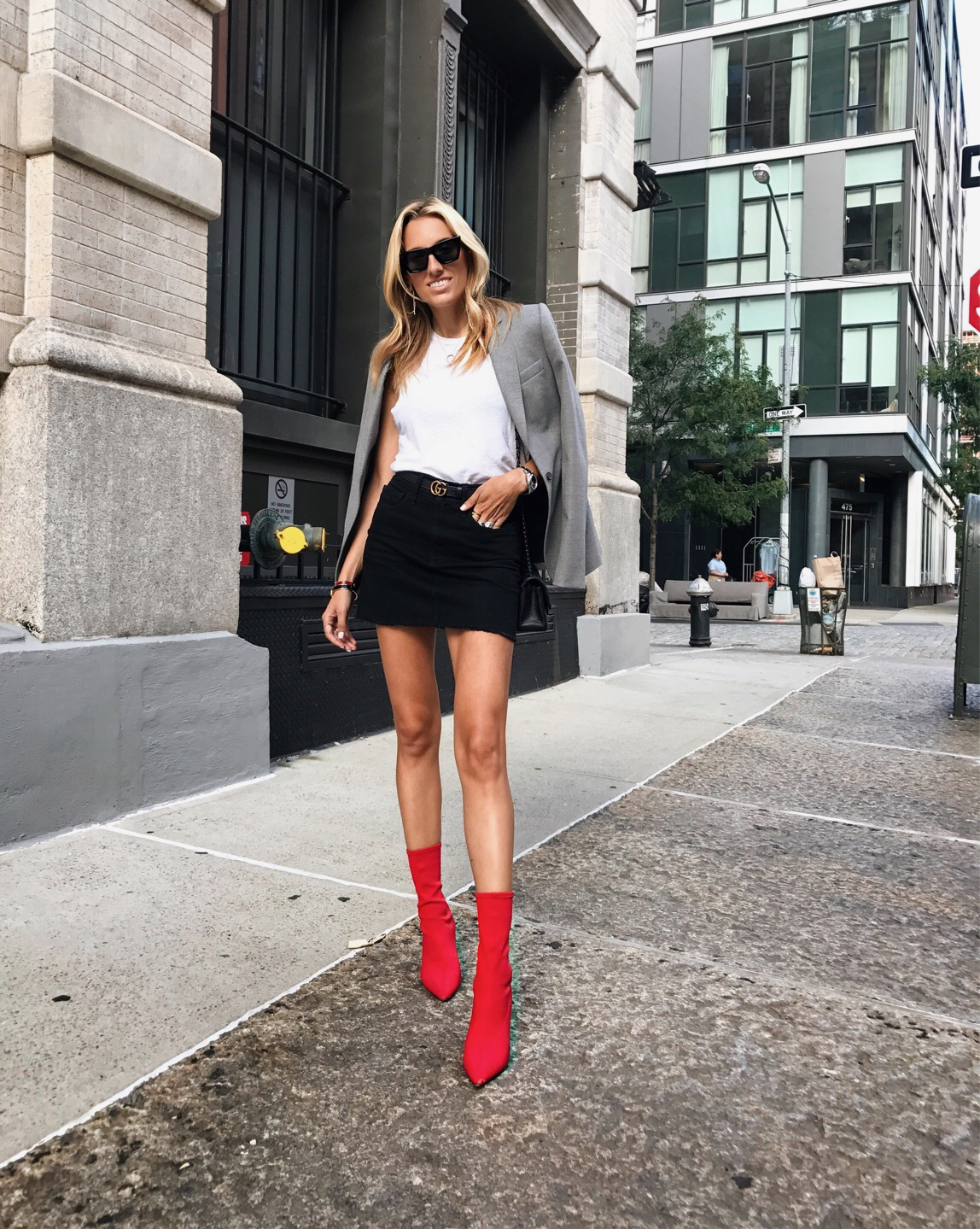 Hey Guys! I'm so excited you loved the last post about NYFW & my workout routine. I'm really focused on health these days and judging by the feedback it makes me really happy you are as well. I will continue to post more about this topic since it's one of the questions I get asked the most.
Here is a recap of the rest of New York Fashion Week. Even though it was fashion week I still dress in my personal style. I always like staying true to myself. This time around I bought a few key Fall pieces and mixed them up with some old ones. I went to shows every day then meetings and events so I wore outfits that worked for more than one occasion. Since I'm a denim queen (legit I live in denim) I always choose some of my favorite pairs and then build outfits that are chic, comfortable and stylish.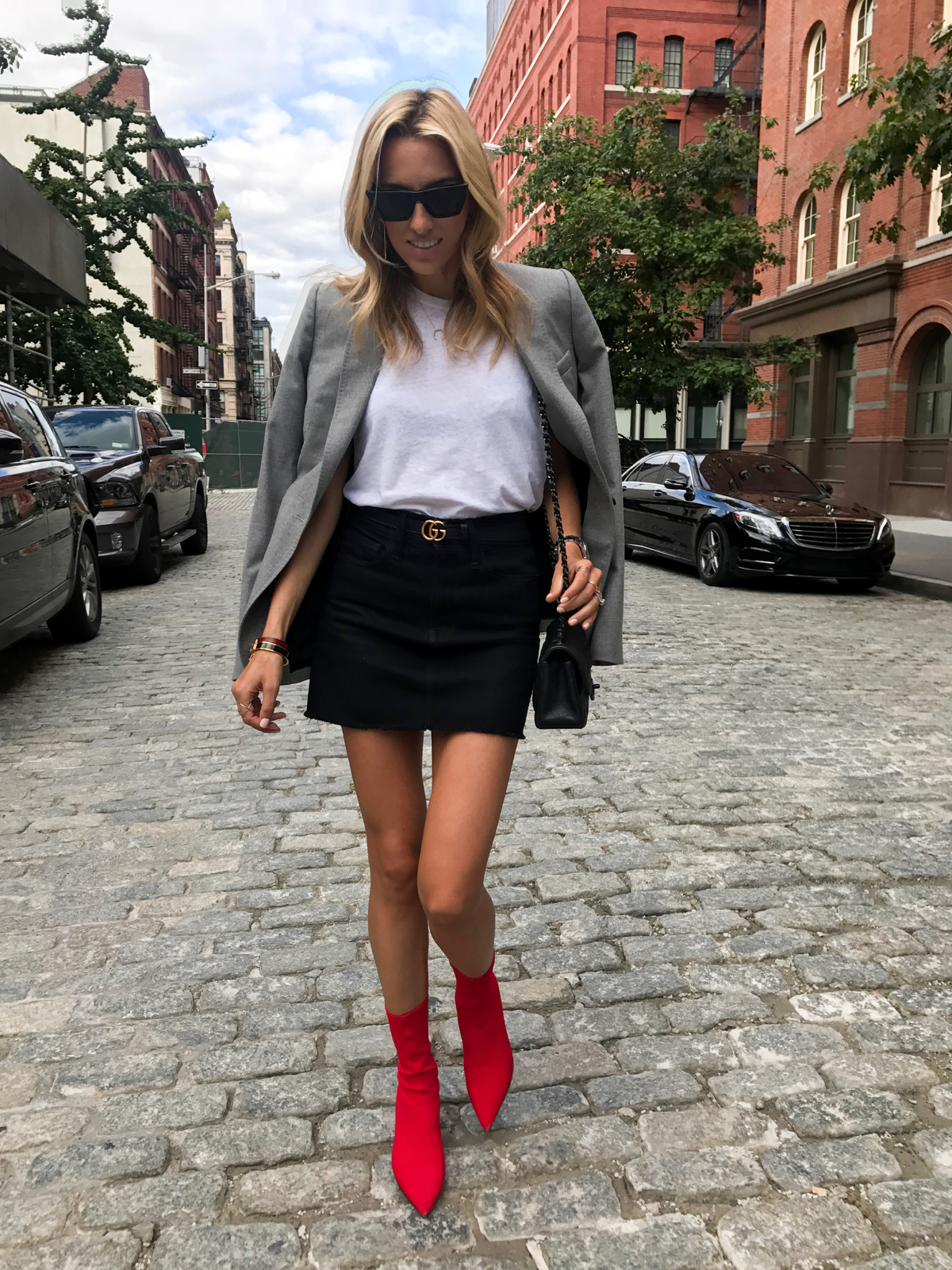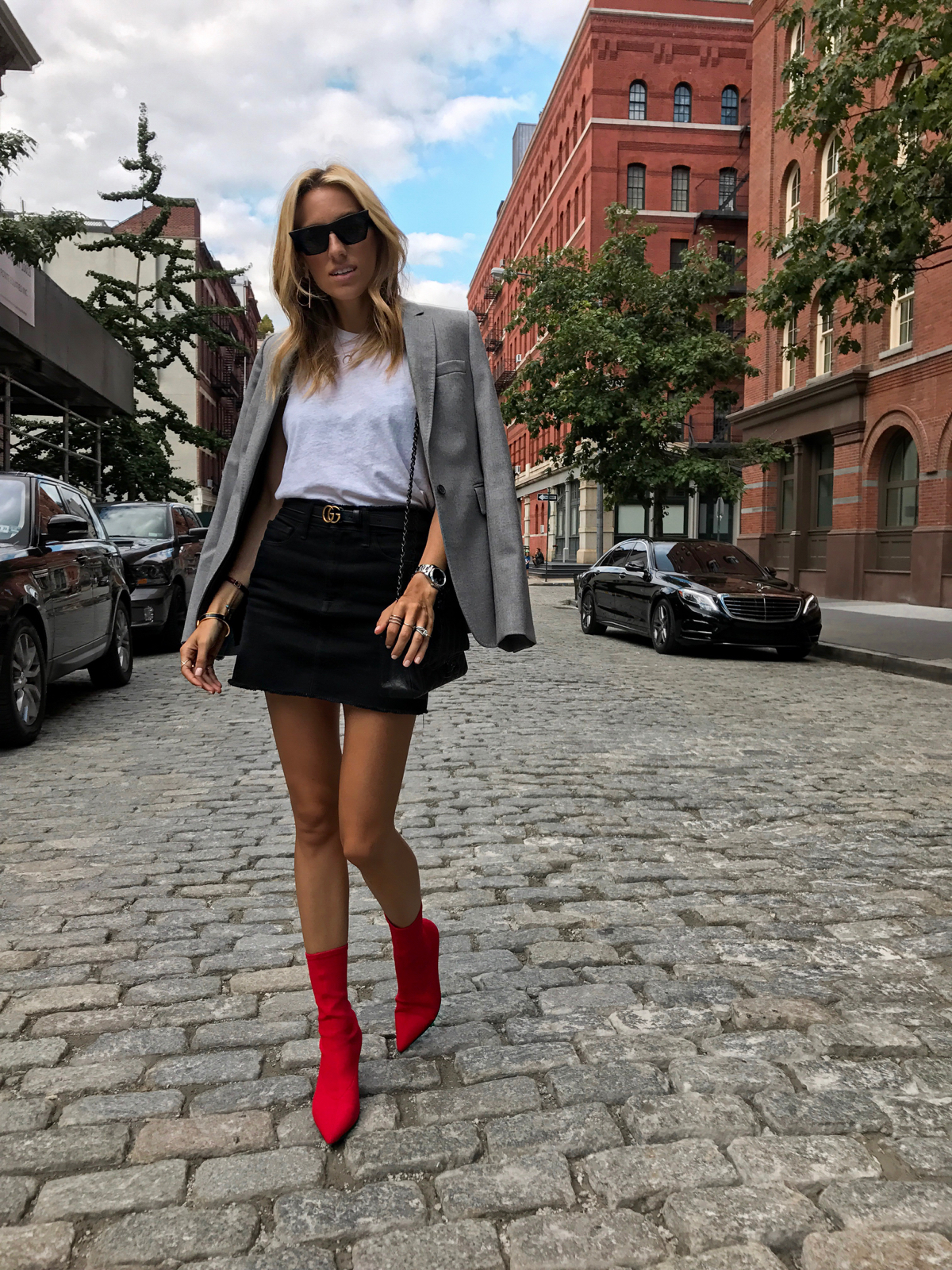 For day 2 of NYFW I wore a red sock boot look. I LOVE red! I think I mention that so much but I've always loved it. I'm very excited that the color continues to be strong season after season. I wore these amazing red sock boots from Zara. Sock boots are very on trend for Fall. It's on my list as a top Fall item to purchase. I love these because of the vibrant color. They are going to be on repeat this season. I styled them with a Frame black denim skirt, a white vintage hanes muscle tee and a Joseph grey blazer.
SHOP THE LOOK: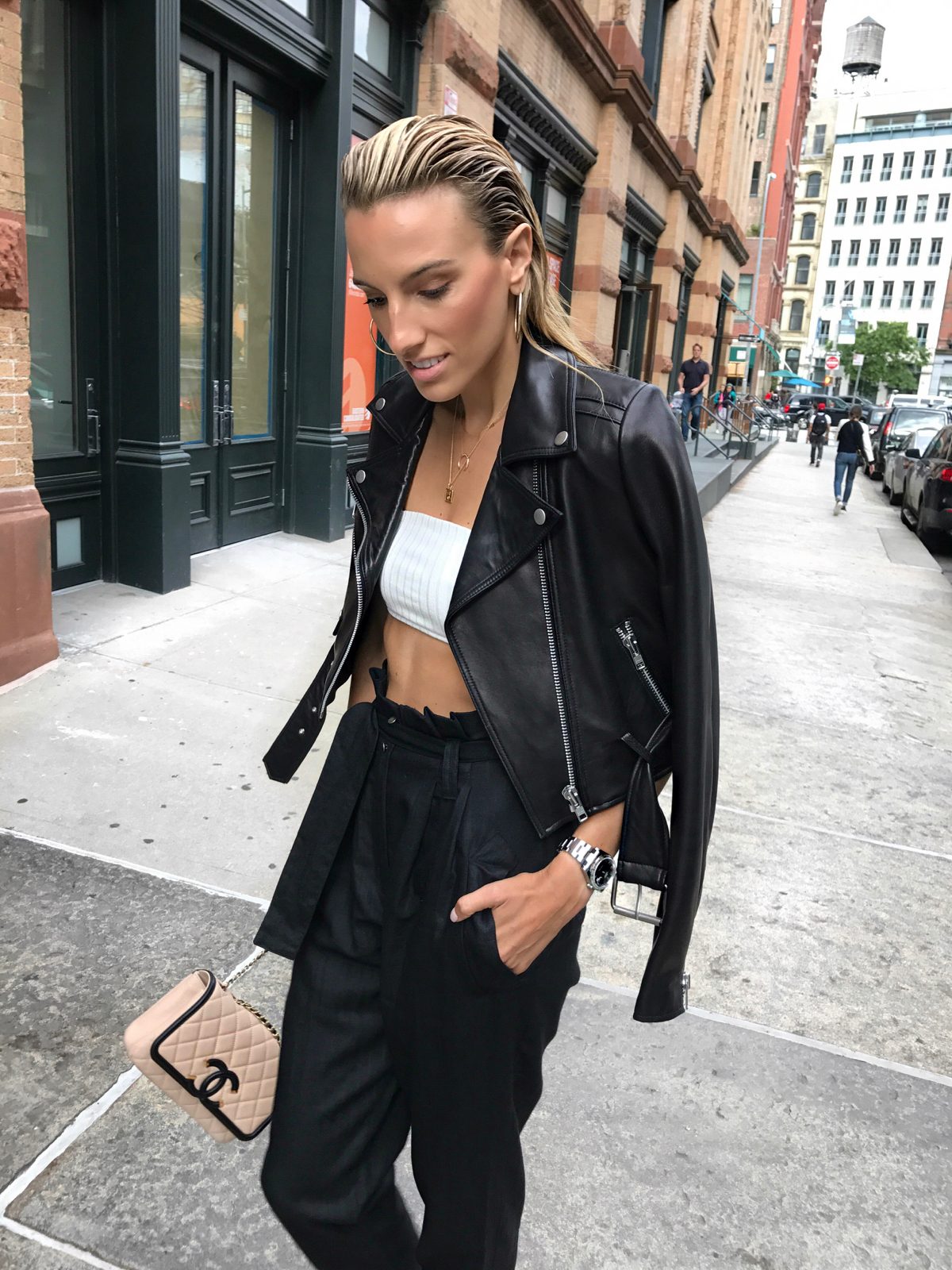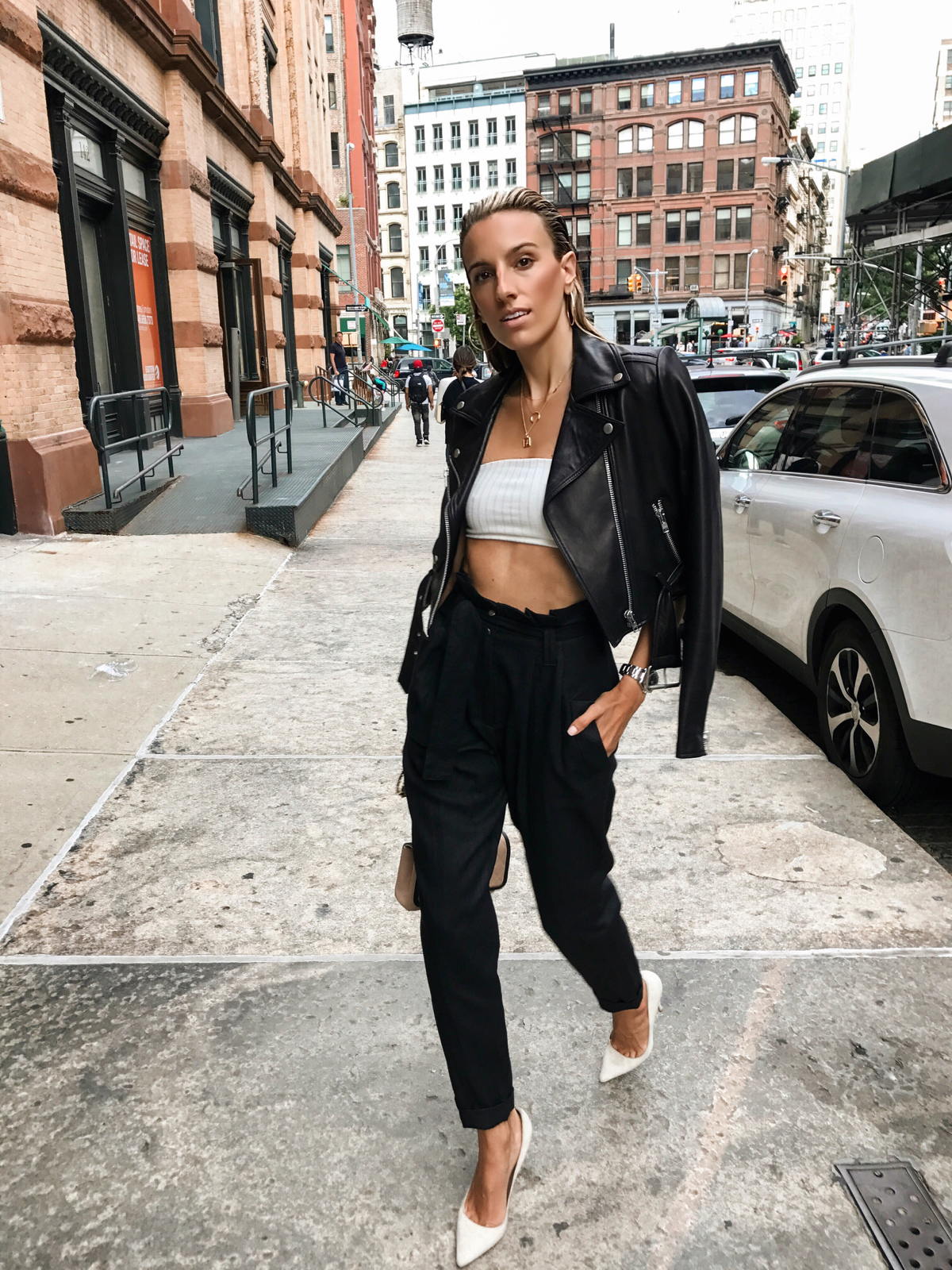 For this look I wore Adam Lippes paper bag waisted pants, a ribbed crop top and a leather jacket. I love these pants. They have been in my closet for years and are perfect for cropped styles. I love the slouchy feel of them. They are so comfortable and so on trend right now. I wore a h:ours top with a Primary leather jacket. I paired nude pumps and wore my hair slicked back for a night out of events.
SHOP THE LOOK: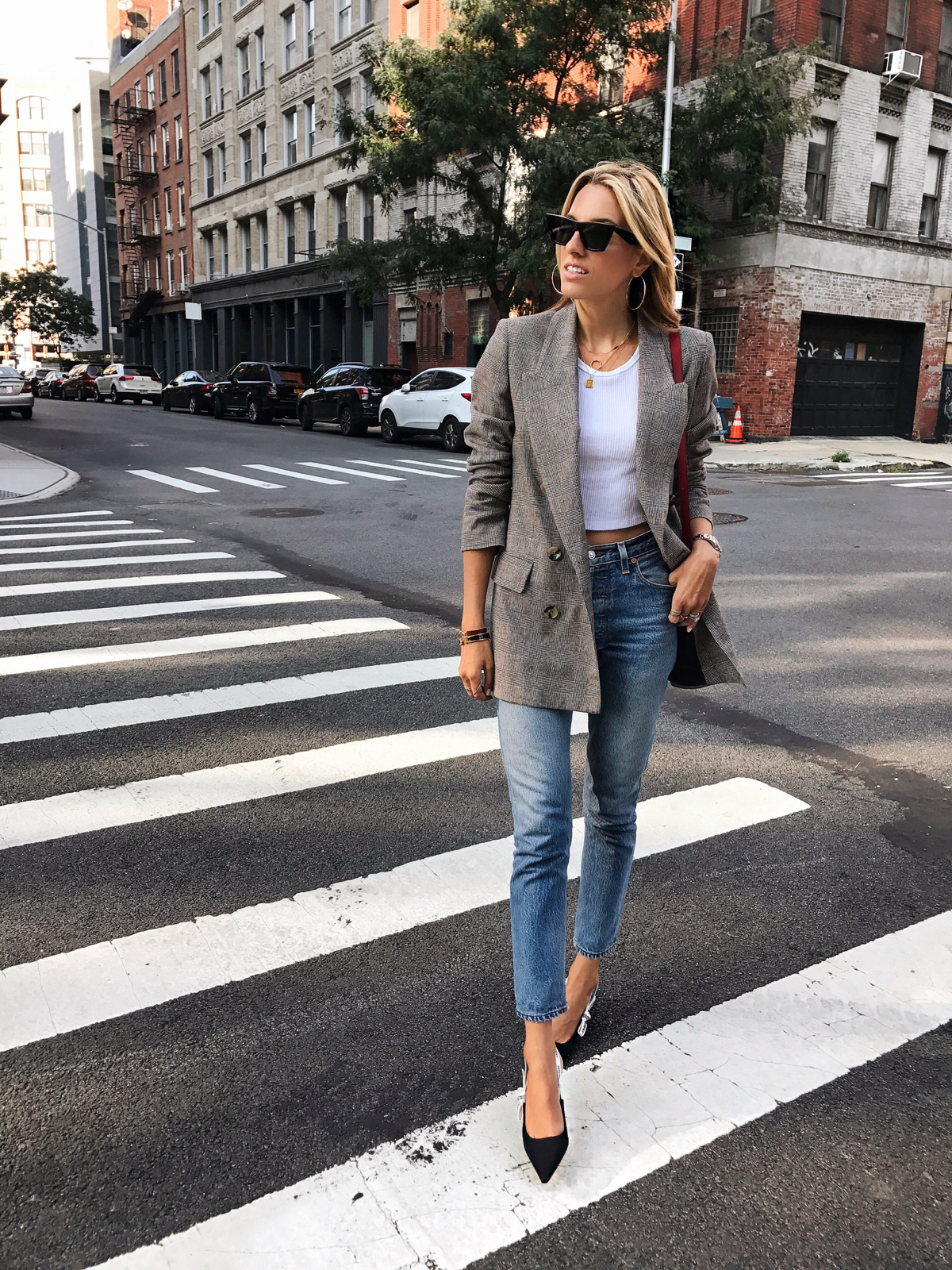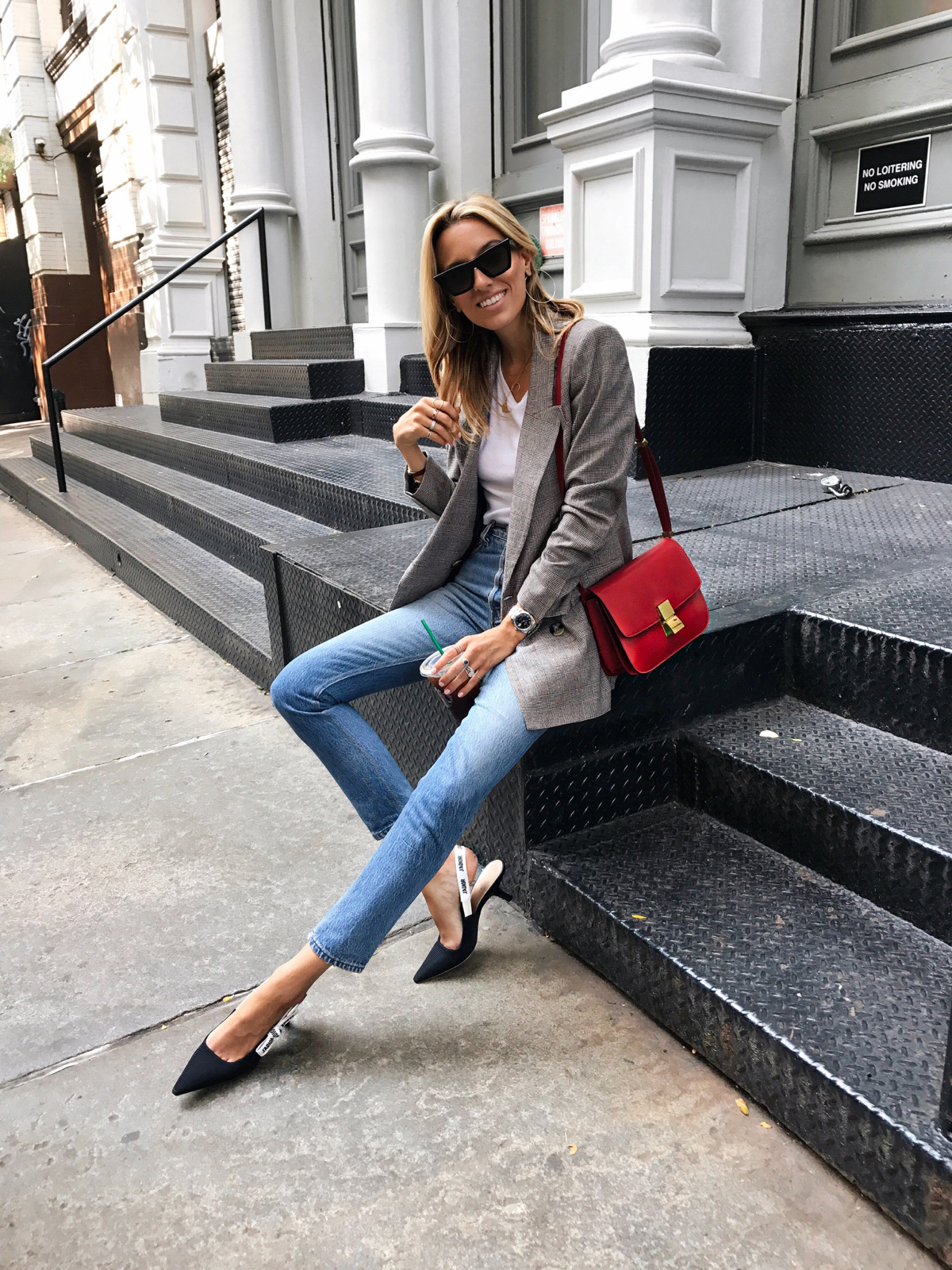 For this OOTD I wore a double breasted blazer. This oversized blazer is another must-have for Fall. It's all about power dressing this season and let me tell you, this way of dressing really does make you feel like a boss:) I styled the blazer with a cropped rib Majorelle top, Re/Done Levi's jeans, my new Dior slingbacks and Celine sunnies. I always love a good POC so the Celine box worked perfectly with this look.
SHOP THE LOOK: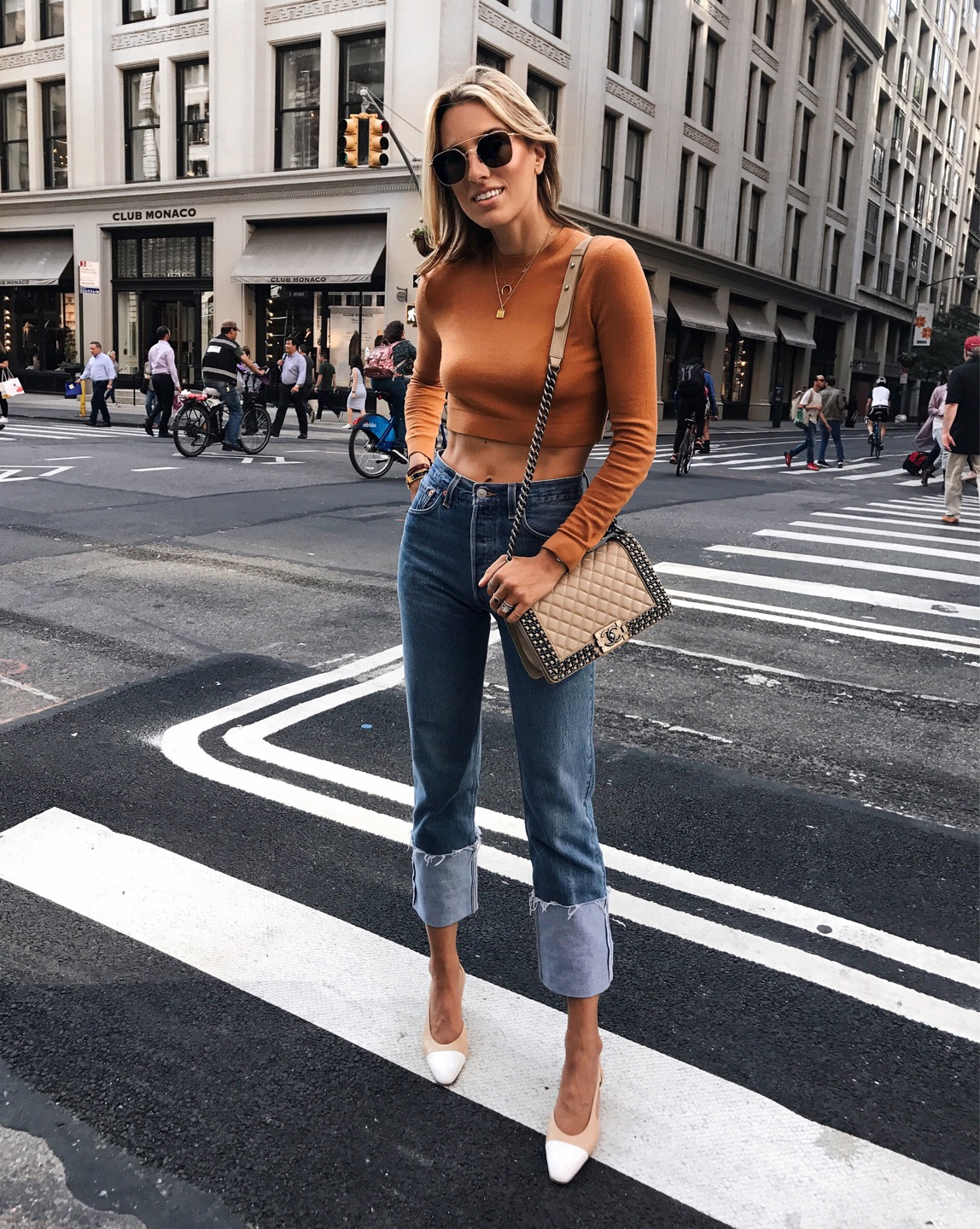 A cropped sweater and jeans is seriously my uniform so I absolutely loved this look. I wore a Khaite cropped sweater that was fit on me and unfortunately never made it into production along with cuffed jeans. I'm loving cuffed jeans at the moment even though I've had these in my closets for a few seasons they are all the rage right now. I love that about quality pieces. You can seriously rework them into your current wardrobe and they'll look fresh and modern. I styled the look with Chanel heels, Chanel boy bag and Ahlem sunglasses.
SHOP THE LOOK: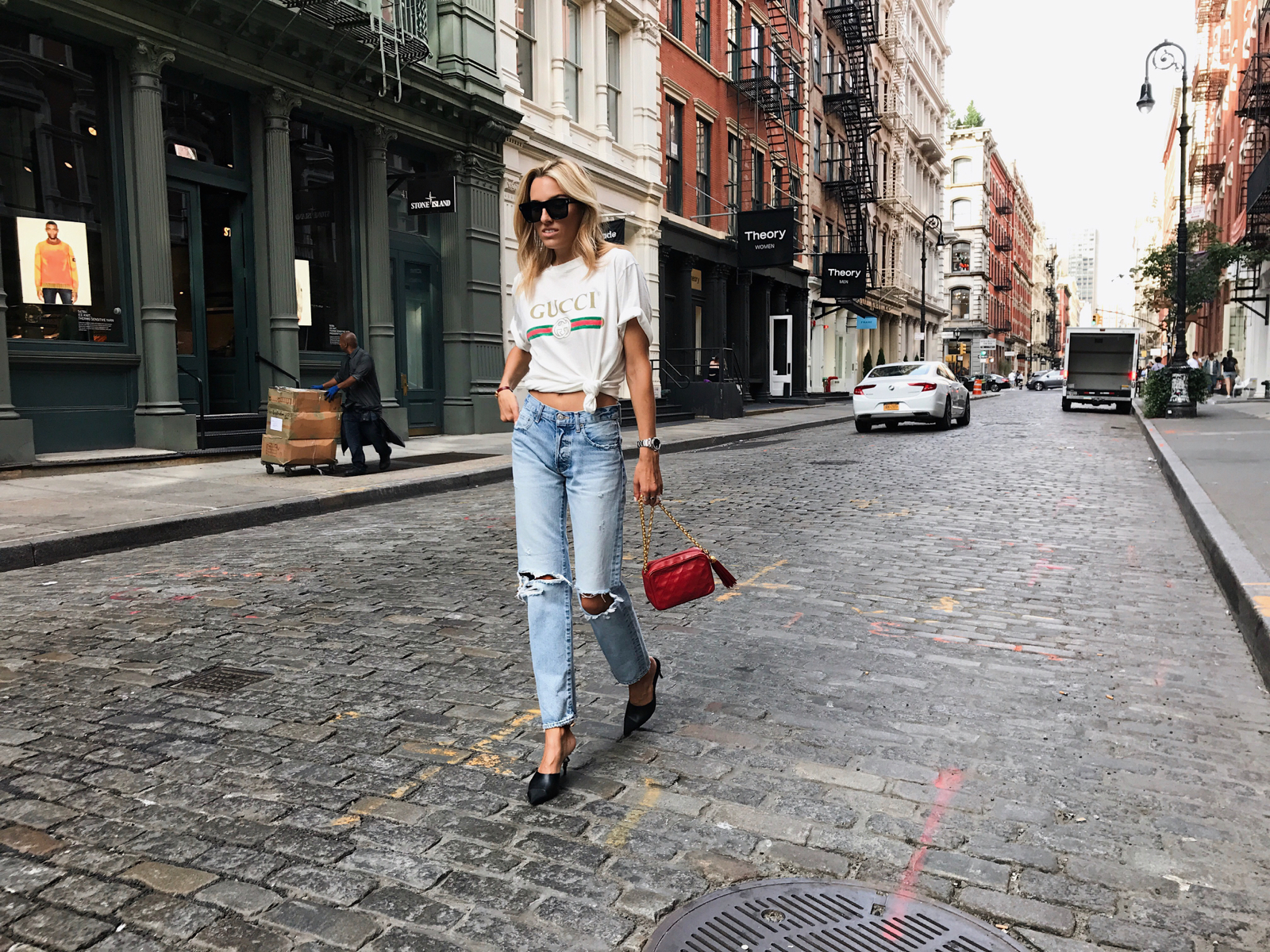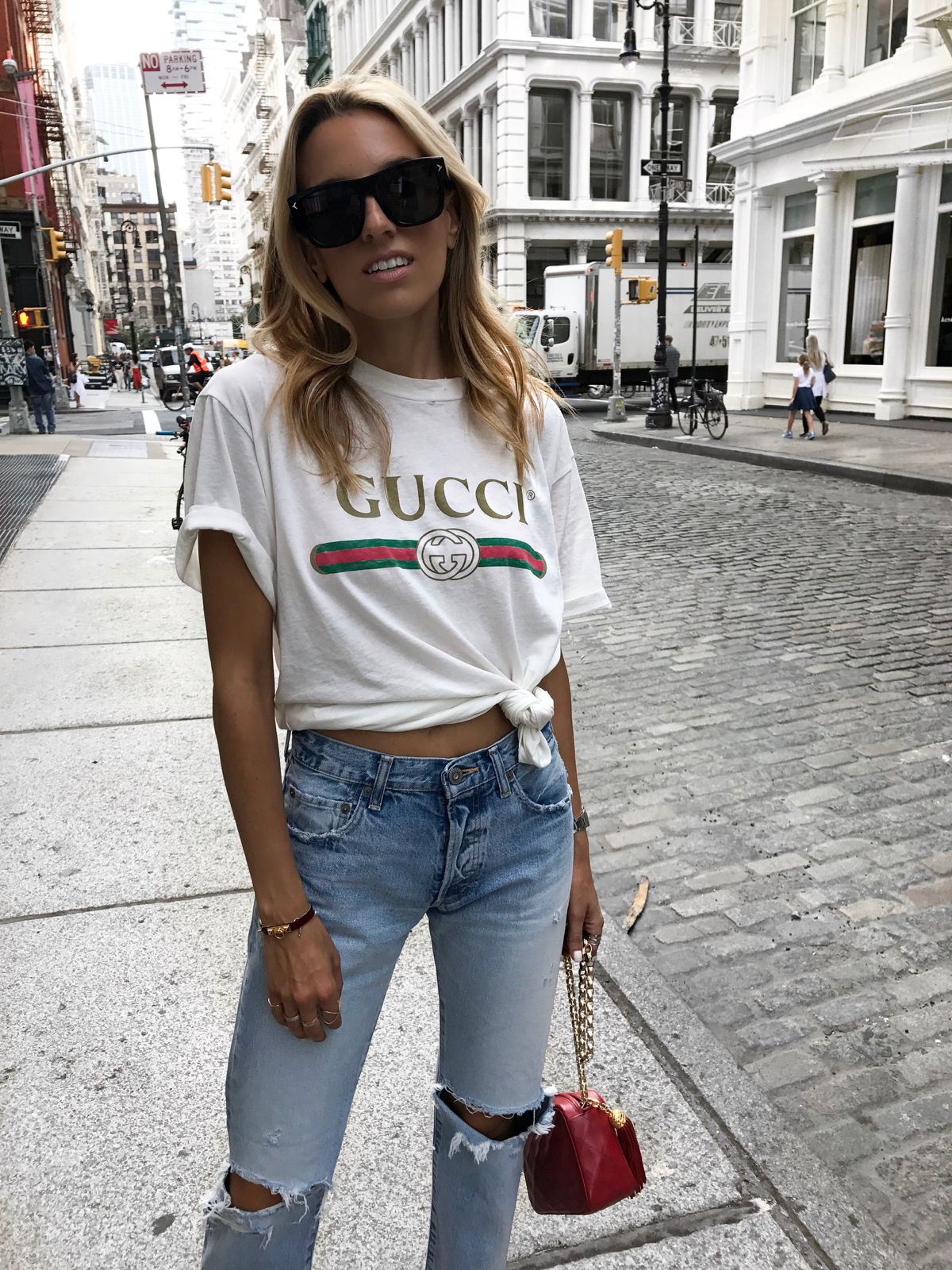 For this OOTD I wore a Gucci logo tee and straight leg jeans. I just bought these Moussy jeans recently and love them. The fit is great and I just love the way they look.  This Gucci logo tee is one of my splurge pieces that I have worn a handful of times. I'm obsessed!
SHOP THE LOOK:
I'm so excited for Fall fashion posts. I hope you guys are as well. Let me know what you want to see more of. I love hearing from you.
I hope you have a great rest if your day:) Thanks for stopping by!
xoxo,
Lisa D.