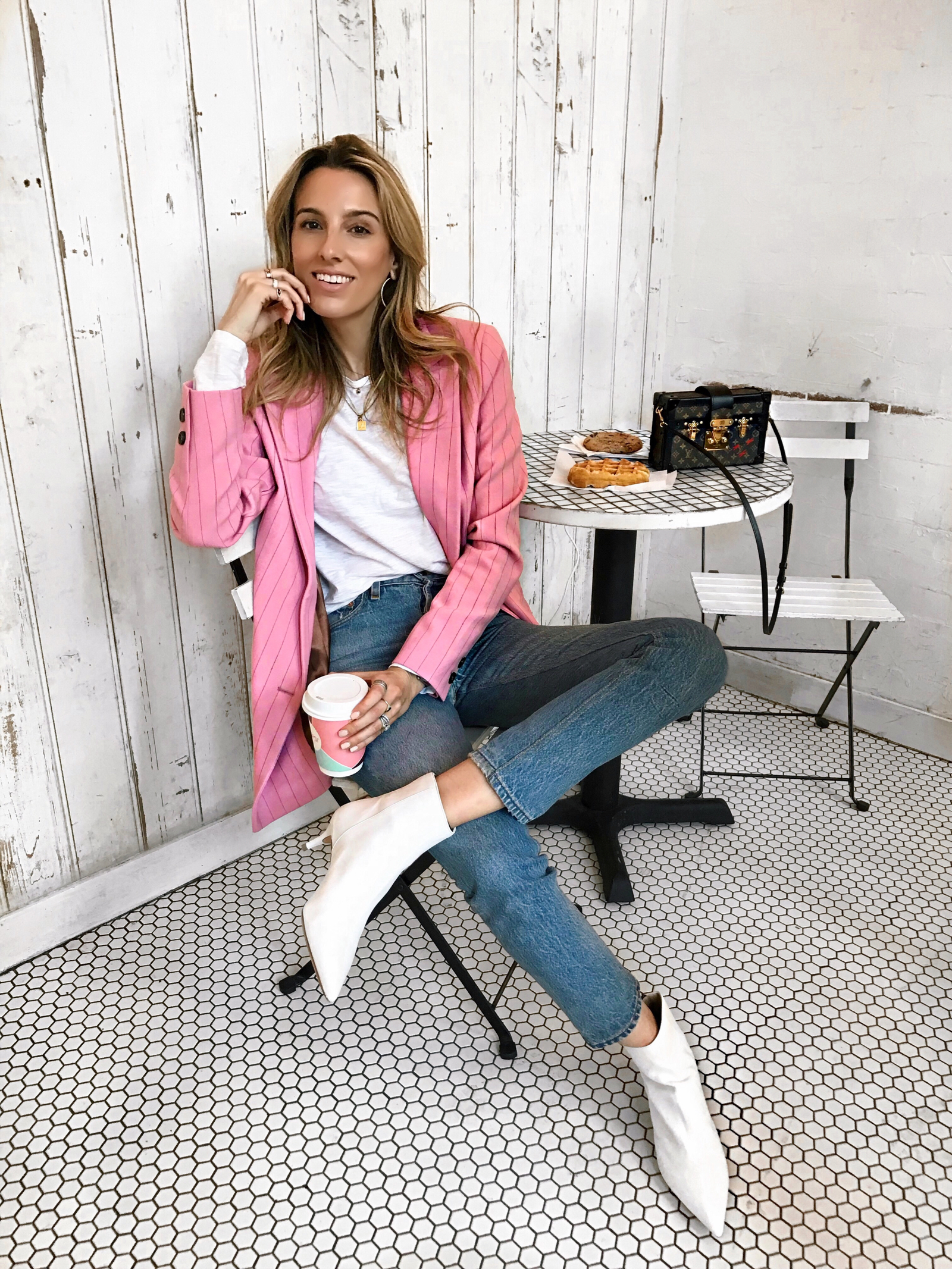 Hey Guys! Happy 2018:) I'm so excited for this coming year. I'm officially a full-time influencer! After 11 years as a model I decided to fully commit myself to my business, my blog. It was such a tough decision since I actually love modeling and have worked so hard to make it my full-time career. I feel grateful that I was able to work consistently for 11 years without having to do anything else. I feel proud that I went for my dreams and got signed to 3 top agencies. However, in the last year I've been so busy juggling both careers, modeling & blogging, that I felt pulled in every direction. I'm a work-a-holic so the busy schedule never bothered me it just got to the point that I couldn't physically do both with sacrificing my business, which I'm most passionate about. It's also my future. I knew years ago modeling had a shelf life and I was always thinking about having my own business to transition into. I was constantly trying new ideas, etc. until I launched my blog. Blogging is a 24-hour, nonstop career and if I want to take my business to the next level I need to commit to it 100%. If an opportunity presented itself modeling wise obviously I would take it so this isn't set in stone but for now I felt that fit modeling every single day was taking up too much of my time, energy and focus.
So today is my first official day committing to a career I feel so proud of and so inspired by. The connection I have with my loyal followers is something I never expected nor take for granted. I mean…nothing is more fulfilling than making small changes in someone else's life and if I can do that by simply being myself, I couldn't ask for anything more. With that being said I just want to say THANK YOU for the love and support. Without YOU this wouldn't even be possible. I would love to hear about what you guys want to see more of as far as content so please leave a comment below with your feedback:)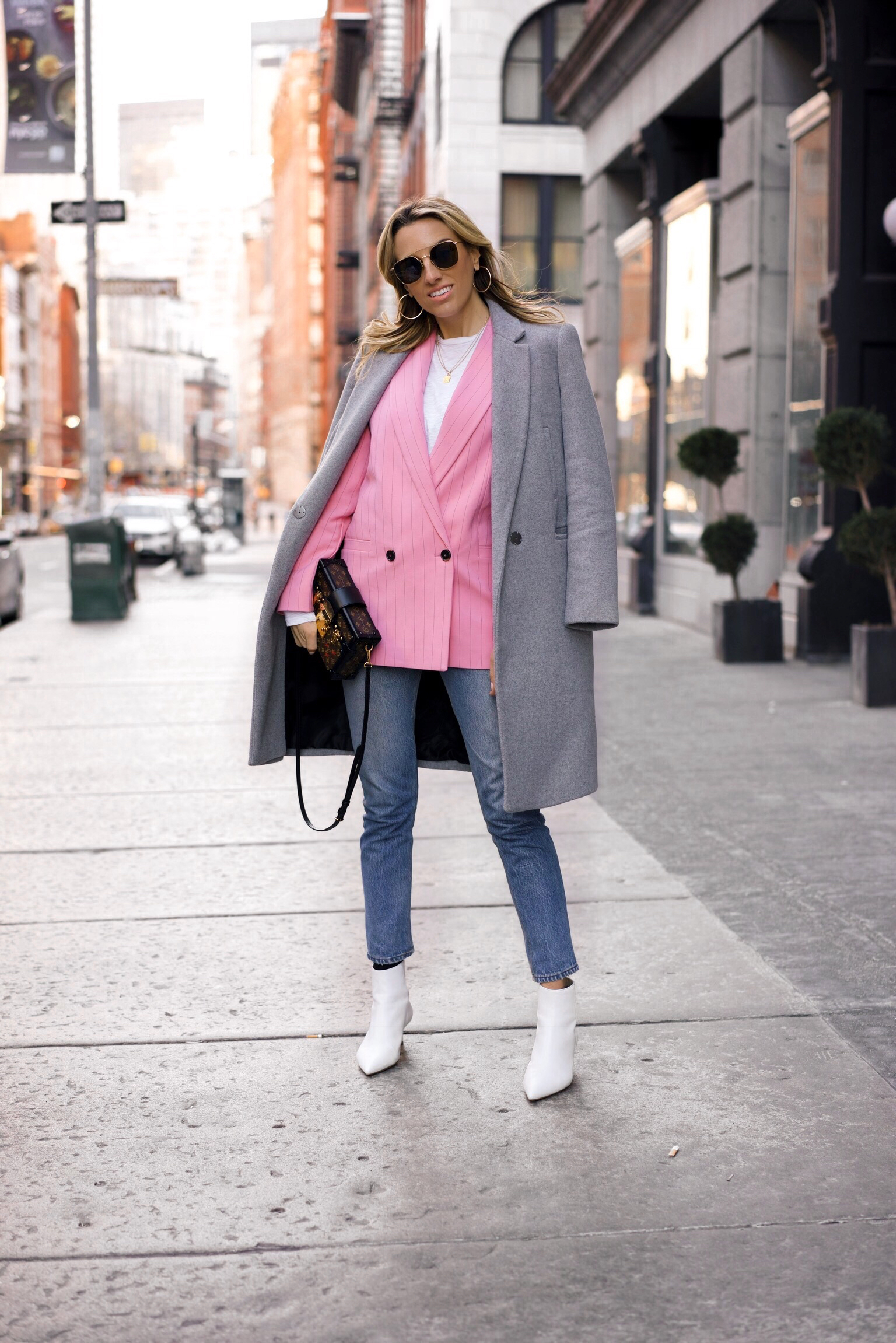 Ok, now back to fashion. I love anything pink so when I saw this pink blazer online I legit searched everywhere for it. It's been sold out everywhere so I was lucky to find one in my size (FR 34). I love the oversized fit, pinstripes, double breasted silhouette and substantial fabric. With the freezing temps this month in NYC I had to lighten up my wardrobe with this blazer. I also think it's a key piece for Spring so I will definitely be rocking it over and over. I paired the blazer with my new white booties. These kitten heel booties are to die for. I can't say enough about them…they are comfortable, made from really soft leather and they meet 2 trends. The kitten heel trend and the white accessory trend so it's a 2-for-1…LOL! I also feel they will be so versatile. I love a lighter OOTD especially when I wear lots of black. It's so fun changing things up and if I'm being honest my mind is already on Spring!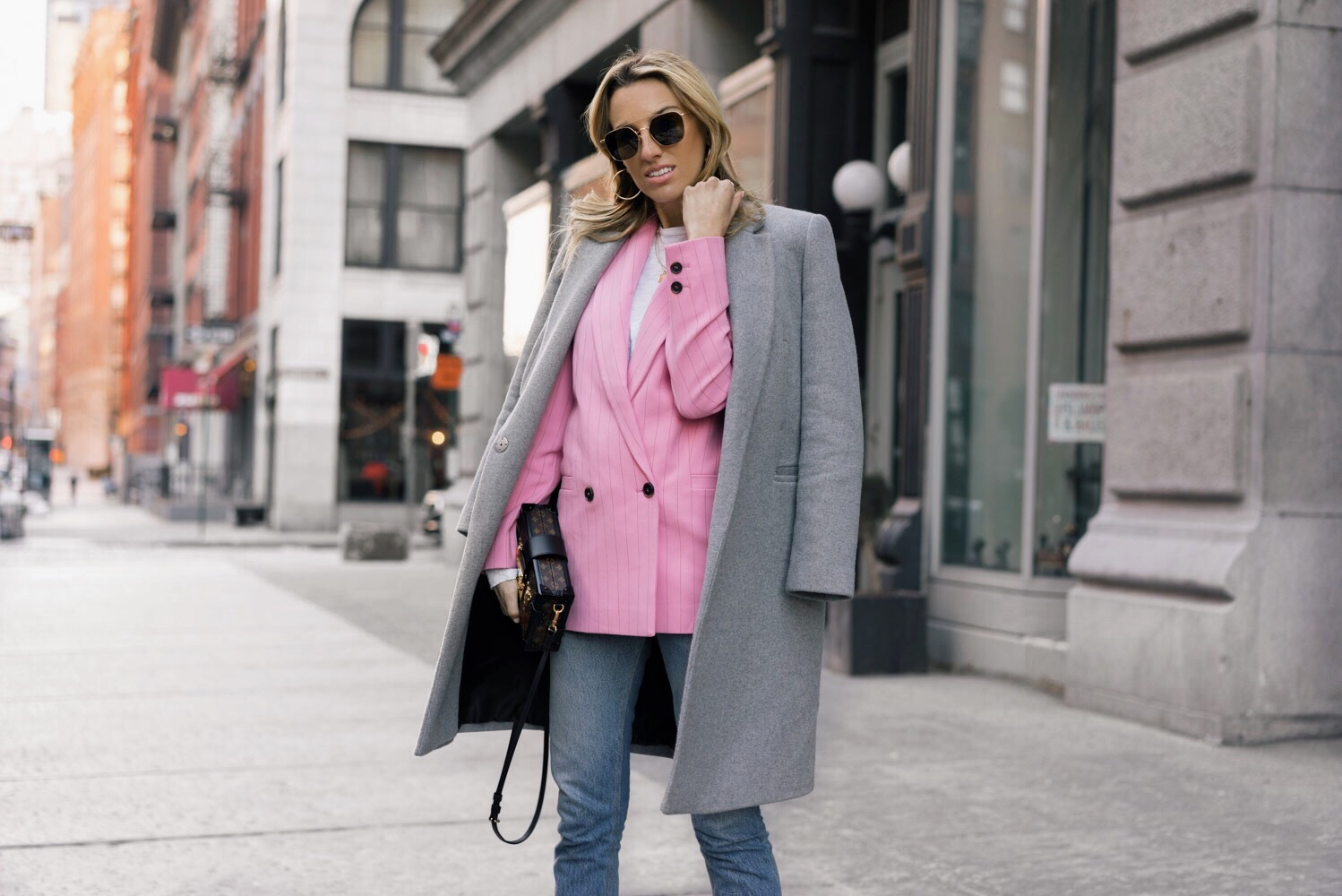 I paired vintage Levi's jeans, a white long sleeve tee, and a grey coat to complete the look along with adding my favorite Louis Vuitton bag and Ahlem sunnies to accessorize the look.
Thanks for stopping by:) Have a great rest of your day!
xoxo,
Lisa D.
Blazer: Ganni (also here and here)
Top: ATM (similar here)
Jeans: Levi's (similar here)
Shoes: Alexandre Birman (similar here)
Coat: Zara (similar here)
Sunglasses: Ahlem
Bag: Louis Vuitton
Hoops: Bronzallure
SHOP THE LOOK: